Beehiiv, a new and rapidly growing newsletter platform, has become a popular choice for launching newsletters. Trusted by top newsletters such as the Boston Globe, the Milk Road, the Drop, and Playmaker, Beehiiv has gained a reputation for its user-friendly and feature-rich platform. After trying a few different platforms, we've decided to move the Founder Club newsletter to Beehiiv. In this article, we'll discuss the main benefits Beehiiv has over other platforms and the current drawbacks.
Benefits
Editor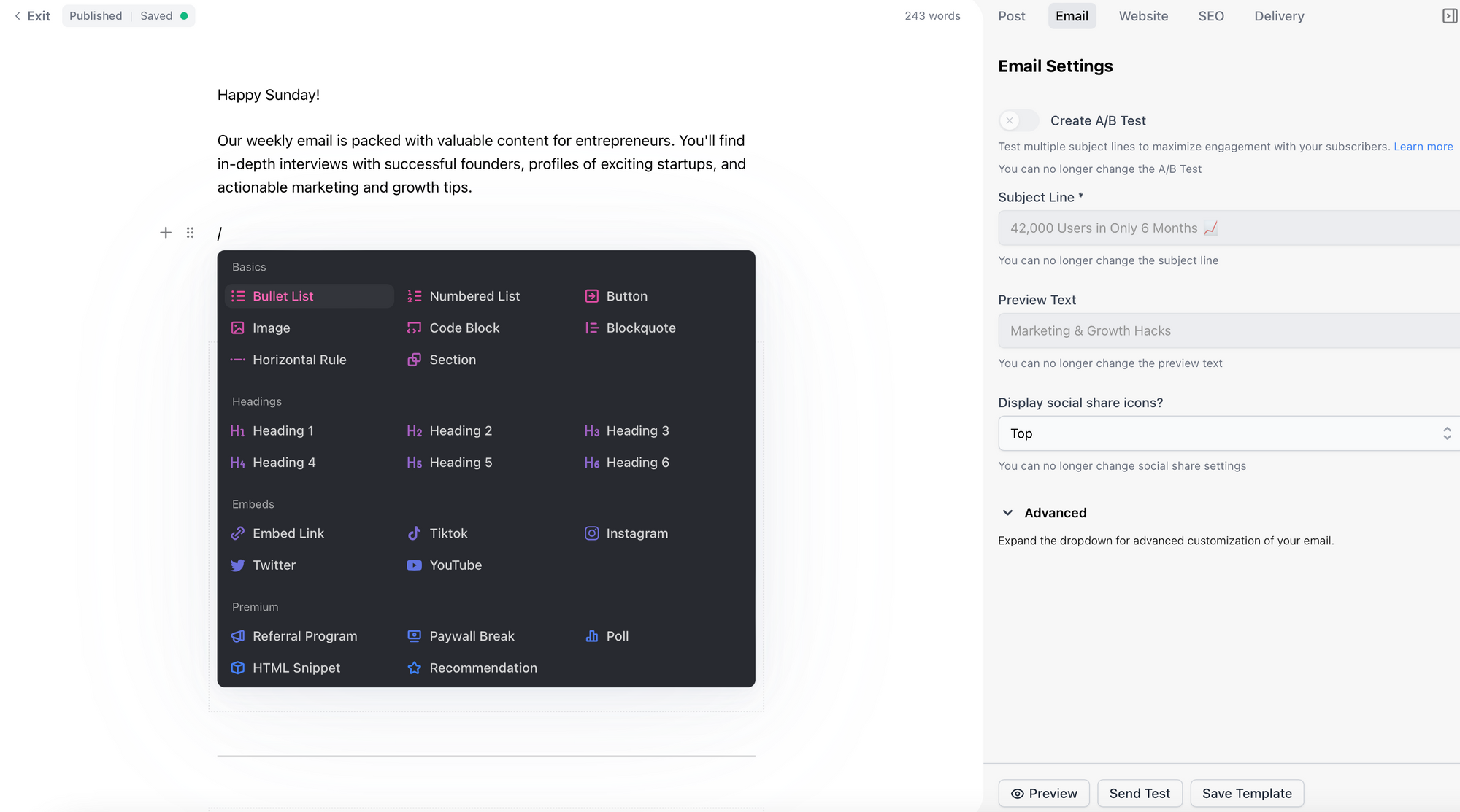 Beehiiv's built-in editor is minimalist, easy to use, and offers a wide range of customization options. Users can customize blocks, email sections (body, header, footer), and even add their own code if desired. It may look intimidating at first, but after a few minutes inside, you'll realize it's very straightforward.
Referral Program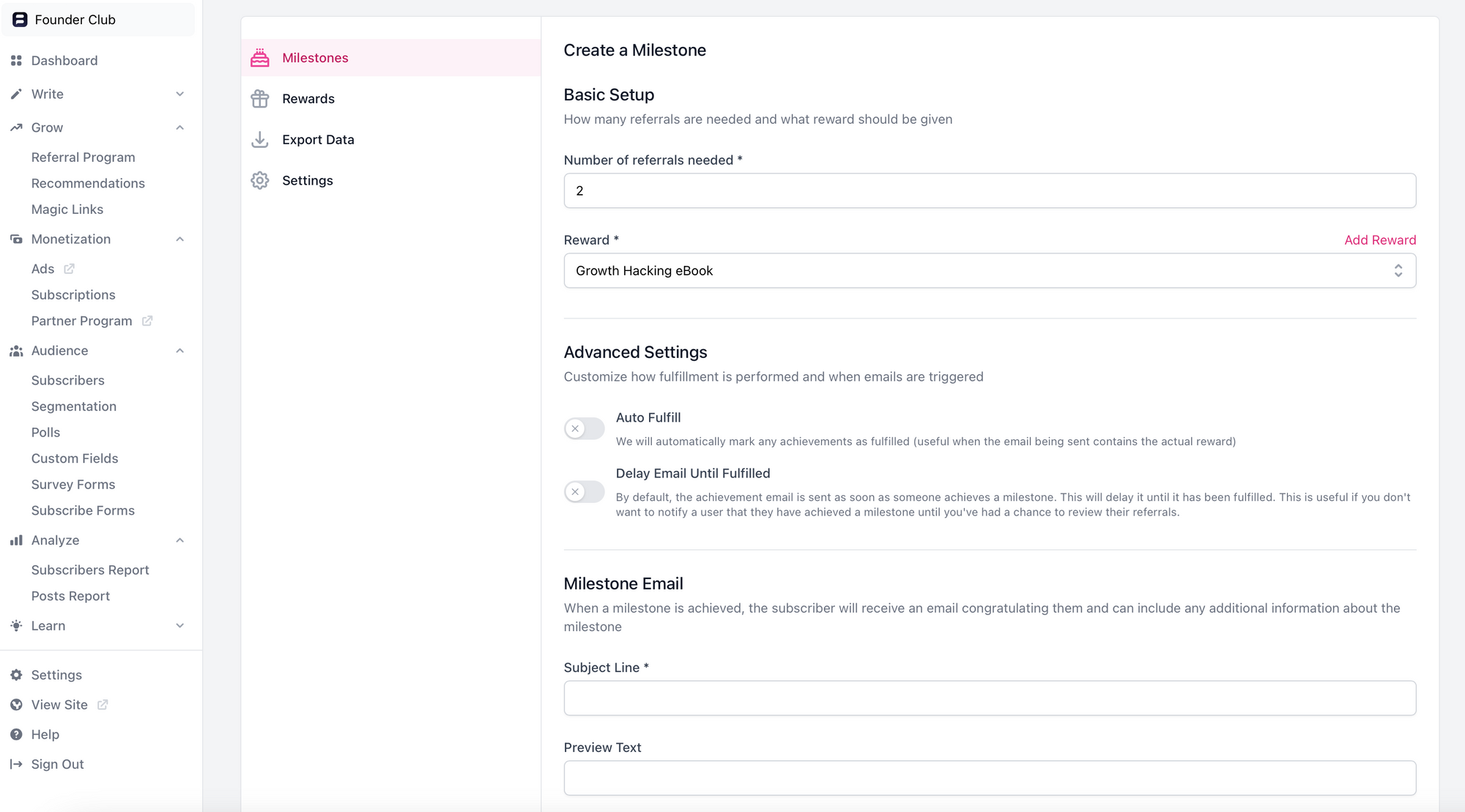 The referral program is one of our favorite features. Most email platforms don't have this built in, so you end up having to use third-party tools like Spark Loop. Within the Beehiiv dashboard, it's easy to create custom rewards and milestones. For example, for our marketing newsletter, we reward users with a marketing hacks eBook when they reach a milestone of 2 referrals. We're able to include this referral program in all our newsletters, and our users can see how many people they have referred so far. When a user reaches the milestone, Beehiiv has an automated email automation to send the user the eBook.
Subscriptions
Native subscription tool: Launching a paid newsletter is seamless with Beehiiv, as it handles payments, subscriptions, and segmentation; you really don't need anything else. If you're using another platform like Substack, it's easy to transfer your paid newsletter across to Beehiiv. One thing that sets Beehiiv apart is that all the money you generate from your paid newsletter is yours to keep; you don't lose a cut or commission to the platform.
Ads
Premium sponsor monetization: Beehiiv's advertising team secures sponsors for your newsletter, allowing you to accept or reject deals and monetize without much effort. While this is currently in beta and invite-only, expect a much wider rollout soon. This is a fantastic feature for creators, as you no longer need to spend time outreaching and negotiating sponsorship deals with brands. This feature is also non-exclusive, so you still have the option to run your own ads if you please.
Polls & Surveys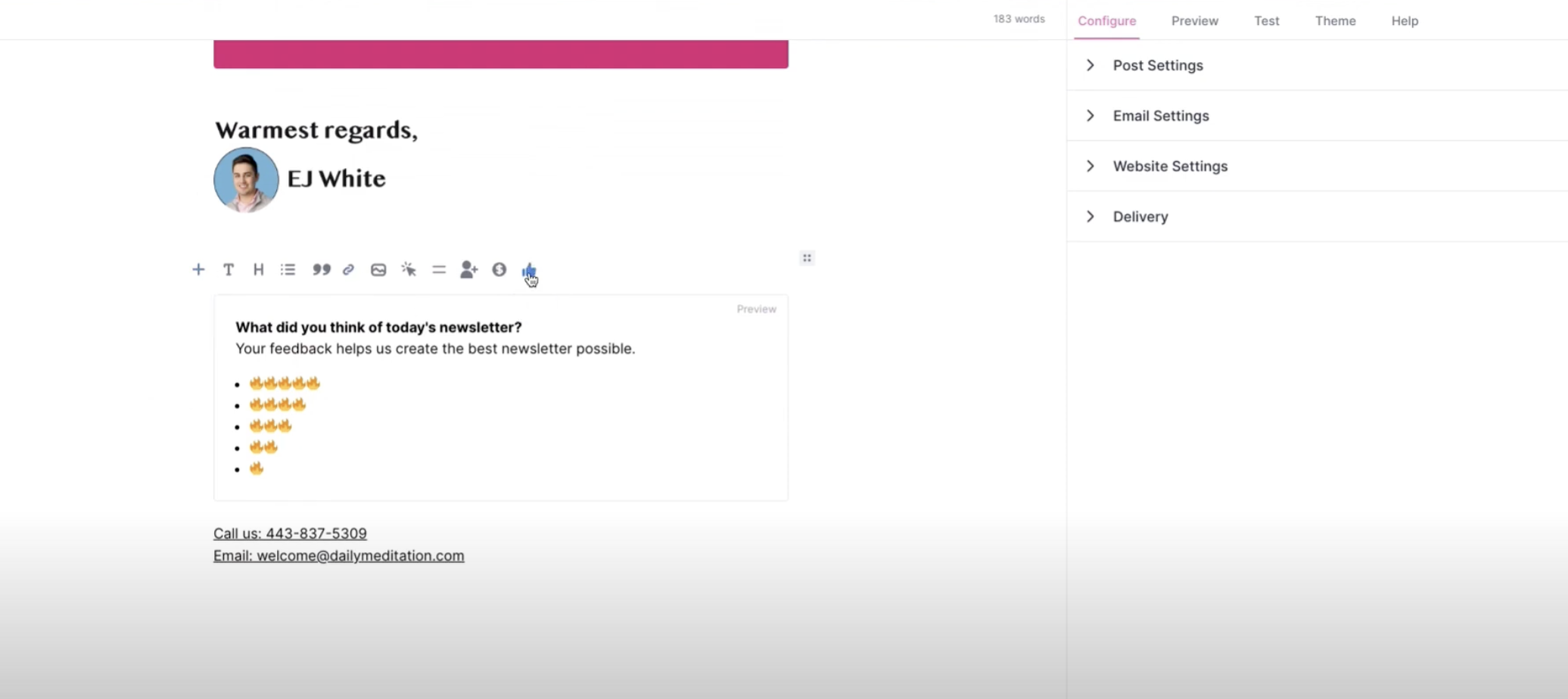 It's possible to create polls and surveys that you can directly embed into your emails. This is a great way to get personal feedback on your newsletters beyond normal statistics like open and click rates. We've also been using the survey feature to collect additional information on our users, such as their industry of work. These two features are enabling us to segment our audience a lot better and send them more specific content they're interested in.
Pricing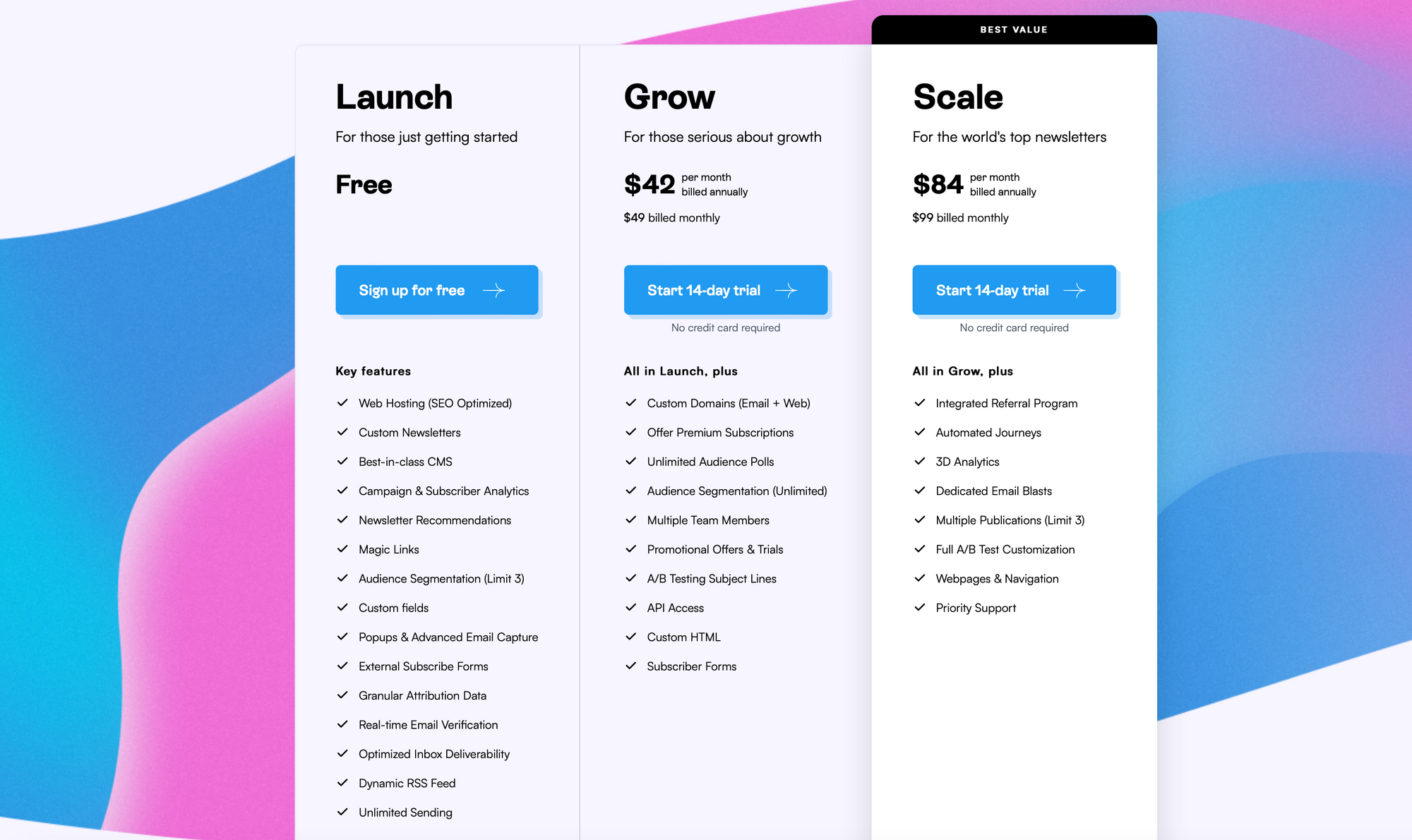 One of the biggest attractions to Beehiiv is the price. It's substantially cheaper than any other email platform we've come across, and if you're just getting started, you can actually get Beehiiv for free up to 2,500 subscribers. At the time of writing, they do have two paid plans at $49 per month and $99 per month. These plans have a lot more features and are the ones to go for if you have an already established newsletter.
Other Features
Beehiiv also has the typical features other more well-known email platforms have, like comments, automations, and segmentations. With the use of custom fields, it's possible to build some really powerful user flows.
Drawbacks of Beehiiv
Lack of integrations
As a newer platform, Beehiiv has fewer native integrations compared to larger email service providers. However, users can still import subscribers via CSV files and use apps like Zapier to connect to external tools.
Limited API functionality
If you're looking to use Zapier, just keep in mind that the limited API functionality means it's easy to send data to Beehiiv from other platforms like ConvertKit, but you cannot send data out of Beehiiv to other platforms.
Conclusion
We're huge fans of Beehiiv; it's easy to use, has pretty much all the features we could need, and can't be beaten on price. As long as you don't need an enterprise-level email platform or have a very advanced email setup, we'd strongly recommend giving Beehiiv a try.