---
Can you give us a quick overview of what Conversion Alchemy is?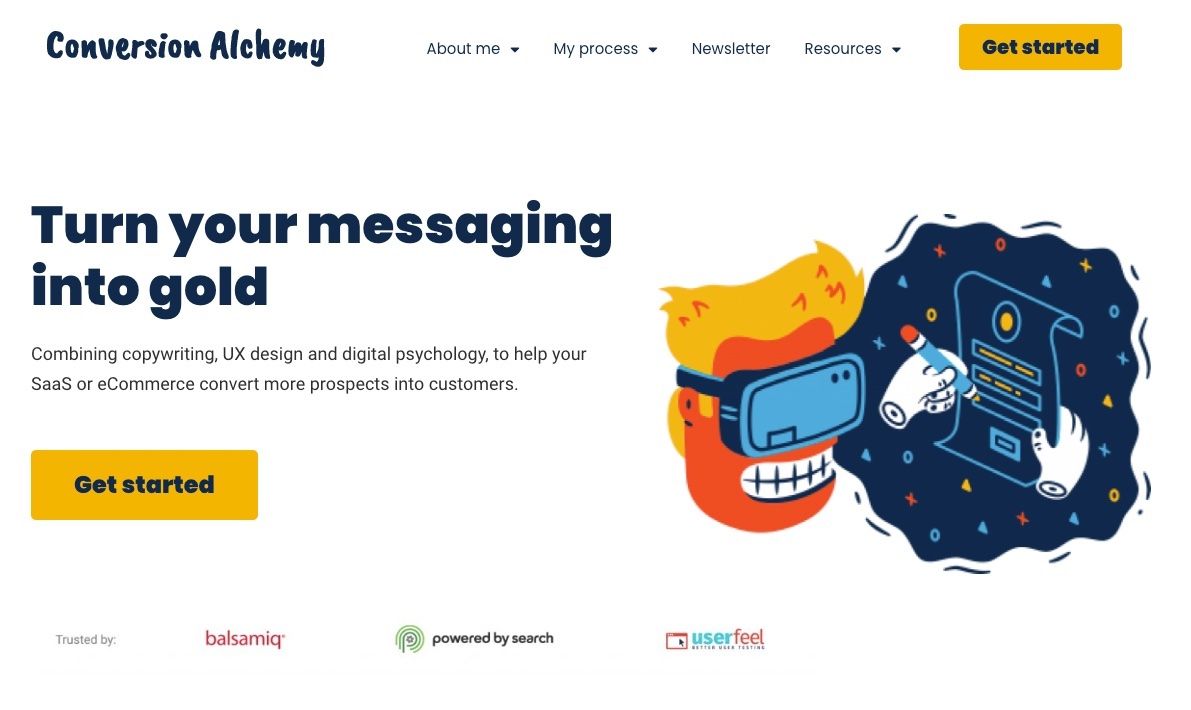 Conversion Alchemy is a conversion copywriting agency that goes beyond traditional copywriting by incorporating UX design research, strategy, and conversion optimization. We specialize in website content optimization for software as a service and e-commerce businesses, typically targeting seven- to eight-figure companies with established product-market fit. In addition to copywriting, we also offer positioning strategy, helping clients clarify their message, target audience, and unique selling points based on comprehensive research.

What is your background, and how did you come up with the idea in launching your agency?
My background is in industrial automation, where I worked as an engineer programming robots for factory production. Seeking a more flexible career and inspired by my experience playing in a band, I wanted to be my own boss. I explored various online opportunities, including Amazon FBA and blogging, before discovering copywriting through Location Rebel, a website run by Sean Ogle, which provides an overview of various online skills.
I was drawn to copywriting due to my interest in psychology, decision-making, and human behavior. I started with the AWAI Six Figure Precision Course, which provided a solid foundation in direct response copywriting. Later, I found Copy Hackers by Joanna Wiebe, which focuses on conversion copywriting, particularly for software as a service and e-commerce companies.
I began working on Upwork, gradually increasing my hourly rate before realizing the best clients weren't on the platform. This led me to create my own agency, combining my passion for psychology and copywriting to help businesses optimize their conversion rates.

When did you start the business, and how did you get your first customers?
I began the business part-time in 2014-2015 and transitioned to full-time in 2018 when I moved from Italy to the UK. Leaving Upwork, I took some chances, including attending a conference in Austin, Texas. I won a ticket to the event through the Tropical MBA podcast's newsletter, which led to joining the Dynamite Circle, a paid community for online business owners.
At the conference, I met the founder of Zeda Labs, a conversion optimization design agency. Afterward, we decided to work together, and I joined their team for two years (2019-2021). During this time, I gained UX design skills that allowed me to combine UX design with copywriting. In 2021, I went back on my own and started Conversion Alchemy.

How's the business doing now?
The business has been doing well. Last year, after a year and a half, we surpassed 130,000 in gross revenue, and in the first quarter of this year, I've already passed the 50k mark. It's been great because our growth has primarily come from referrals and word of mouth. However, I've been working hard in the first few months of this year to build content, develop my brand, and create a newsletter, as I know referrals alone can't sustain growth forever. I want to establish an engine that consistently and repeatedly attracts clients.

Do you work alone?
Currently, I have a virtual assistant who helps me with various tasks, such as repurposing content. I've also recently partnered with a designer named Alexandra. I realized that many of my clients needed a designer to turn the copy and wireframes I delivered into mock-ups, so partnering with her has been great for projects.
Things are going well, and as for hiring more people, my goal has always been to remain lean and small. I don't plan on hiring a full-time team for now, but if I find myself enjoying content creation, I may consider bringing someone on board to handle some client work. I take pride in being an agency owner who loves doing the actual work, from writing copy to strategizing and researching. So, as I mentioned, I am focusing on building my personal brand through a newsletter and other channels.

How do you bring in new leads?
At the beginning of the year, I started experimenting with various strategies to attract new leads through my daily newsletter. Although I initially targeted SaaS and e-commerce founders, I've noticed a mix of freelancers and copywriters in my audience as well. I've tried giveaways, sponsorships, and cross-promotions, with cross-promotions on LetterGrowth proving particularly effective.
Additionally, working on the newsletter has led me to test other tactics, such as creating an ebook for new subscribers and running Facebook ads. By posting daily, I'm not only sharpening my writing skills, but I'm also repurposing content across LinkedIn, Facebook, and Twitter. This has resulted in steady, linear growth, with more people discovering my content and reaching out.

What's your biggest achievement since you started the business?
My biggest achievement since I started the business is my consistent upward trajectory in terms of client quality. As I work with larger and better clients, they are not only easier to work with, but they also push me to learn more and stay up to date. While there isn't a single milestone to highlight, I'm proud of the overall progress I've made.

What's the most challenging aspect of the company?
The most challenging aspect is managing fluctuations in client work. When there's a lull, I focus on content and tasks, but when client work comes in, I find myself working long hours to handle everything. However, I've been improving my ability to book clients in advance, creating a more stable pipeline for the upcoming months.

Is there anything you know now that you wish you had known when you started the business?
One thing I wish I had known when I started the business is the importance of actively working on and investing in a newsletter. I initially thought that writing daily would attract people organically, but I later realized that growing the newsletter requires consistent effort and commitment. To stay motivated, I've set constraints for myself, following the model of email copywriter Ben Settle, which involves writing around 400-500 words daily, limiting links and images, and connecting the dots between ideas I collect from various sources.

What would be your advice for those who want to quit their job and start their own agency?
If someone wants to quit their job to start their own agency or go freelance, my advice would be to have at least six months of savings as a safety net, since work might not be consistent. Secondly, focus on "just-in-time" learning; acquire new skills as needed and take action, rather than spending excessive time on learning without applying it. Continuously engage in micro-learning to enhance your skills as required.

Do you think platforms like Upwork are a good place to start?
Platforms like Upwork can be a good place to start, though they may be more competitive now than before. If you don't have a portfolio, it's still worth trying. To secure your first job, be honest and transparent about your experience level and offer value. For example, you could offer to write a section of a client's homepage to showcase your skills without giving away too much free work. If they like it, they can move forward with the rest of the project.

What are your plans for the next six months?
Over the next six months, my plans include building a course tailored for either e-commerce founders or freelancers, depending on the demand. I'm currently testing both ideas to gauge interest.
In addition, I aim to grow my newsletter. While I don't see myself moving away from working directly with clients, I may focus more on consulting and strategy, with a smaller portion of my work dedicated to courses. My favorite projects involve positioning work and strategizing for clients, as I enjoy conducting research and presenting copy that resonates with them. It's rewarding to see that I can understand their needs and create impactful work.

Where can people find and get in touch with you?
Newsletter: https://conversionalchemy.net/newsletter
Everywhere: https://linktr.ee/conversionalchemy