Got Legs Digital, founded by Gareth Bain, is a marketing agency dedicated to fueling the growth of ambitious property, fintech and startup companies.
Tell us about Got Legs Digital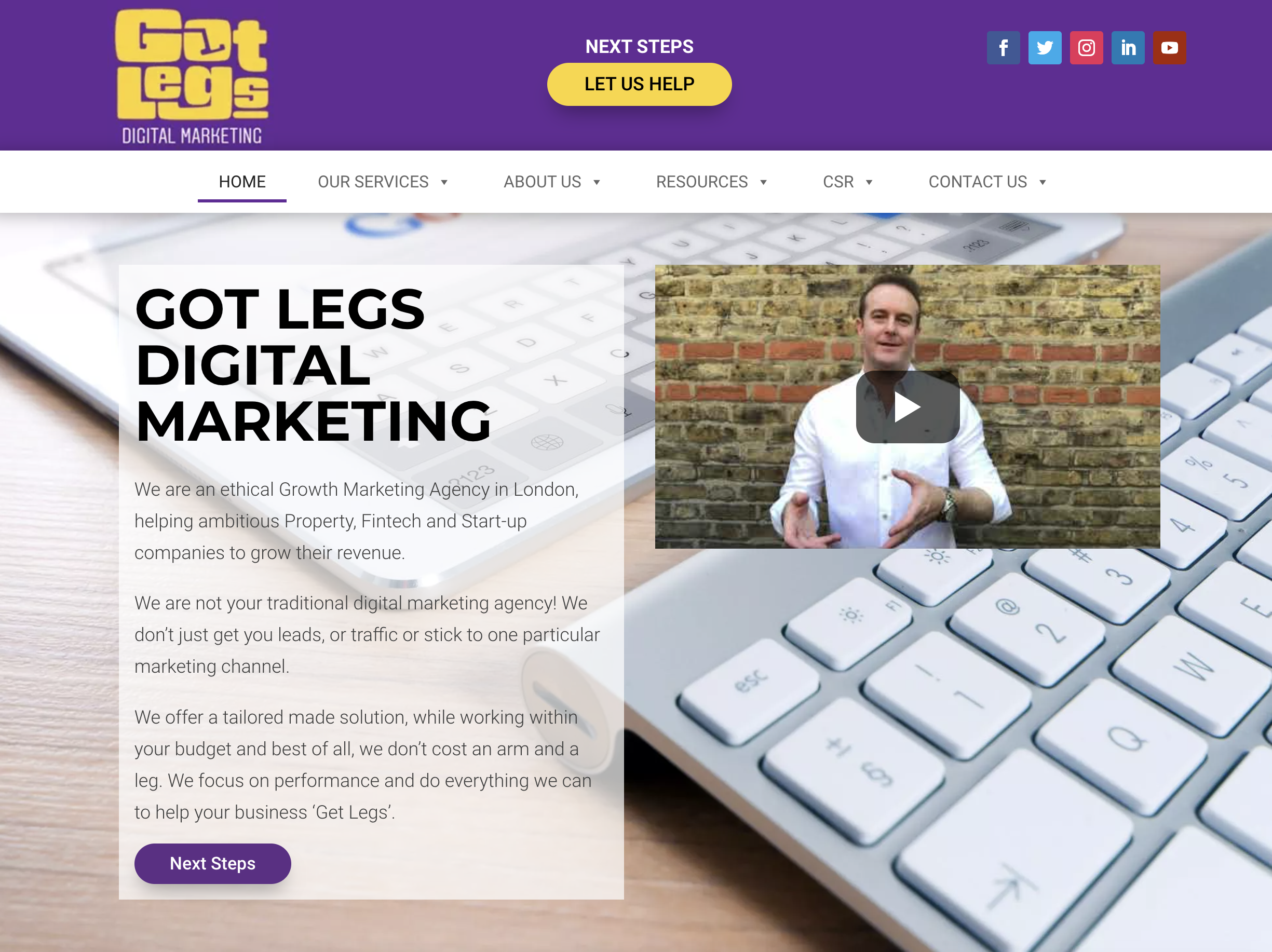 Got Legs Digital is the first ethical growth marketing agency in London. When I founded the company, our primary focus was on purpose rather than profit. The name "Got Legs Digital" has a twofold meaning. Firstly, "Got Legs" is a marketing term that represents helping businesses grow and expand.
That's the commercial aspect, where we assist businesses in increasing their revenue. Secondly, there's a philanthropic side to our work. For every business we collaborate with, we donate prosthetic legs to individuals in need throughout Africa. In essence, we help people get legs, and we help businesses grow.‌‌
When did you start the business?
Interestingly, I launched Got Legs Digital just seven days before the global pandemic andl lockdown in the UK. I left my corporate role on Friday, March 13, 2020, and we set up the business on the 23rd. While it wasn't initially part of our plan, the situation ultimately worked in our favour, as the need for digital transformation has surged over the past two years, driving demand for our services.‌‌‌‌
What is your background, and how did you come up with the idea?
My background is in marketing and public relations, with 15 years of experience in both theory and practice. I've worked with large-scale blue-chip companies like American Express, MoneyGram, and BlackRock, where I gained an understanding of strategy. However, I felt like just a cog in a wheel, not making a significant impact.
So, I left the corporate world and joined a bootstrap startup, where I took on various roles and helped businesses grow from bootstrapping to IPOs. During this time, I noticed that many agencies were using outdated marketing techniques and charging exorbitant fees, taking advantage of business owners with limited marketing knowledge.
This inspired me to create an ethical marketing agency to bring about change in the industry.‌‌‌‌
How did you get your initial customers?
When I first launched the agency, I had no savings, customers, or pipeline. I began with guerrilla marketing and put myself out there. As a former marketing director and CMO, I attracted my first clients by offering lower prices than competitors while over-delivering on my promises. This approach helped me build a good reputation, which I then leveraged to scale the business.
To reach potential clients, I used a combination of LinkedIn, job boards, and freelancer websites. As I gained more traction, I implemented email automation campaigns and advertising to reach larger clients.‌‌
How is the business doing today?
We recently celebrated our three-year milestone, which is a significant achievement for us. We also reached another milestone by donating over 500 prosthetic legs in these three years, impacting the lives of 500 people. This accomplishment sets us apart and is a crucial part of our mission.
Instead of traditional KPIs, we focus on Key Moments of Impact (KMIs) – measuring how many lives we can impact in a year. This focus on making a difference is what motivates our team. We're driven by the stories of those we've helped, and it inspires us to continue our work even when faced with challenges.
Over the past three years, we've experienced fluctuations in scaling our business. We've faced challenges finding the right balance between growth and maintaining high-quality work at a fair price. Currently, we've put a cap on taking on new business. We're working with about seven to eight high-quality clients, ensuring long-term stability and allowing our team to adapt.
Our priority is delivering quality work and ensuring client satisfaction rather than becoming a large conglomerate. We focus on maintaining strong relationships with existing clients while carefully managing our capacity for new projects.‌‌‌‌
How many people are currently working for the company?
Currently, I work full-time for the company, and we collaborate with several freelancers and contractors. We have about five full-time freelancers whose primary focus is on our projects, and we bring in additional people as needed based on contract requirements.
We find freelancers through platforms like Upwork and various job boards. However, finding skilled freelancers can be challenging, as the best ones are often busy. Since the onset of COVID, we've been able to leverage talented individuals from different countries, benefiting from their expertise at a more affordable cost.‌‌
What channels are working well for your clients right now?
We see excellent results from Facebook ads, SEO, email automation, and LinkedIn outreach. Our approach focuses on the entire buyer journey rather than just one channel, which involves multiple channels working together. The primary goal is establishing the brand and building the buyer journey based on that foundation.
Our clients include both B2B and B2B2C businesses, which can be challenging as we navigate between different sectors. However, this variety keeps our work interesting and dynamic, ensuring we're continually adapting to new situations and strategies.‌‌
What tools do you use to manage everything?
We rely on several tools to manage our projects and relationships effectively. Trello is our go-to for job boards and tracking work, while Slack is essential for constant communication. Additionally, we use a video recording program called Screencast-O-Matic, which is especially helpful for briefing tasks like website changes.
By recording videos, we can explain details more effectively than through written instructions. These tools have been invaluable in helping us work cohesively and efficiently.‌‌
What has been your biggest achievement since you started the business?
Our most significant achievement has been reaching the milestone of donating 500 prosthetic legs. When we began, we committed to donating a percentage of our revenue, and last year, we set a goal to hit 500 donations by the end of the year. We recently achieved that, which has been incredibly fulfilling on an emotional level. I had the opportunity to visit a centre in Tanzania and witness firsthand the positive impact of our efforts.
On a commercial level, we've had great success working with EasyPeasy & Lego. We managed to reduce the cost per acquisition from £5 to as low as £2 in some cases. Our current Facebook ads campaign for them is three weeks ahead of schedule and about £15,000 below budget.‌‌
What were the biggest challenges you have faced so far?
Being a founder and CEO presents new challenges every day. After leaving the corporate world, I quickly realised that running a business involves much more than marketing, such as handling tech, HR, and legal matters. We've faced a variety of obstacles, including being hacked early in our startup phase, which led to losing clients and having to reimburse them.
Now, our challenges mostly revolve around managing client expectations and addressing HR issues. Every day is a learning experience, and while I'd like to think I'm improving, new challenges constantly arise. Nevertheless, part of the enjoyment of being an entrepreneur is finding solutions to problems we didn't have yesterday.‌‌
What do you wish you had known when you first started the business?
When I first started, I focused on perfection, wanting everything to be just right before launching. But I've learned that being in the market is more important than timing it correctly. During COVID, we missed some opportunities because I was preoccupied with perfecting our website and products. If I had set up a simple landing page and ads, we could have scaled more quickly.
Another lesson is the importance of mindset and support. Being a CEO and founder can be lonely, so joining CEO mastermind groups and working with a coach in my second year greatly improved my focus and motivation. I'd recommend seeking help from the start to maintain momentum and stay resilient.‌‌
What advice would you give to new entrepreneurs?
Now is the best time to start a business, with numerous AI tools, website builders, and job boards available. My advice would be to begin with a minimum viable product (MVP). Launch something small, test it, and see if the market responds positively.
If not, be agile and make changes. If your idea gains traction, then focus on building it out. Embrace the ease of starting a business today; it's never been an easier time.‌‌
What are your plans for the next year?
In the coming year, we plan to focus on maintaining our current client base and improving our internal processes. We're not actively seeking new clients unless there's a change in our existing relationships.
Our primary goal is to systemize the business by refining our standard operating procedures (SOPs). This will prepare us for future growth, ensuring that we can scale effectively while maintaining quality and meeting client expectations. We anticipate being ready to scale in the latter part of the year.
‌‌Where can people contact you?
If you want to learn more about Got Legs Digital, ‌‌you may visit our website or contact me via Linkedin