We speak with Louis Riat-Bonello, the founder of Savvy Digital, a Google Ads agency in the UK.
What's Savvy Digital?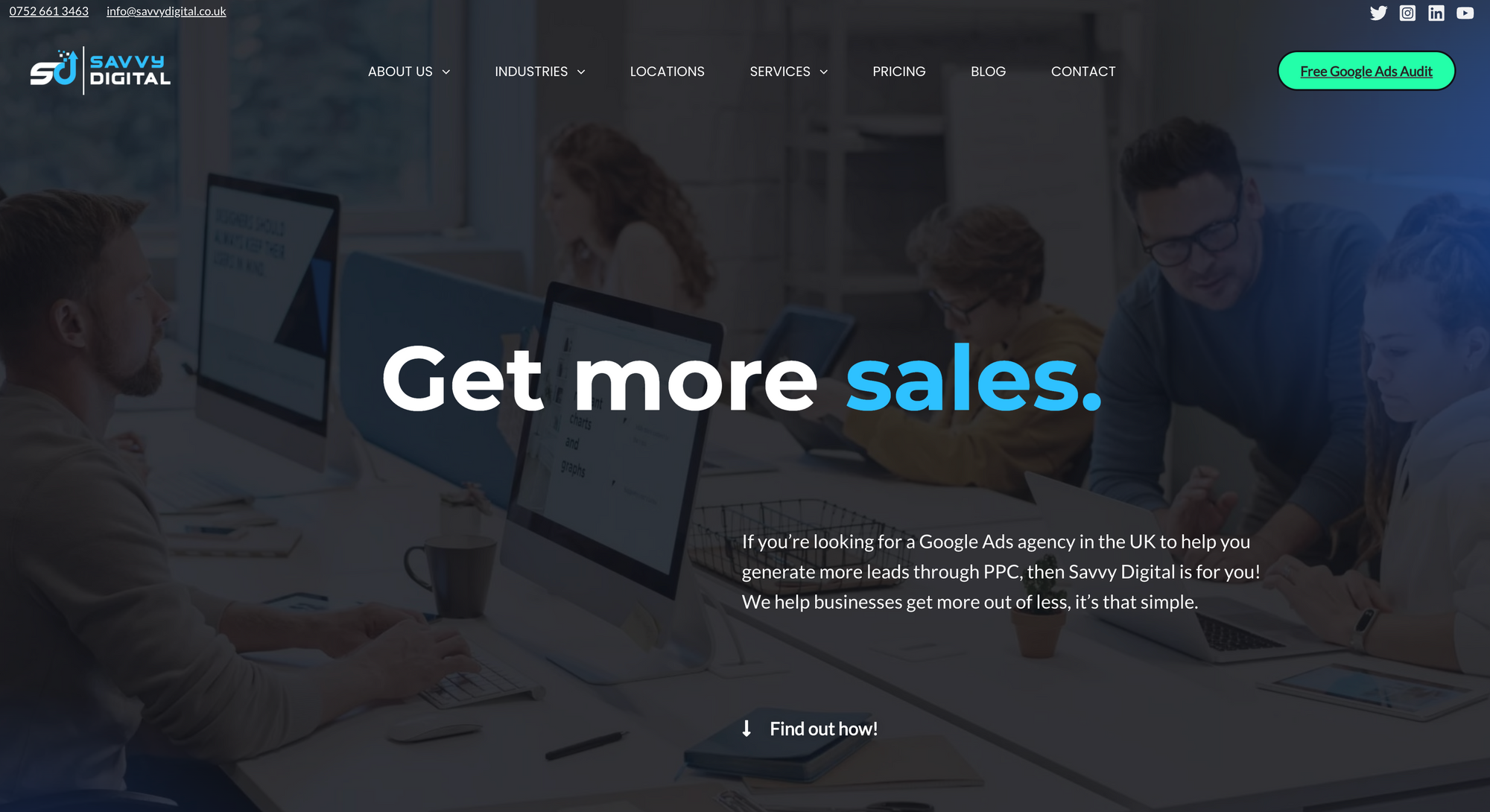 Savvy Digital is a lead generation agency specializing in Google Ads. We create targeted campaigns designed to reach the desired target market and address the existing demand on Google.
Our primary focus is on assisting local businesses in instantly increasing their online presence. By helping them overcome the challenges and trial-and-error associated with Google Ads, we ensure their campaigns are competitive and ready to face their main rivals immediately.
Tell us about your background
My background is quite diverse. Professionally, I worked for a FinTech company for four years, where I provided trade support for a trading platform in a corporate position. Prior to that, while still in school, I ran multiple YouTube channels, growing them to over a hundred million views. This experience led me to explore pay-per-click and Google advertising.
As I managed those YouTube channels, I created brands and started a few small e-commerce stores to sell merchandise. I then began experimenting with pay-per-click advertising through Facebook and Google.
Once I recognized the potential of Google Ads, I started running campaigns for family and friends. After conducting several case studies and witnessing the positive impact my work had on the companies, I gained the confidence to leave my corporate job and start my own agency. The agency has been operating for about nine months now.
How did you get your first customers?
Our approach to acquiring customers has been a mix of strategies. Initially, we focused on social media, particularly Facebook groups and other online communities, to establish our authority within the industry.
We aimed to build trust with potential clients by offering valuable insights for free. One method we continue to use is providing free audit reports for businesses already running campaigns, which helps demonstrate areas for improvement and fosters trust in our expertise.
Although we have experimented with cold outreach methods like email marketing campaigns and cold calling, the majority of our success comes from a referral-based approach. By participating in networking groups and building our reputation within the local and national communities, we have established ourselves as a trusted figure in the industry.
You mentioned you do a lot of free audits for clients. Are there common mistakes you see they make?
Indeed, we've noticed that about 90% of the clients we conduct free audits for have similar errors in their campaigns. These mistakes often stem from a lack of knowledge about the platform and can be more technical than the average business owner can handle.
One of the most common issues we come across is improper conversion tracking. Google Ads is an excellent platform, but it tends to gloss over more technical aspects, allowing advertisers to quickly start their campaigns. Unfortunately, when business owners overlook something as fundamental as conversion tracking, they struggle to measure and attribute their return on investment accurately.
The key takeaway is the importance of having a well-structured initial setup that tracks positive actions on a website, enabling businesses to make informed decisions based on accurate data.
Are there any marketing strategies that are working well for your clients?
At the moment, one strategy that's working particularly well for our clients is retargeting campaigns. Many people associate Google Ads primarily with search ads and tend to overlook the potential of display ads through Performance Max. By creating audiences within Google Analytics 4, we can effectively target individuals who have visited a website but haven't taken the desired action. This allows us to retarget them across Google partner websites such as Gmail, YouTube, and other search engines using AdSense.
The idea behind this approach is to create multiple touchpoints between a business and potential customers, building trust and encouraging those who haven't initially made a purchase decision to take action. By retargeting these individuals, we increase the chances of converting them into customers.
What's your biggest achievement?
One of the achievements I'm most proud of is our ability to gain solid clients rapidly. Moreover, 90% of the clients we started with are still with us today after nine months. Considering the average client retention for an agency is typically between two to three months, this is a significant accomplishment.
As a smaller agency, we can quickly adapt and make decisions without bureaucratic hurdles. We prioritize transparency in all our operations and don't solely focus on value metrics. This approach has enabled us to maintain a high client retention rate, which is a testament to our dedication and effectiveness.
What has been your biggest challenge so far?
Since launching the business, my biggest challenge has been navigating my role as a solo entrepreneur and understanding how to create the most value for my target market with limited resources and time. As this is my first business, I've had to learn by working directly with clients, and continuously tweaking my service offerings and pricing to ensure cost-effectiveness and a competitive edge over larger agencies.
Is there anything you know now that you wish you had known when you started the business?
One thing I wish I had known when I started the business is that it's more of a marathon than a sprint. Nine months ago, there was a surge in digital and marketing agencies due to the COVID-19 pandemic and the shift to remote work. Many online resources made it seem easier than it actually was, and I felt pressured by the influx of new agencies.
However, much of that hype has died down over time, and those who were in it for the short term have moved on. This has given me a unique opportunity to regain the trust of clients who may have been poorly served in the past and to establish myself as a reliable and committed service provider.
Are there any tools or apps that you can't live without?
In terms of technology, there are several tools and apps that are essential for running successful Google Ads campaigns. Most of these can be found natively within the Google ecosystem, such as the Google Ads dashboard, Google Analytics, and Google Tag Manager, which enable proper tracking of conversions and attribution.
Another valuable tool is Google Keyword Planner, which is excellent for keyword research and understanding where to position yourself in SEO and pay-per-click advertising.
As for third-party tools, I highly recommend SpyFu, which allows users to analyze competitors' campaigns to understand their budgets, compelling ad copy, and the keywords they are targeting. This insight can be invaluable in crafting and refining your own marketing strategies.
Do you have any advice for entrepreneurs looking to launch their agency in the future?
For new entrepreneurs looking to launch their own agency, it's crucial to understand that data is king. Clients can sometimes be challenging to work with, but utilizing data to explain your position and reasoning makes it much easier for them to comprehend. Opinions only go so far; it's essential to focus on what's best for your client.
Transparency and honesty are also key. Understand that what clients think may not always be the best solution for them. To maintain a high client retention rate, be transparent and honest with your clients. Avoid making promises you can't keep and base your strategies on previous data and client results. This approach will help you build trust and deliver the best possible outcomes for your clients.
What are your plans for the next six to twelve months?
Over the next six to twelve months, my plan is to continue scaling the business and begin employing full-time team members. This will enable me to transition from hands-on processes to focusing more on business development. A significant area of interest for me is automation. I aim to identify aspects of the business that can be managed with AI tools or scripts to streamline workflow. By incorporating automation, I hope to lower the price point and make our services more accessible to a broader range of customers.

Where can people contact you?
Our website is www.savvydigital.co.uk & email [email protected]. Feel free to connect with me directly on Linkedin here.