Tell us about Camper Cafe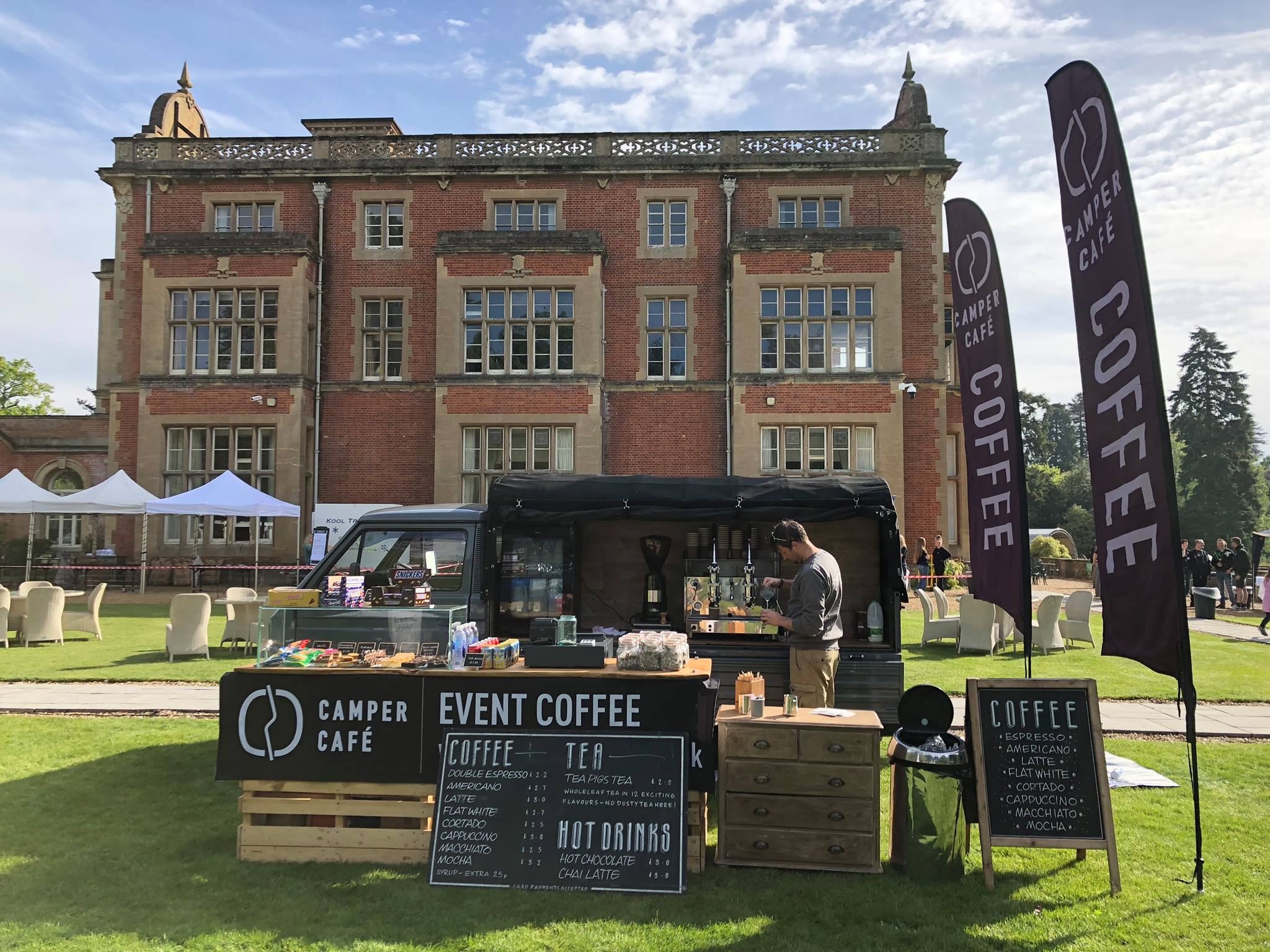 Everyone loves coffee, and it's rare to see people complaining about it, which makes the coffee industry a great market.
My partner and I started Camper Cafe in 2011. My background is in sales and marketing, while my partner has experience in project management and telecoms, as well as a passion for cars, particularly VW campervans.
We came up with the idea for Camper Cafe when we noticed a long queue of people waiting for coffee at a local event.
We decided to put a coffee machine in the back of a VW campervan and travel to various events, making money while enjoying the experience.
We launched the business in May 2011 with a small investment of around £5,000 and put in a lot of personal effort between us, converting our first trailer into a coffee unit.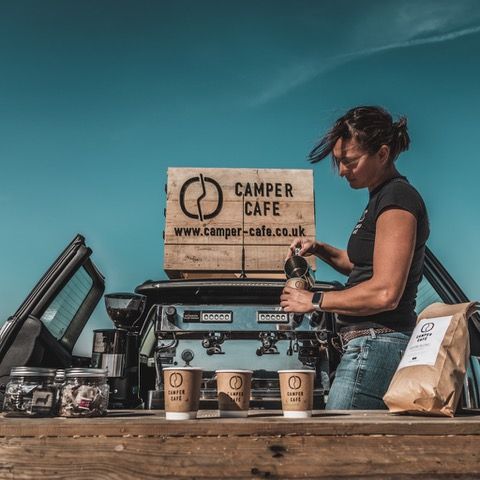 Initially, mobile coffee was quite rare, so I took on the sales and marketing role for the business, contacting event organizers and trying to sell the idea of quality coffee from a coffee van.
During our first year, we participated in numerous vehicle-based events, mainly VW shows. Cold outreach and building a website with good SEO tactics helped us get noticed.
As the business evolved, we received requests for weddings and other events. A major turning point came when Marriott Hotels approached us with a request to brand the coffee van and take it on tour to visit their customers.
This led us to build our second unit, a T5 vehicle, to cater to the corporate market. We still work with Marriott Hotels, conducting three tours a year for their National Sales Awards.
We've come a long way in the last 12 years, but our success can be attributed to our passion for coffee, hard work, and the natural marketing effect of people sharing their positive experiences with Camper Cafe.
Tell us more about the early days & how you priced your services?
In the beginning, we were still working our regular jobs and not taking a salary from the business. This allowed the money generated by the business to stay in the business and build some equity, which we used to build more vehicles.
To come up with a quote for our private corporate jobs and wedding enquiries, we considered staff costs, travel costs, and a profit margin to help grow the company. Having previous experience in quoting and understanding the market, we had a good idea of the going rates for similar setups.
Another market that opened up for us was the TV and film production side, specifically Craft Services.
We were asked to provide coffee and snacks between meals for production crews. Initially, we weren't sure how to quote for these services. Fortunately, some catering companies gave us an idea of what we should charge.
There's quite a significant difference between what a Hollywood film production would pay compared to a TV company.

How is your clientele split?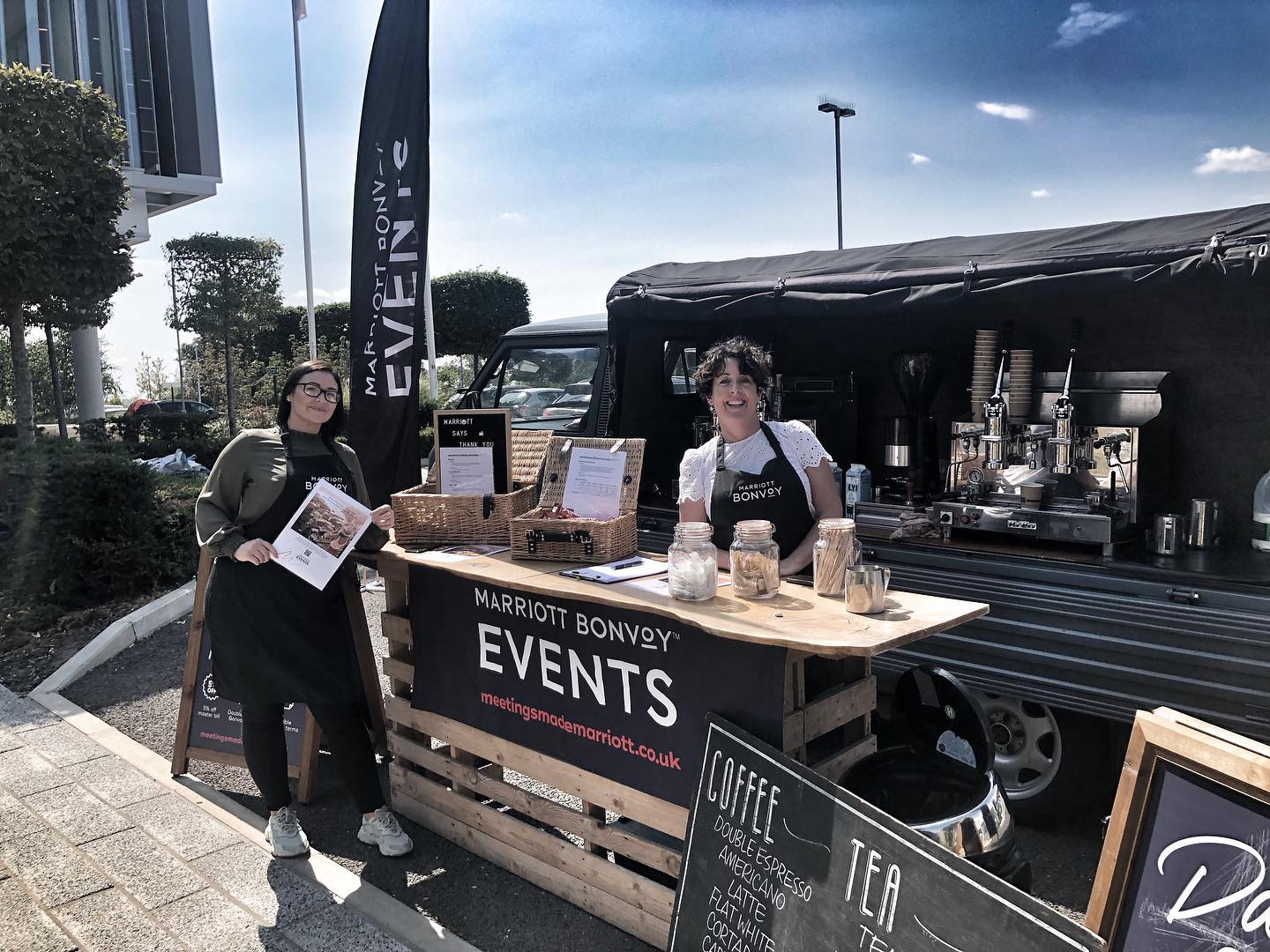 We decided to focus on events, different locations, and different clients, as we were never interested in driving around the same business parks every day. Over time, we learned which events worked best for us and shifted our focus to sporting events where athletes and attendees were more likely to purchase coffee.
As a result, our corporate clients now fit around our event schedule. We have worked with several big clients, including eBay, Red Bull, and McLaren.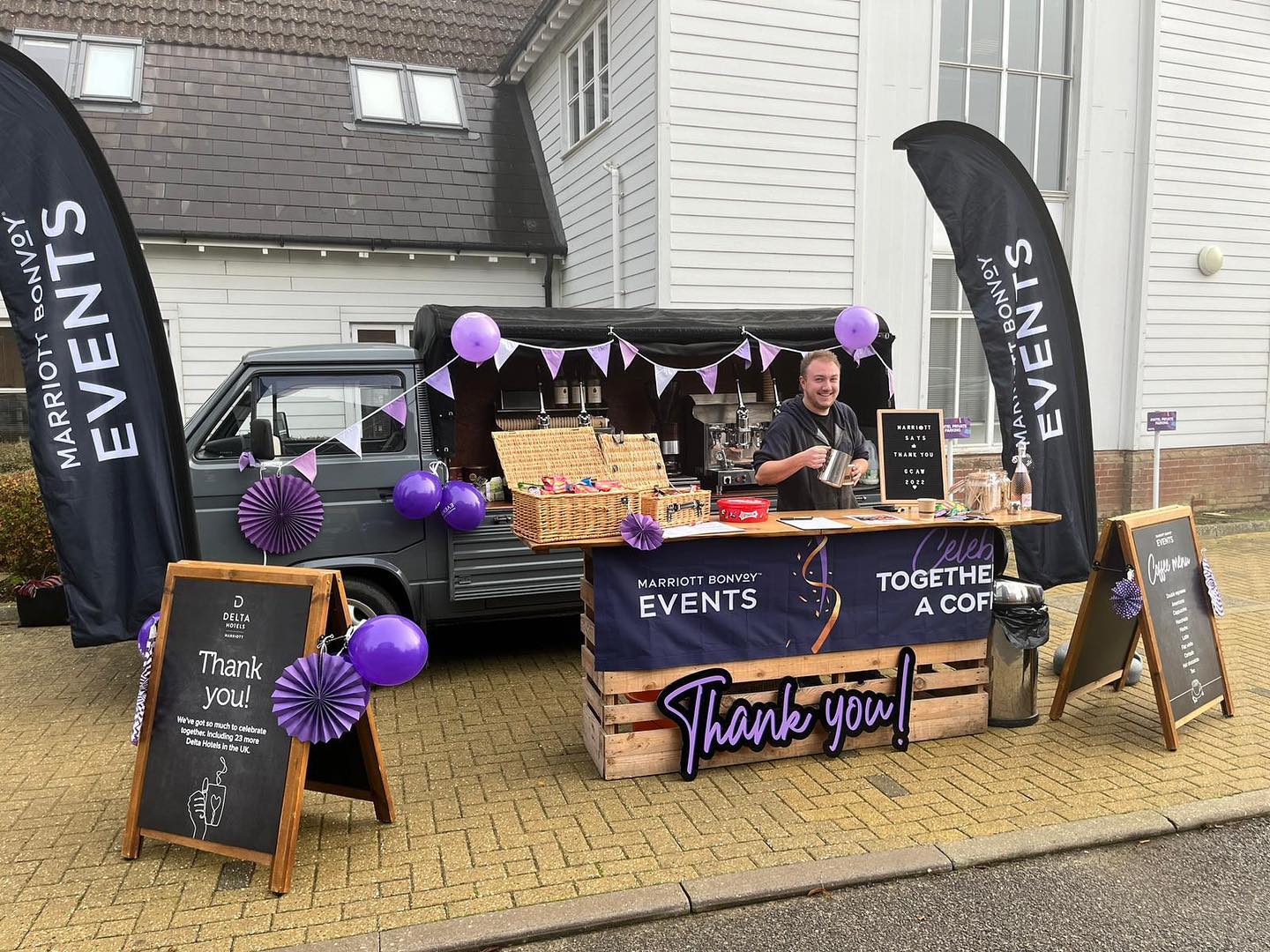 Currently, the business is split about 50/50 between events and corporate clients (B2B). While event work primarily takes place during the summer, corporate work is available year-round, presenting more growth opportunities.
This led us to focus on expanding the corporate market, which has been quite successful. In fact, I eventually left my job to work full-time in the business.
How did the pandemic impact the business?
It was tough, our first tour was cancelled in March 2020, and as the world went into lockdown, more cancellations followed, leaving our calendar empty. It was difficult, as I had just left my job and struggled to balance it with the business.
To cope with the situation, we started a local coffee delivery service to maintain our sanity and engage with our neighbors. Meanwhile, I returned to the marketing field and established my own agency.
My partner has a Wi-Fi business, and we still operate the coffee van. Together, we now juggle three businesses, enjoying a balance of work across them.
Do you have any full-time staff working within the business?
At the moment, we don't have any full-time staff, as the business itself isn't full-time. The revenue was around £230,000 before the lockdown, which is impressive for a part-time venture.
We considered the potential for growth and explored long-term opportunities, such as permanent staff and permanent pitch locations. Many inquiries indicated an interest in more permanent arrangements.
However, the COVID-19 pandemic changed our plans. We decided to keep the business as something we love and enjoy without being fully consumed by it.
By not employing full-time staff, we can maintain a balance, enjoying the flexibility of the events market. We appreciate the ability to complete an event, store the vans, and take a break before moving on to the next one.
Once the pandemic restriction began to ease, did many previous clients return?
Yes, all of our previous customers have returned, and we continue to provide services for them. This has allowed us to reevaluate our partnerships and determine which clients we want to work with. Fortunately, most of our clients have always been excellent, which is why we maintain these relationships.
With the growth potential, we are now considering our next steps. Currently, we are in the process of converting another unit.
Is the revenue back to the previous levels?
The revenue hasn't returned to pre-pandemic levels, but we're eager to see what this year brings. Before COVID, we had some outstanding orders that were paid for but not yet delivered.
Now that we've fulfilled those orders, our financial year starts in July, and we expect to be close to last year's revenue levels from next July onwards. At that point, we'll have to decide whether to pursue growth again.
As a part-time business, it's surprising how much money can be made in this industry. The success of our partnership lies in our complementary skills. Will handles the technical, logistical, and building aspects, while I focus on sales and client relations.
For example, he developed a WiFi solution for the coffee van, allowing us to accept payments and work remotely.
Will also enjoys exploring technological advancements. To go green, he designed one of our coffee vans to heat water while driving.
Although using an electric vehicle wasn't viable due to the high power requirements of coffee machines, this innovative solution saves energy by pre-warming the water before it's pumped into the coffee machine.
How many vans do you have now?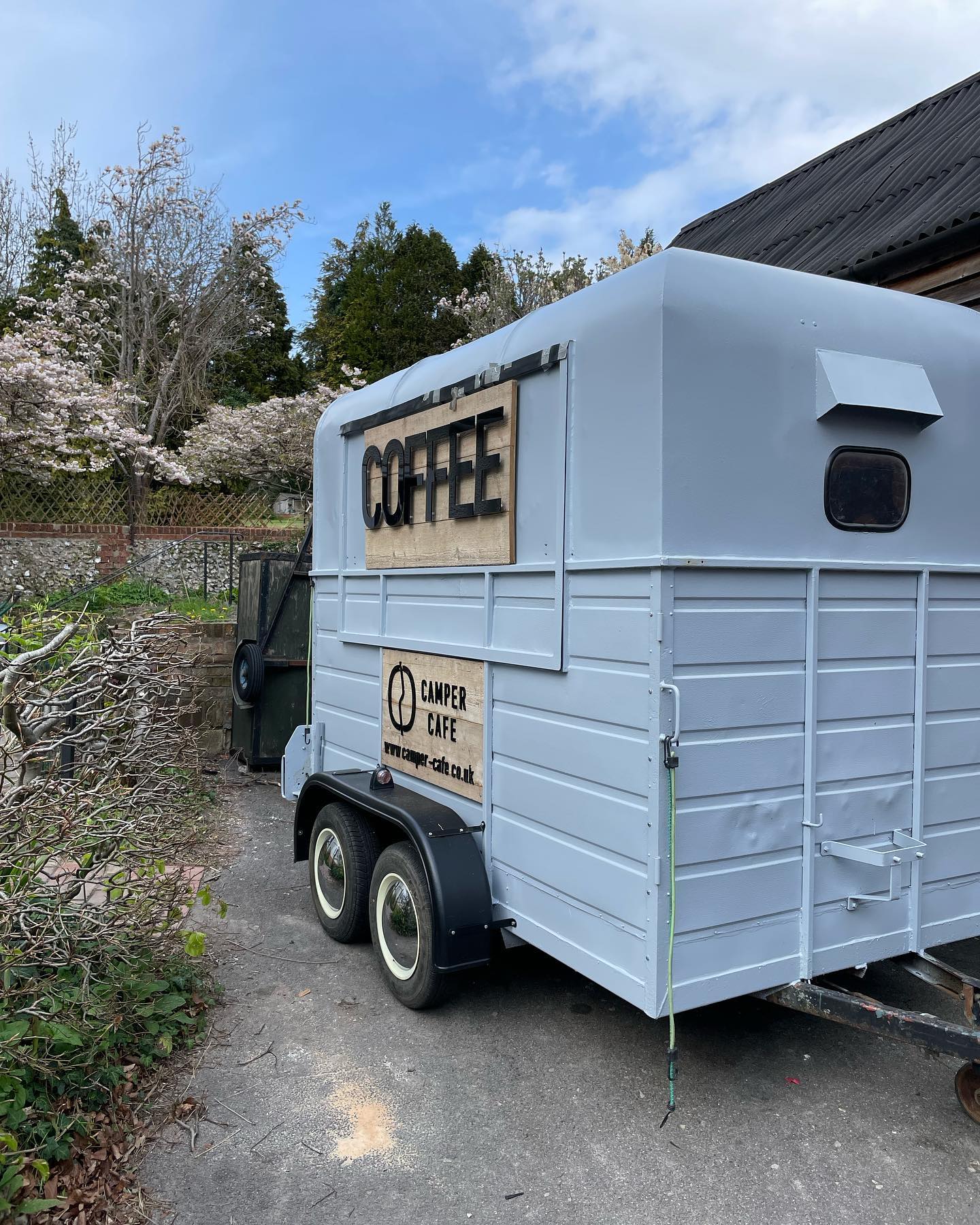 Currently, we have two fully built vans, and we have the resources to assemble a couple more if needed. We've disassembled some components and are reevaluating how to best utilize them. This year, we plan to focus on our two main units, but we can quickly assemble another one if the demand arises.
What has been your biggest achievement?
Our biggest achievement has multiple facets. For me, it's the fact that we've established long-term relationships with prestigious brands like eBay and Marriott. Being trusted to operate within sensitive corporate environments and maintain confidentiality speaks volumes about our professionalism and reputation.
On the other hand, my business partner, Will, would say his greatest accomplishment is the technical aspect of our vans. Our 1989 van, for example, is equipped with two coffee machines and a 70-liter water tank, allowing us to serve around 300 or more coffees per hour.
In comparison, most coffee vans can only produce about 50 or 60 coffees per hour. Will's expertise in building efficient and powerful units has greatly contributed to our success. Our focus on client satisfaction and impressive technical capabilities have resulted in a strong and thriving business.
What marketing channels have you been using to acquire customers?
While we did focus heavily on SEO in the early days, we have since scaled back on those efforts. The reason is that our business has reached a level where we're consistently busy with events and clients, and we're generating sufficient inquiries through word-of-mouth referrals and our presence at events.
Our success in local markets, such as rowing clubs, has further solidified our reputation, leading to more opportunities within similar circles. Although we could potentially increase our SEO efforts if we decided to expand the coffee business, our current approach primarily relies on local targeting, networking, and maintaining strong client relationships.
How are you splitting your time now?
Currently, my time is divided between the campus cafe and my marketing agency, with 25% dedicated to the cafe and 75% to the marketing agency. The agency is growing, and it's a rewarding experience for us. The key is striking the right balance between work and personal life to ensure overall satisfaction and success.
I personally enjoy delivering and working on marketing aspects of the business, as I am a marketer by nature. What I don't want is to be in a position where I'm only managing people, dealing with accounts, and recruiting while others are out in the field all the time. That's not what I enjoy doing. Therefore, as the business grows, it's important to consider how my role may change and affect my enjoyment of the work.
How do you stay motivated?
Staying motivated is largely a result of enjoying the work I do. I've always been passionate about my work, and returning to the marketing world has been fulfilling since I missed it.
I appreciate learning from these companies and applying different marketing tactics to the coffee business. Meeting with clients, providing excellent service, and completing successful projects is gratifying.
Of course, there are days when the work is more challenging. For instance, waking up early in the freezing cold to drive a van, defrost a coffee machine, and work in the dark can be difficult. However, my overall satisfaction from my work keeps me motivated and engaged, despite the occasional tough days.


What are your plans for the next 6-12 months?
Over the next year, I will focus on both Camper Cafe and the marketing agency, as I am passionate about both. The plan is for passive growth, and while I'm not actively pushing for expansion, I am open to opportunities that present themselves. As a marketer, I am always striving for growth.
At the moment, we are fortunate enough to be in a position where we don't have to actively grow our businesses and can focus on enjoying the work. However, there is an internal debate about pursuing more aggressive growth.
The challenge with growth would require giving up more control of the business. Ultimately, striking the right balance between growth and maintaining control is crucial for our future plans.
Where can people get in touch with you?
They may visit my website, Instagram, or Facebook page, or connect with me on LinkedIn.