Legislate, founded by Charles Brecque, is an innovative legal technology company established in Oxford in 2020, designed to revolutionise how fast-growing companies handle contracts. With a focus on simplifying the contract creation process for individuals, operations, and finance teams, Legislate ensures seamless management and tracking of vital contract data.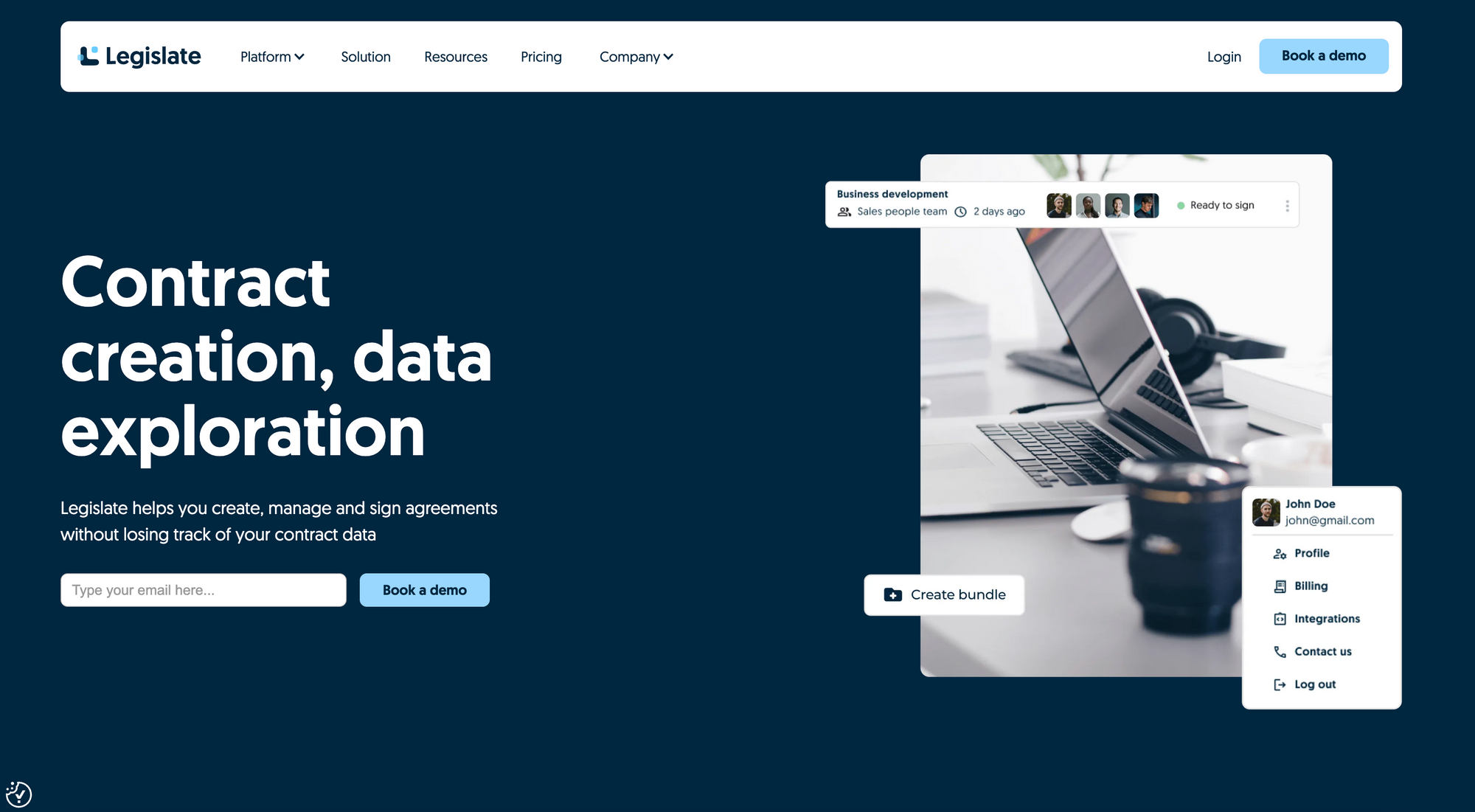 Can you give me a quick overview of what Legislate is and the problem it tries to solve?
As a platform, Legislate makes it easy for people, operations, and finance teams in fast-growing companies to create contracts in a safe and robust way. What's more, it allows them to track the data in the contracts so that they can answer questions, such as how many contracts have a break clause next month or how many employees are on a 30-day notice period. We make all the data in a contract searchable, which can be incredibly valuable for companies.
How did you come up with the idea?
I'm not a lawyer, but I was doing Biz Dev at a startup where I found the process of getting a contract ready time-consuming. Once a contract was signed, I had to share it with everyone. And although they had access to the contracts in PDF format, they would always ask me for the key terms.
I felt that it would be more efficient if business users had more autonomy and power in the process so that they could be a bit more independent from legal. Obviously, we're not looking to replace legal, but it's about empowering business users to go from A to Z without requiring legal at every step, particularly for high-volume, low-value contracts.
I wanted to make the data in the contract searchable, and at the time, I was based in Oxford and exposed to all sorts of great technologies, including Knowledge Graphs. Ultimately, that's how we're making the data in the contract searchable.
When did you launch the company?
I started Legislate three years ago, but I didn't have a team or funding until about two years ago. While we launched the first version of our platform early on, it was still a prototype. Over the past year and a half, we've continued to refine and develop the platform into a proper product.
We've also gained valuable insights and feedback from over 10,000 users, which has been incredibly helpful in shaping the direction of the platform. I wouldn't say that we've been relaunching, but we have been working on improving our platform to better serve the needs of bigger companies. We're excited to take the next step in our journey and continue to provide an efficient and autonomous contract management system for fast-growing companies.
How did you get your first users?
During our first year, our initial users came through word of mouth from our investors and our focus on search engine optimization (SEO). We worked on publishing a lot of content that demonstrated our understanding of contracts, explaining key terms, contracts, and the risks of not using a contract.
At first, I focused on content creation myself. But as we began to get traffic, we hired interns and asked everyone on the team to write a piece of content now and then. We then started to be more strategic about our SEO efforts, focusing on publishing thoughtful and strategic pieces of content and link-building.
Are you still focused heavily on SEO now, or are you diversifying with other marketing channels?
We recently raised a 3 million funding round to build our outbound sales team, and we've started diversifying our marketing channels. One way we're doing this is through a podcast called TechStory.fm. We initially started with virtual recordings for SEO purposes, but we've created a separate brand for it and are doing in-person video recordings. We're also focusing more on social media and video to differentiate ourselves from the flood of AI-generated content that's now flooding search engines.
We believe that video and content that's difficult to replicate is the best way to prove to search engines that we're real and not AI-generated. We're still expanding our SEO efforts but doing it more strategically.
This is also designed to help our outbound sales team, making the process smoother and easier when potential clients have already heard of us. Our focus on diversifying our marketing channels and continuing to provide an efficient and autonomous contract management system for fast-growing companies will help us achieve our goal of becoming the go-to platform for contract management.
How's the business doing today?
Our business is doing well, and we currently have over 10,000 users. However, I believe we're still in the early stages of growth. Many of our current users are small SMEs or businesses in the property sector, and while it's been great to shape the product based on their needs, their focus is primarily on creating a contract and getting it signed online. Post-signature, there isn't necessarily a need to revisit the data. But the real power of our platform is when you have lots of contracts and need to revisit the data.
For example, a 50- to 200-person company may have employees on probation with different notice periods, and it's crucial to have an up-to-date record of this information. In addition, during these uncertain times, many companies make redundancies, and if they're not using Legislate, it can be challenging to collate the necessary data to develop the right strategies.
This is why we're investing in building an outbound sales team to focus on bigger companies that may not have the time to search for solutions. Our goal is to provide an efficient and autonomous contract management system that allows businesses to access and analyse their contract data easily.
Are there any industries you focus on primarily?
Our focus was primarily on the property and employment sectors before, but now we're focusing more on employment use cases, including hiring freelancers. Our primary focus now is on fast-growing companies, specifically scale-ups and 200-person SMEs.
We're narrowing down our priority to make the sales process fully repeatable, but we believe that our platform can benefit any company that needs an efficient and autonomous contract management system.
What has been your biggest achievement?
As a startup founder, I believe that building a startup is a significant achievement in itself. However, there are a few accomplishments that stand out for us. First, we've been recognized by Tech Nation's Applied AI and Law Tech programs, which are highly competitive and validate the value of what we're doing. Second, securing funding is a testament to our ability to solve a big problem and head in the right direction.
Third, we're proud of the team we've built, and many of the team members we hired when we first received real funding two years ago are still with us today. This is a testament to the strong team culture we've established. While we're still early in our journey, we believe we have a solid foundation that enables us to move faster and achieve more in the future.
What were the biggest challenges you have faced so far?
I mentioned that hiring had been one of the biggest challenges. As a first-time founder, I didn't have much experience managing people. Finding people who fit within the company and are aligned with our goals can be challenging, and there are cultural fit aspects that are difficult to assess during the interview process.
Additionally, things can always go wrong in a startup, and it's crucial to have a team that can deal with the challenges positively. However, assessing someone's attitude towards problems in an interview is challenging. Despite these challenges, we need to move quickly and ensure that we have the right people on board to help us achieve our goals.
Is there anything you know now that you wish you had known when you started the business?
As a founder, I've realised that building a business can be a lonely and challenging journey. Looking back, I wish I had known the importance of having a support network of fellow entrepreneurs who have gone through similar experiences. I used to think I could handle it all on my own, but now I understand how valuable it is to have mentors and peers who can offer advice and guidance when needed.
Additionally, as the team grows, I've learned that employees will never be as committed as I am to the business. Accepting that post-work hours is important; I might still work while everyone else is offline. And there are times when I can't discuss certain aspects of the business with the team, even if it's not intentional secrecy, such as during a funding round. It can be a stressful and isolating experience, but it's all part of the journey.
What does the next year look like?
My plans for the next six to 12 months are to focus on doubling down on scale-up companies. We have a few lined up to start with us over the next few weeks. In the coming months, we hope to have some great case studies that will allow us to become a more established brand as a full contract management solution within the London tech scene. Additionally, we're considering expanding into other geographies, such as Australia and the US.

Where can people contact you?
If you would like to learn more about Legislate book a demo or contact the team at [email protected]. You can also connect with the team on LinkedIn, Instagram and Twitter.