Founder: Chris Dolinski
Product: Vibehut.io
What is your background?
Originally coming from a business background, I eventually decided to add technology into the mix and became a self-taught programmer. After coding hundreds of projects, I started to build startups, with my first significant venture being a Co-Founder of Clutch.ca, the Canadian version of Carvana.
We raised millions and secured asset-based lines of credit for inventory. Eventually, I sold Clutch to those who brought Virgin Mobile to Canada with Richard Branson and then embarked on my next journey, Happen and now Vibehut.
Tell us about your product?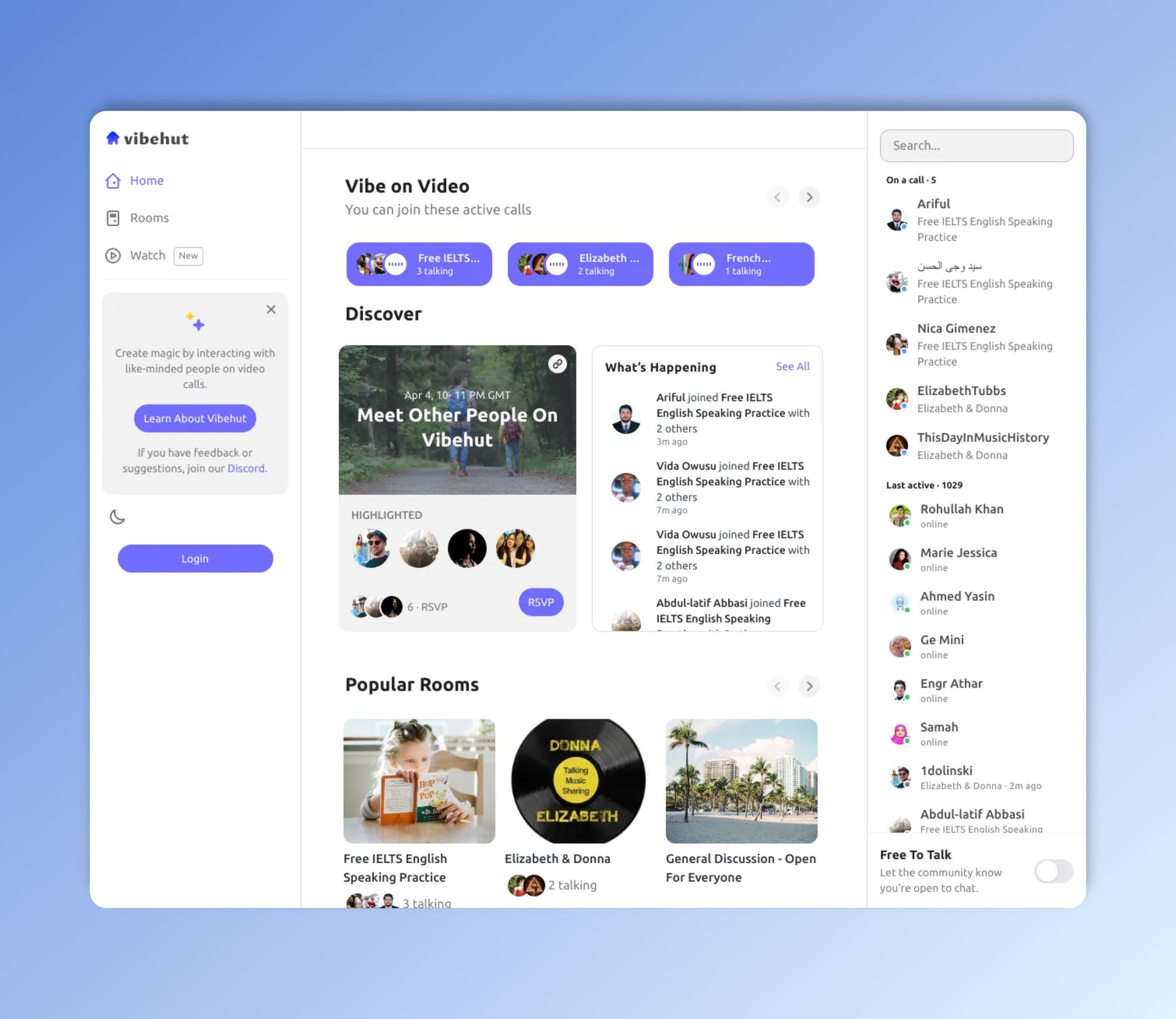 Vibehut is a groundbreaking video platform developed in recent years that focuses on fostering community and networking online. Building on the foundations laid by in-person interactions and innovations like Clubhouse and Twitter Spaces, it offers a unique and engaging way to connect with others on the web.
Why this product specifically?
Currently, we use enterprise-level video calling platforms like Google Hangouts, Zoom, and Microsoft Teams, while FaceTime serves as a familiar option for family and friends. Vibehut fills the gap between these options by offering a space for community networking, allowing users to discuss various topics, host office hours, conduct giveaways, and engage in open dialogue, catering to a wide range of interests.
Clubhouse and Twitter Spaces are similar in being audio-only platforms with a presentational style, akin to attending a conference with notable speakers. However, as the audience size increases, audience engagement tends to decrease. Vibehut is the equivalent of conference dinners, drinks, and networking with the global talent pool. Small relationships and opportunity creating conversations.
Is each room limited to a number of people?
Vibehut allows room hosts to customize their rooms, with a maximum size of 16 participants per call. It's designed for networking events where people can discuss business plans and strategies, focusing on fostering communities and offering 24/7 accessible video call rooms. Broadcasting options will be added in the future.
Can you share any stats?
In the last 30 days, Vibehut has been used in 132 countries. Launched about a year and a half ago, it raised $1 million in December 2021 and we have grown rapidly with 0 paid marketing. Initially incubated on the social layer-one Deso blockchain, it now supports Facebook, Twitter, LinkedIn, MetaMask, and DeSo logins.
All major metrics, such as call count, user count, event count, and chat count, are up and to the right. We're now focused on the magnitude of growth, AI-enablement and monetization.
What other products have you developed?
Happen is an interest tracking platform I've been working on for quite some time. I believe our lives are structured into two parts: imperative life, which consists of events we must attend, like weddings, appointments, and family birthdays; and our interests, which are things we're involved in but won't upset anyone if we miss them.
I've been developing Happen with this concept in mind and built an iOS app and a full website to support it. Happen currently has over 10,000 unique URLs and events on the platform, allowing users to save content from various sources like TikTok, Instagram, Snapchat, or blog posts in one location. It also handles event tracking gracefully.
Why Is This The Perfect Time for Vibehut?
This is the perfect time for Vibehut due to three major factors. Firstly, advancements in technology have enabled us to provide good audio and video quality through reliable software and hardware, enhancing the user experience. Secondly, online reputations have evolved over the past 15 years, making the internet a more secure and accountable environment for networking.
This shift is evident in the growth of social media influencers like Ashton Kutcher and Selena Gomez. Finally, COVID has significantly impacted the way people interact, legitimizing video calls and remote communication. This has led to the rapid expansion of platforms like Zoom, paving the way for Vibehut to thrive as a virtual hub for communities and professionals alike.
Any paid advertising or did you grow organically?
We have primarily grown organically, as I believe that paid marketing too early can lead to a leaky bucket effect, where money spent does not generate a return and our burn increases. Our current marketing strategy includes being active on social platforms like Twitter, Reddit, and Indie Hackers.
Additionally, we attend conferences that attract influencers and potential users. Instead of persuading, we focus on informing people about our existence and the value Vibehut provides to its users.
How can people communicate on Vibehut?
Vibehut is video-first platform. Ancillary conversations can also be had by direct messaging and room-based chat options. The video call rooms are persistent calls, providing various privacy levels, such as public, password-protected and unlisted rooms. Moreover, we've introduced NFT token data rooms, allowing access exclusively to those who own a specific NFT, adding a unique dimension to video call access and promotion.
Is it a subscription based service?
Vibehut is currently free, supported by the venture capital raised. However, our monetization plan will introduce tiered options, including an Individual tier and a Pro tier, enabling users to monetize their rooms.
Vibehut aims to become a platform where users can generate income through subscription-based rooms, offering valuable discussions rooms in areas like ChatGPT, trading and investing, real estate, and venture capital. We're positioning ourselves as the go-to platform for learning and growth in these sectors.
In addition to these features, Vibehut allows room creators to schedule events, enabling users to RSVP and add them to their Google Calendar. Another notable feature is the automatic transcription of recorded calls, which can then be downloaded in YouTube, TikTok, and Spotify formats. This functionality enables users to leverage their content across multiple platforms easily.
What advice would you give to someone building their own product?
New entrepreneurs should focus on creating something useful and getting started as quickly as possible. Rather than attending incubators or learning the perfect tech stack, they should prioritize taking action.
Many people are not yet at the stage where they need in-depth knowledge about pitch decks or Twitter threads. Instead, they need to build something and present it to potential users or customers as fast as possible. By actively engaging with others and gaining feedback, momentum will build and the need for more advanced knowledge will come naturally.
A common mistake for new founders is launching a landing page and simultaneously outlining an extensive roadmap. Often, these roadmaps involve overly ambitious goals with unclear timelines.
It's better to start simple and focus on achievable wins. By seeking out initial success and actively involving others through platforms like Indie Hackers, founders can refine their product and strategy through feedback.
Lastly, entrepreneurs should avoid disrupting structures that are already working well. Many successful companies have faltered by unnecessarily changing their approach, whether due to ego or a desire to demonstrate their abilities. Instead, founders should recognize what works, learn from it, and continue building on their success.
Any new plans or projects coming up?
Vibehut is my only focus, and we plan to expand by introducing premium offerings and creating a self-sustaining business. I believe there are many knowledgeable individuals who aren't necessarily influencers but are willing to be connectors within their respective communities.
Vibehut aims to be a platform for professional, AI, real estate, finance, wellness, and nutrition communities, among others. Our next step is to onboard these communities in a sustainable manner.
By providing the ability to monetize rooms, users can set their own prices and benefit from sharing their expertise. My long-term vision for Vibehut is to become a global brand, enabling people from around the world to connect with experts and engage in meaningful conversations.
Ultimately, the goal is to create a platform that allows tens of thousands of users to improve their lives by gaining knowledge in their chosen areas of interest.
Where can people find you?
The website is Vibehut.io and I am on Twitter @1dolinski
I host open calls on Monday, Wednesday, and Friday at 1 pm ET here https://vibehut.io/rooms/6304c25f8ac27200164bd65f