BITHUB, founded by Mohamed Zakarya, is a revolutionary platform designed to help individuals and businesses effortlessly create professional landing pages that boost conversions and drive sales in just minutes.
Tell us more about BITHUB
BITHUB primarily aims to assist individuals and creators in establishing their online presence by providing digital solutions.
One of our initial offerings is the user-friendly landing page builder, which enables users to create a professional landing page without coding or design expertise in just a few minutes. All they need to do is fill out a form, and they're ready. This service aligns with our vision of helping users effectively create their brand and online presence.
What's your background, and how did you come up with the idea?
Before BITHUB, I founded a company called Shopless, which is a software house focused on creating systems and websites for enterprises. During that time, we encountered numerous small businesses and individuals keen on building their online presence with a website or landing page.
However, they often lacked the time, resources, or budget to do so. This led us to develop the idea of providing them with an affordable tool that would enable them to create their online presence with minimal fees.
How did you get your first customers during the early stage of the company?
Our first customer was a friend of mine, and our second customer came through a friend of a friend. We initially relied on our network and word of mouth to build our customer base.
On March 1st, we launched on Product Hunt, and since then, we've attracted a diverse range of customers from around the globe. It's been a fantastic experience so far!
How's the business doing today?
Initially, we focused on monthly recurring revenue and offered one-time payment deals to boost our revenue and generate short-term cash. Over the past two months, we've generated $1,500 from these lifetime deals. Just a few days ago, we acquired our first monthly recurring customer.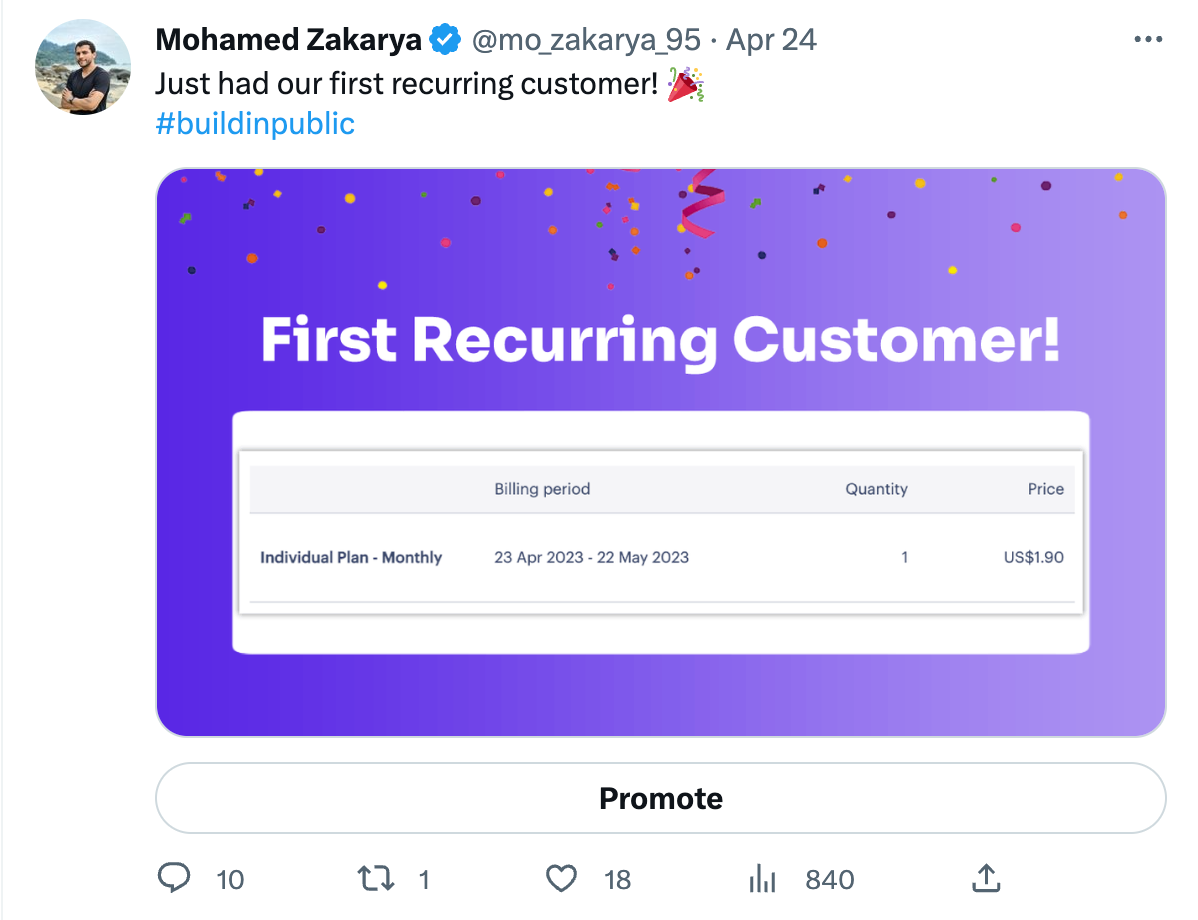 Currently, we have around 1,300 users, out of which over 200 are paying customers who opted for the one-time deal, and one has chosen the monthly subscription. Our platform has facilitated the creation of around 450 pages so far.
What marketing channels are working well to acquire customers?
For acquiring non-paying customers, such as free users, we have found that Reddit, Twitter, and Product Hunt are the most effective channels. These platforms have been our best resources for reaching and engaging with potential customers.
What has been your biggest achievement so far?
My biggest achievement as a founder has been successfully growing BITHUB in just a few months. We earned the titles "Top Product of the Day'' and "Top Marketing Product of the Month'' on Product Hunt. In just two months, our website has received more than 40,000 views, which is quite impressive.
Our journey began in the last week of February, and since then, we've achieved significant milestones. For instance, we currently have nearly 800 organic clicks on Google, and on our Product Hunt launch day alone, we generated more than 10,000 views.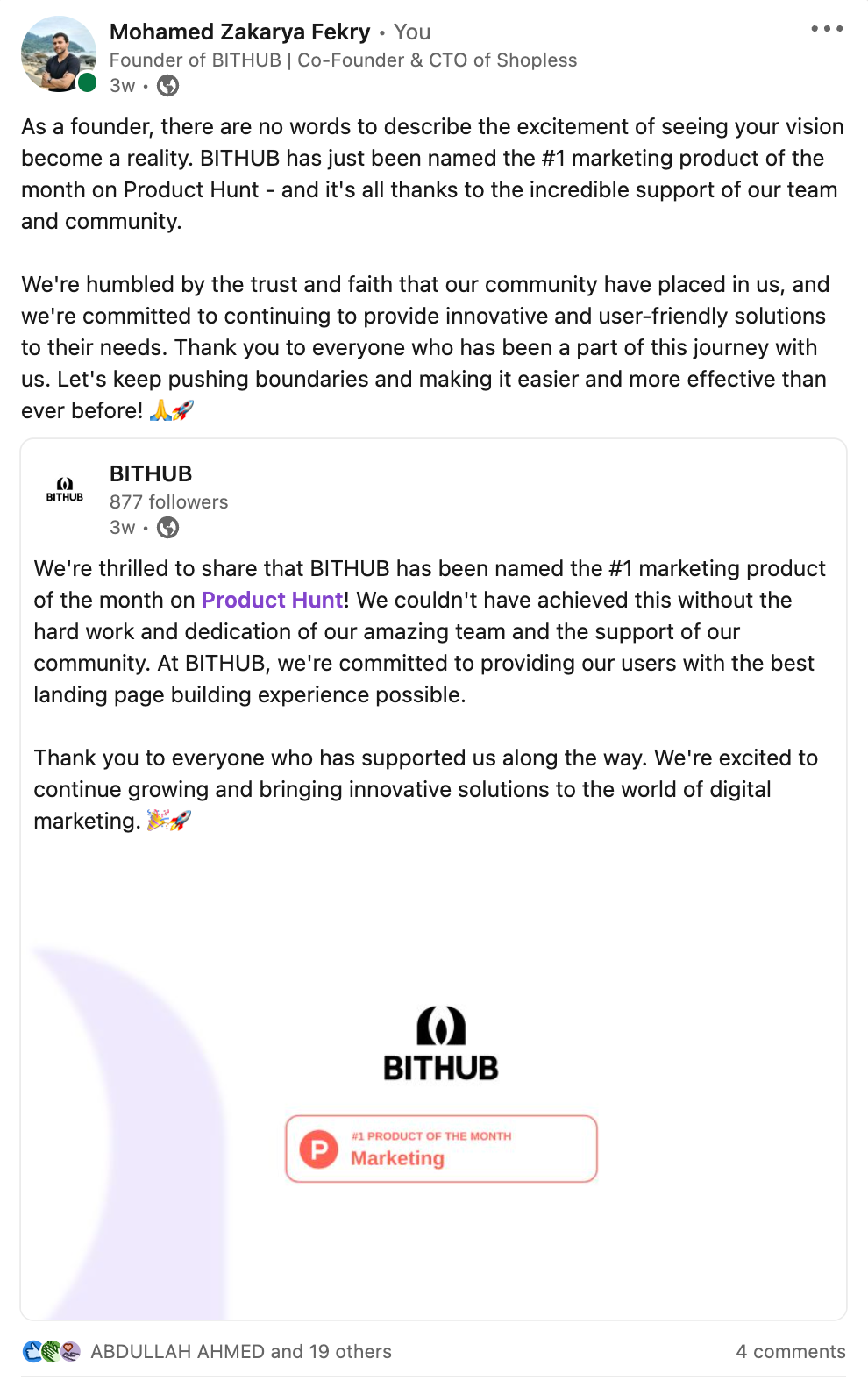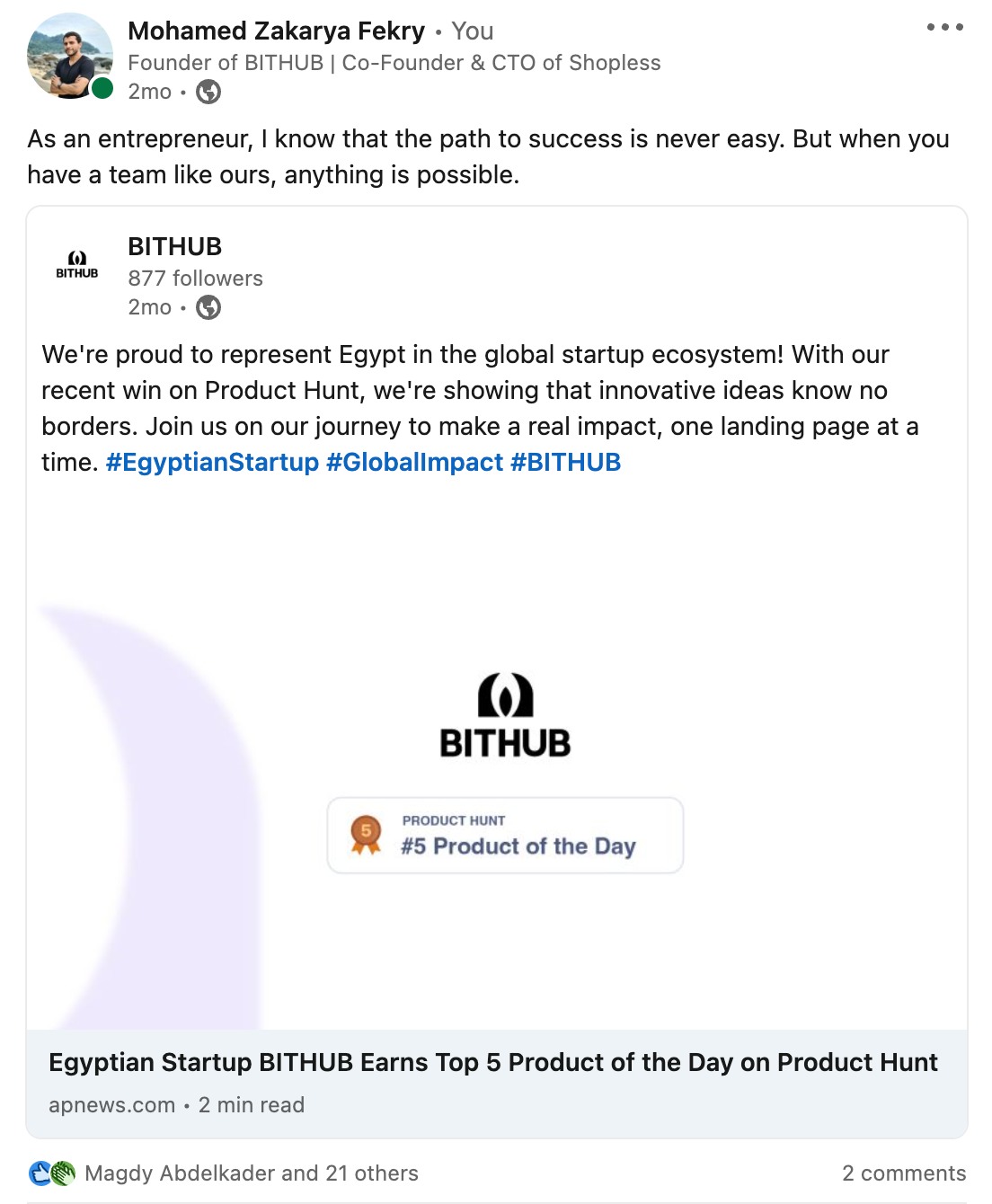 What has been the biggest challenge in your journey?
The most significant challenge we've faced so far is finding effective ways to sell our recurring subscriptions.
While it's relatively easy for people to make a one-time purchase, encouraging customers to commit to a monthly subscription and retain them for several months or years is difficult. Developing successful tactics for achieving this has been crucial for our business.
What advice would you give to new entrepreneurs?
For those just starting their entrepreneurship journey, I recommend beginning with a side hustle to explore and understand how everything works, from market dynamics to business processes.
Once you're confident and well-versed in these aspects, you can then fully commit to your venture. Avoid diving in headfirst at the very beginning, as the initial challenges can be daunting, and the chances of survival are relatively slim.
What are your plans for the next 6-12 months?
Over the next six to 12 months, our goal is to align our business with current trends, particularly in the area of artificial intelligence.
As AI becomes increasingly prevalent, we plan to tweak our business model to incorporate AI solutions while maintaining our vision of helping individuals and small businesses enhance and grow their online presence. By integrating AI, we aim to make our services even more efficient and user-friendly.
Where can people get in touch with you?
People may reach me on Twitter, LinkedIn, and BITHUB Landing Page. They may also check our website.