Founder: Arham Khan
Company: Pixated
What's Pixated?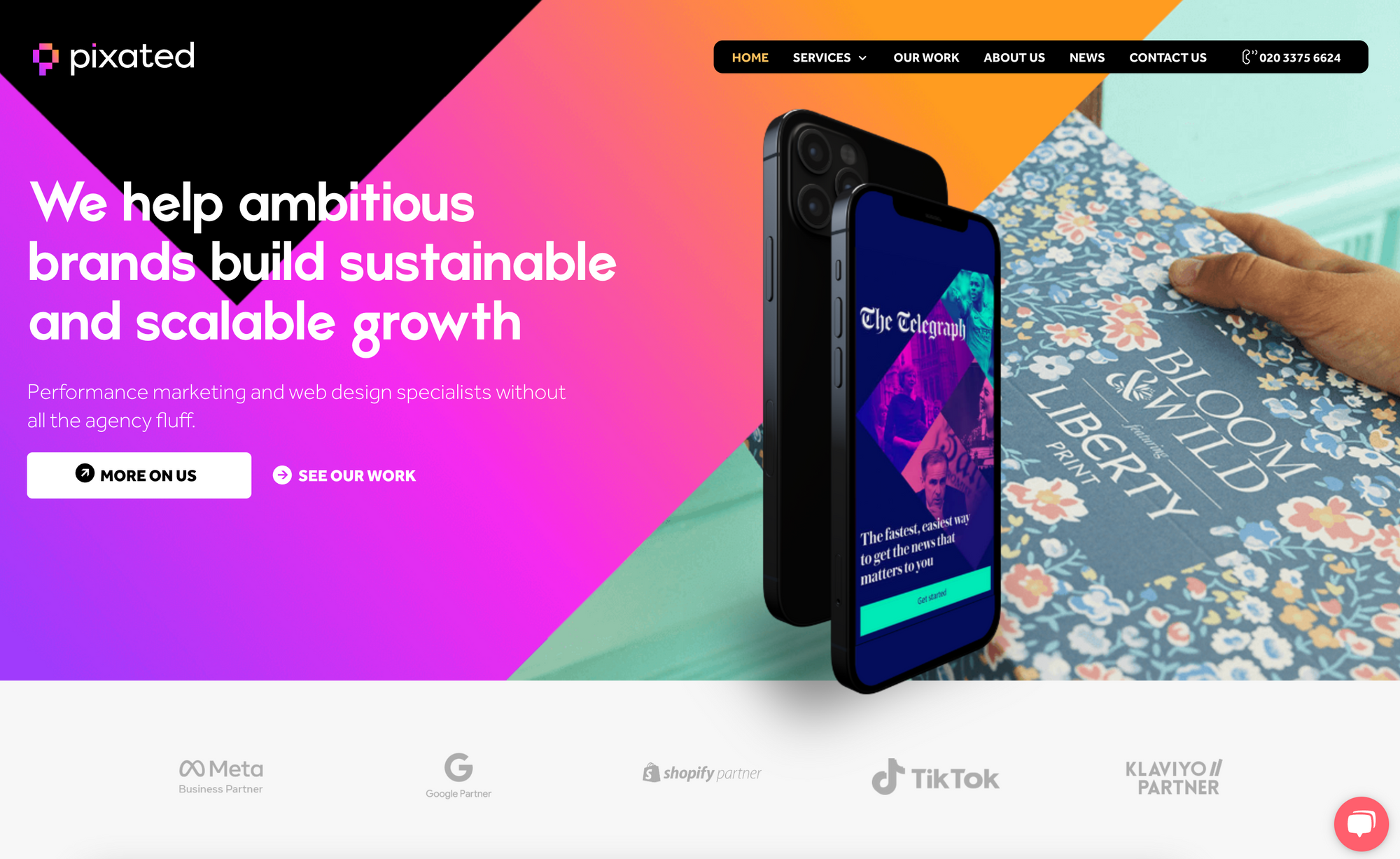 Pixated is a specialist performance marketing and web design agency with five years of experience working primarily with direct-to-consumer brands. Our clientele spans various industries, including fashion, supplements, health and wellness.
While we also work on lead generation projects, our primary focus is acquisition campaigns that generate leads or purchases using platforms like Facebook ads, Google ads, Pinterest and TikTok. On the web design and development front, we create websites, optimise designs, and enhance conversions for our clients.
What is your background, and how did you come up with the business?
My background is primarily in marketing. I completed my Master's in Marketing Management about 10 to 12 years ago and started my career in a small agency. After two years, I moved to the client side, working in recruitment and later in SaaS, focusing on digital marketing aspects such as SEO, PPC, and email marketing. In 2015, I began freelancing full-time.
Around the same time, my co-founder, who has a web design and development background, was also freelancing. We decided to join forces and leverage our combined specialisms to launch the agency in 2018-2019. The transition from freelancing and contracting to starting our own agency felt like a natural progression in our careers.
During the early stage of the company, how did you get your first customers?
In the early stages of our business, we were able to generate a significant amount of work from our extensive network, which we had built during our freelancing and contracting days. In addition, we reinvested our revenue back into PPC campaigns, targeting specific keywords related to web design and performance marketing. This approach helped us attract customers who weren't coming through word of mouth or referrals.
Our business has been growing consistently for about four years now. In the first two to three years, we managed to double our revenues, and last year we experienced a 60-70% increase from the previous year. We are on track to achieve similar growth this year as well. Our unique approach sets us apart from other agencies, which has allowed us to make significant strides in the industry.
What makes Pixated different from other marketing agencies?
There are a couple of things that set us apart from other agencies. Firstly, our company structure has always been remote working since day one. Many agencies, especially in London, have significant overheads due to central London offices, and those costs are often passed on to clients.
In contrast, we have a remote working setup with central London offices as part of an incubator, allowing us to keep costs much lower while still delivering high-quality results. Our team consists of professionals with experience from major agencies, which means we can provide the same insights and experience without the high price tag.
Another factor that makes us unique is our specialisation in performance marketing. We offer clients more peace of mind by allowing them to pay us based on results. Instead of charging hefty retainers, we audit accounts, understand what we can deliver, and set targets accordingly.
Our payment is then tied to achieving those targets, which incentivizes us to perform well while reducing client risk. These key differences set us apart from how other agencies operate.
How many people are working in the company now?
I've got a team of about 15 people now.
How are you acquiring new customers now?
We still utilize PPC as part of our growth strategy. In addition, we have expanded our efforts to include Facebook ads, LinkedIn ads, and listing our services on numerous directories.
Recently, we've started focusing on SEO and organic social media engagement. To support these efforts, we've hired an in-house content manager. Our goal is to diversify our marketing as much as possible across a wide range of channels to maximize our reach and acquire new clients.
What's working well for your customers in terms of advertising?
At the moment, we're seeing a resurgence in the effectiveness of Facebook ads for many of our clients. Although performance dipped after the iOS 14 updates until mid-last year, it has since picked up, thanks to the conversions API and our collaboration with account managers at Meta to optimize campaign structures. Google Ads has consistently performed well for us and our clients.
Additionally, TikTok ads have been showing promising results, especially for direct-to-consumer brands with products priced under £50. However, we've observed that TikTok ads don't perform as well for higher-priced products. Overall, Facebook and Google Ads remain our bread and butter, delivering the best performance for our clients.
Who is your ideal customer?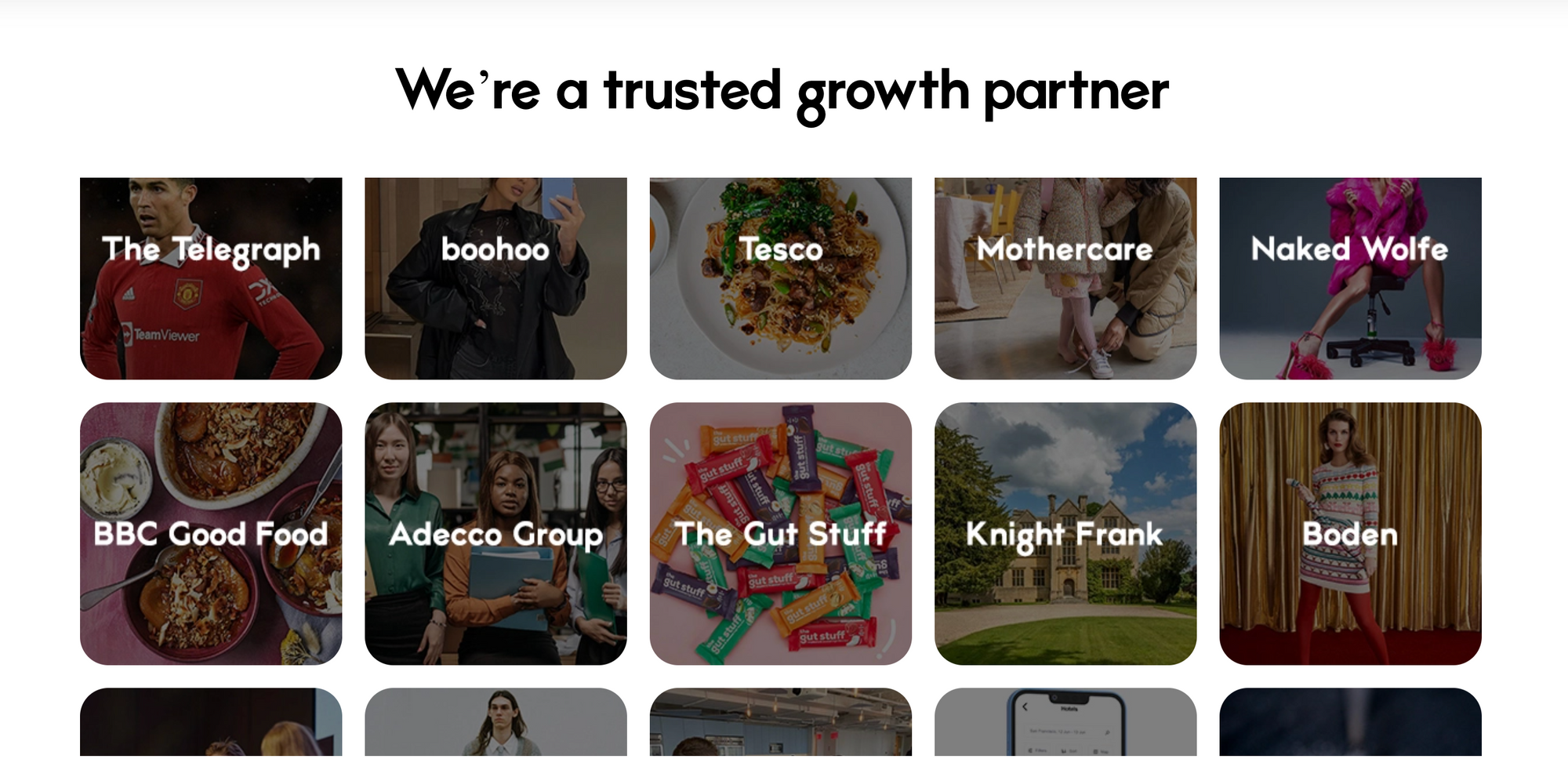 Our ideal customer is primarily direct-to-consumer (DTC) brands that have already run some campaigns but haven't achieved the desired success. However, we're also expanding our focus to include both B2B and B2C lead generation campaigns, as we have strong case studies in the lead gen space.
We excel at working with companies that have experienced moderate results from their campaigns but want to take their performance to the next level. We analyze their data, identify areas for improvement, and then effectively optimize their campaigns for greater success.
You mentioned conducting audits for potential customers. Are there any common mistakes you see?
Indeed, we see numerous mistakes made by brands, particularly when they manage their advertising in-house. One common issue is that they follow advice from Meta or Google representatives without question.
For example, they might receive an update suggesting they try a traffic campaign or a brand awareness campaign to improve performance and build a retargeting funnel. However, by implementing these suggestions without critical evaluation, they often end up wasting their budget. This is a prevalent problem we encounter across most accounts we audit.
What has been your biggest achievement so far?
I would say that growing the agency to its current state has been one of my biggest achievements. For us, it began as a natural progression into the agency world, and we didn't know what to expect. To reach this level within three to four years is quite an accomplishment. Additionally, building a successful team that consistently delivers results for clients has been another significant achievement, despite the challenges it entails.
What has been the biggest challenge in your journey?
The iOS 14 update posed a significant challenge for us as a business. We even considered discontinuing our Facebook ad services at one point because clients questioned whether we could still deliver results with the iOS 14 changes. For a while, it seemed impossible. However, we eventually figured things out.
Currently, our biggest challenge is building and maintaining a strong team while working remotely. It's crucial to foster a positive team culture, provide support to our team members, and ensure everyone has the necessary tools and knowledge to excel in their roles.
When iOS 14 hit, did you move your clients over to other platforms or invest more heavily in Google and other places?
Yes, we've always recommended diversifying across as many channels as possible for situations like this. Most of our clients were fine since we shifted most of the budget to Google until things stabilized on Meta. However, for clients heavily invested in Meta, spending hundreds of thousands a month, we changed our approach by focusing on metrics like Marketing Efficiency Ratios (MER) instead of Return on Ad Spend (ROAS).
For a while, we were able to deliver better results by focusing on these metrics. Even now, we still consider them, although ROAS is a significant factor for most of our clients. Additionally, we started introducing first-party data tracking using TripleWell and HiRows, as well as creating our own tracking pixel to collect first-party data and feed it back into the pixel. This led to several changes in our strategy.
Are there any other essential tools for your business?
We rely on several key tools for our operations. Triple Whale and Hyros are two of the most important ones. We also use reporting tools like Supermetrics and Dashthis. Of course, we utilize standard tools like Google Analytics. When it comes to Facebook ads and Google ads, these are the main tools we depend on.
You mentioned the team is fully remote. How are you managing all that?
We manage our fully remote team through various tools and communication channels. For day-to-day communication, we use Slack. We also utilise project management tools for overseeing both internal and client projects. To maintain a sense of connection, we have regular catch-ups within the team every week or every few days. Our goal is to be as integrated as possible despite working remotely.
Is there anything you know now that you wish you had known when you started the business?
Looking back, I wish we had recognized the importance of doubling down on successful strategies as quickly as possible. For instance, when we saw that PPC was working well for us in the early days, we hesitated to invest more because we were concerned about not getting a return. If I could do it over, I would have gone all-in on PPC to generate as many leads as possible.
Another lesson learned is the value of growing the team quickly. In the beginning, we tried to handle everything ourselves, from managing the business to client management. If I were to start over, I would bring in account managers from day one to manage campaigns, allowing us to focus on growing the business side of things.
What advice would you give to new entrepreneurs?
I've encountered many individuals who have freelanced, worked at agencies, or are in-house and wanted to launch their own agency. In the past year alone, I've spoken to at least three people who started their agencies only to see them fail within the first year, causing them to return to their previous jobs.
The critical factor before launching a business is figuring out how to generate business in the first place. Anyone can register a company, but driving business to that company is the challenging part. So, mapping out your strategy and understanding where you need to advertise and what kinds of campaigns to run to generate business is essential.
As I mentioned, I've seen three people launch agencies and fail within the first year because, while they could handle freelance work, securing larger clients for their agency was a different challenge. If you haven't figured out where you'll get your business from, it's a non-starter.
What are your plans for the next 6 to 12 months?
Our primary goal is to grow the business as quickly as possible. In the last year, we've expanded from just a couple of people to a team of 15. By the end of this year or early next year, we hope to at least double that number. We have ambitious growth plans, and part of our strategy is to focus on working with more prominent clients. While we currently collaborate with some big names and numerous startups, our objective is to target more household-name brands over the next 12 months.
Where can people get in touch with you?
They may visit our website, Instagram, Facebook, or LinkedIn.