What's your name, and what business did you start?
My name is Jeroen De Koninck, the founder of Preppally. Preppally is an online career e-learning platform helping young professionals to land their dream job at prominent tech companies, consulting companies, and other top companies.
Tell us more about Preppally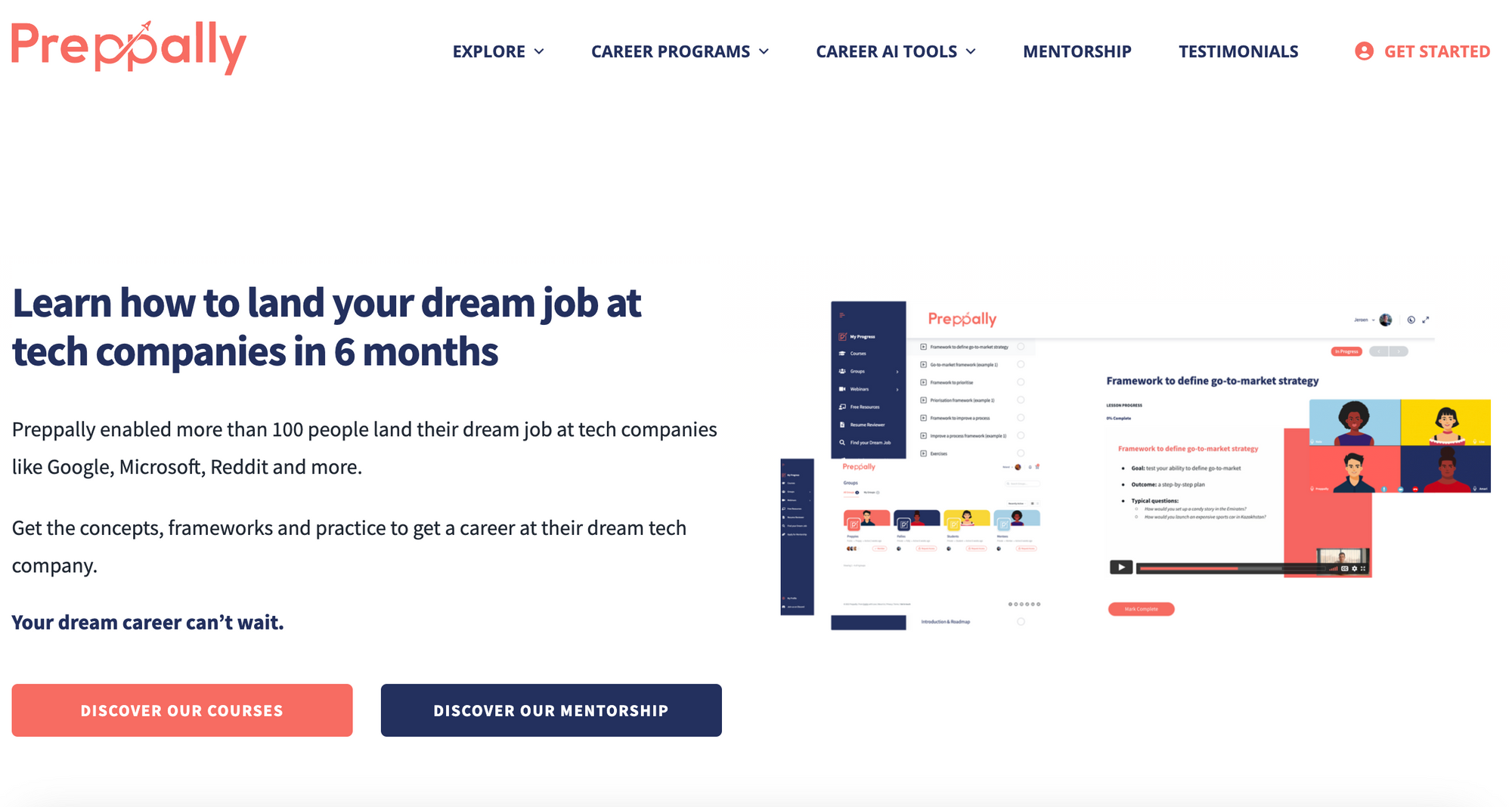 Preppally makes career guidance available at scale and affordable prices. Most career guidance companies provide career advice with a 'no cure, no pay' model, which implies high costs for the candidates after successful completion.
I aim to make Preppally as affordable as possible while maintaining quality. All our career programs are self-paced, with instructors from Google, Pinterest, and LinkedIn. The programs cover all you need to know to apply for your dream job - from finding opportunities, standing out during your applications, acing your interviews, and negotiating the best compensation.
Next to this, we offer an extensive network of current and ex-employees of top tech and consulting companies.
What's your background, and how did you come up with the idea?
I always tried to get into top companies and landed my first role at Anheuser-Busch Inbev. After that, I kept pushing my boundaries, landing jobs in marketing, sales, and leadership at Google and Pinterest.
Getting into these companies was a difficult process, and your success rate highly depends on who you know and how well you understand the process. I spent more than two years getting rejected up to 20 times from the jobs I was applying for. I didn't have the financial means to pay for a career guide.
Once I understood how things work and built a network, I landed jobs at Stripe, LinkedIn, and Google and eventually chose to work for Google. While at Google, I interviewed tens of candidates and saw many struggling with similar issues.
This drove me to create Preppally as I strongly believe talented people shouldn't fail the application process because they got filtered out too soon by automatic software, have no referrals, or don't know how to structure their interview answers.
How did you get your first customers?
I wanted to have the perfect product, website, and material. For over a year, I was in building mode, bootstrapping everything.
Of course, I knew my material, but I had no experience building professional websites or recording material. I created everything using YouTube and my network (and yes, I believe you can, too!).
When I launched in May 2022, my first customers came from hustling on LinkedIn. I started frequently posting and reaching out to people on LinkedIn, helping individuals on Reddit, FishBowl, and Blind, and getting some first customers. This pool of people is still big advocates, and most of my customers come from referrals.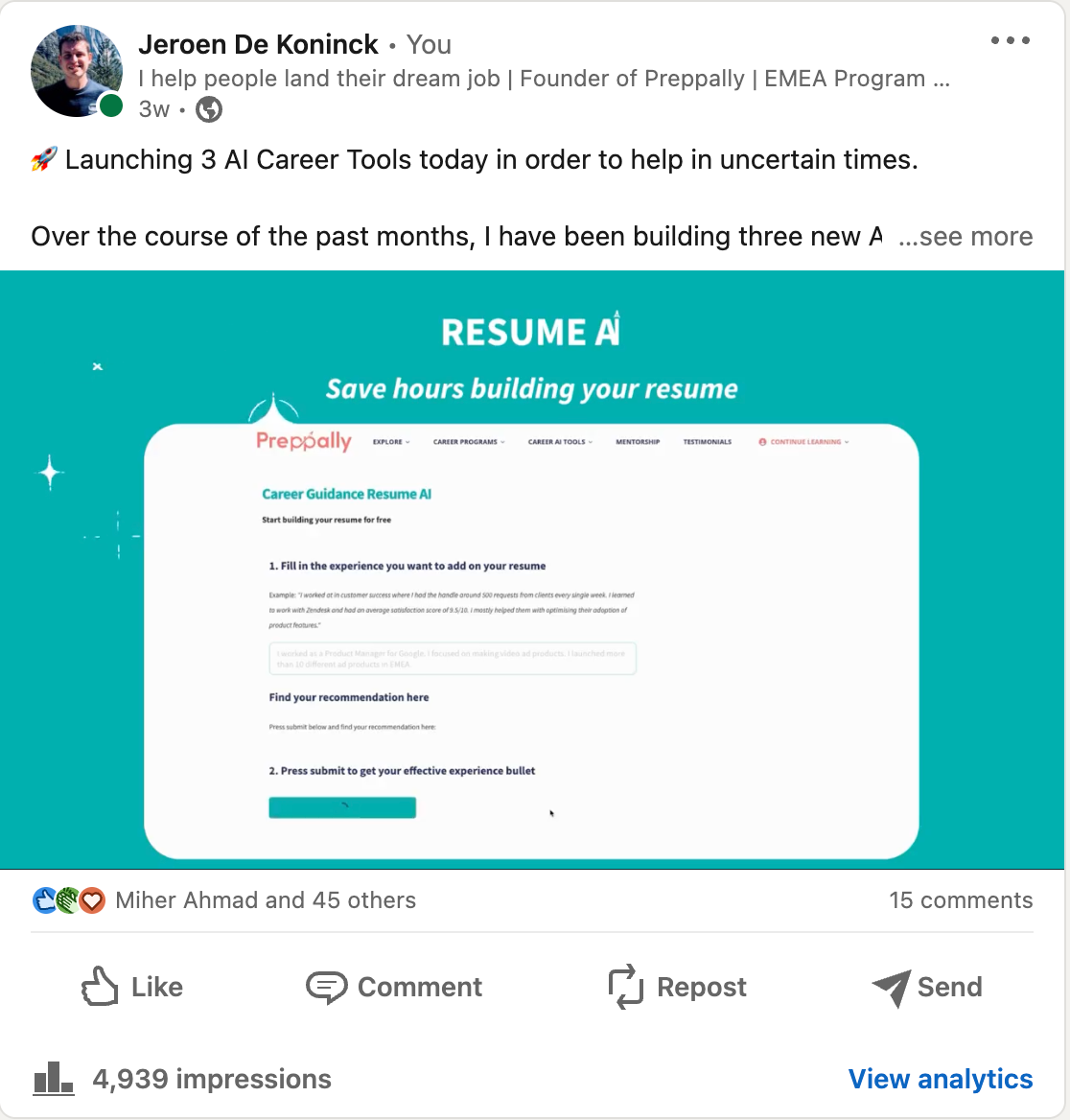 Next to this, I used AppSumo to scale my business, leading to more than >100 sales in the past six months. I leverage Klaviyo (email marketing) to reengage with customers and drive more referrals.
After three months, I started to expand the free offering: weekly blog articles with free career advice, a Resume bullet point creator, a LinkedIn elevator pitch creator, and a Career Path suggestion tool. All are powered by OpenAI. This is helping me to get new leads, while the tools are for free - you need to sign up to get more credits that can be used in the tool itself.
How's the business doing now?
Over the past 6-months, I grew MRR to $500. I have over 150 paid customers and around 400 free users on the platform--and this is fine. Growth is going slower than expected, but I am still employed full-time at Pinterest, which makes things combinable.
My biggest operating expense is time, and the whole platform can run for a year for less than $2,000. Any other expenses are mostly related to scaled marketing.
What marketing channels are working well to acquire customers?
LinkedIn has been by far the most successful platform in order to acquire new customers. I am posting weekly career advice blog articles and got around 4,100 followers while growing close to 100 per week. About 30% of my sales are coming from LinkedIn.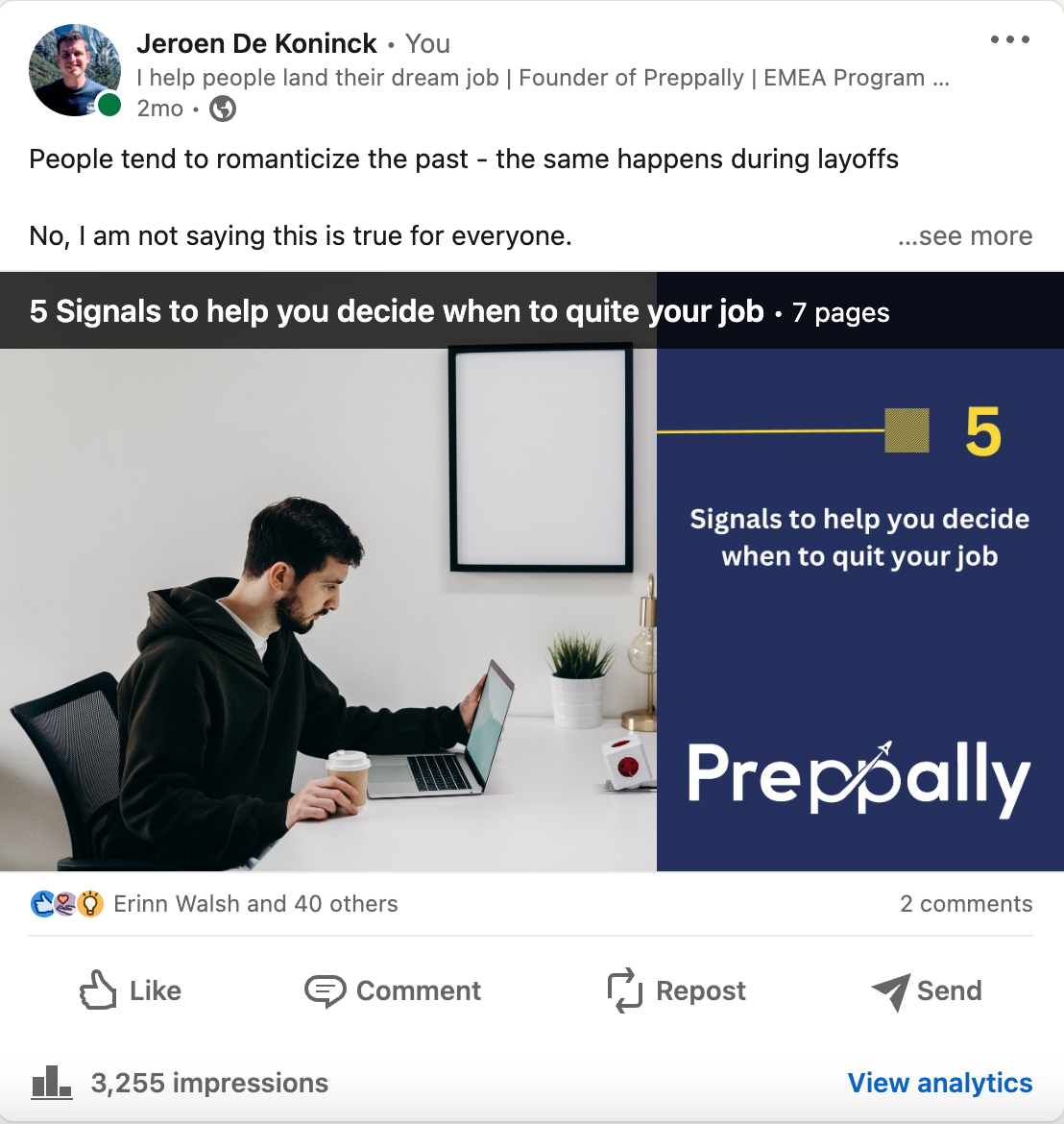 Paying it forward on Reddit, Fishbowl and Blind is also very successful. Helping people often leads to trust; once I can have a 1-2-1 conversation with a potential client, they mostly convert. It's all about grabbing someone's attention, creating value, and proving your credentials and the help you can provide. This has contributed 10% of leads.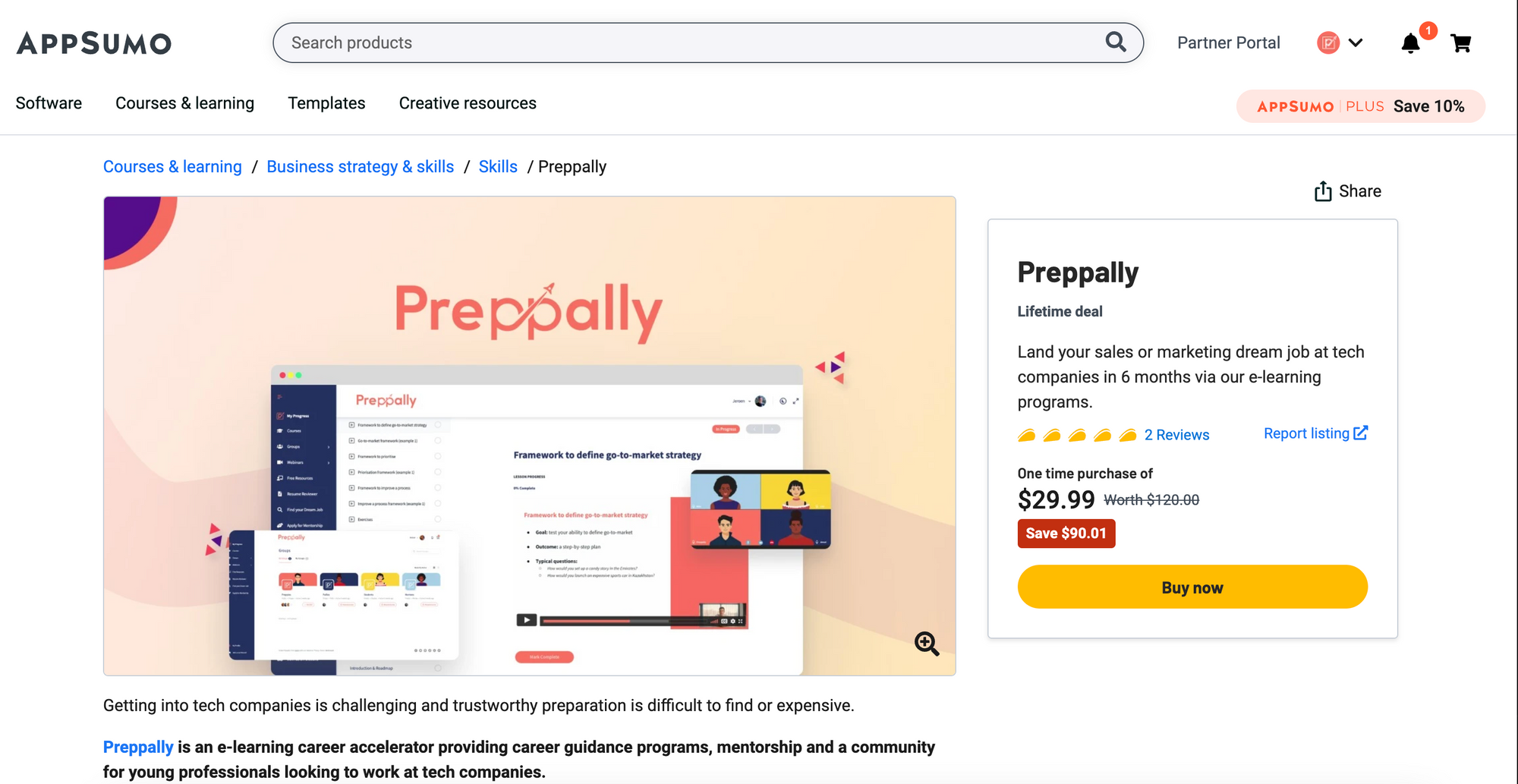 The biggest acquisition happens via referrals (40%) coming from current clients and via AppSumo (a platform to sell discounted software) (20%). While AppSumo has been successful in terms of more customers, the average sales price is way lower, leading to less revenue but additional potential referrals.
What's been your biggest achievement?
Getting my first client. By far, there is no better feeling in the world than having your first client that is not a friend, family, or fool. Having a complete stranger on the other side of the world buying your product and leaving a positive review is the biggest achievement.
I also really pride myself on successful graduates. I remember every person I helped land a job, even when they purely used scaled material.
Here's a few Free AI tools we put together that have been really helpful to our users:
What's been your biggest challenge?
Network effects. I have the vision to make Preppally free for users and have a solid offering for businesses to diversify their candidate pool. The issue is that I am not reaching the network effects I hoped for. To attract businesses, I need way more users and candidates - which seems a continuous struggle, especially because career guidance is normally not something people need access to for a long period of time.
I wish I could increase the instreams of users tremendously and get a big boost of traction.
What's something you know now that you wish you had known when you started?
It might sound cliché, but the imposter syndrome is real. When I started at Google and Pinterest, I had some form of imposter syndrome. But when you start your own business, it's way worse and doesn't go away. It causes a lot of stress, and while there are peaks of excitement, there are definitely as many moments you want to give up and think you will never make it.
Finding a system to push yourself through these moments, it's absolutely crucial for survival.
Any advice for beginning entrepreneurs?
Do not spend all your time building without getting customers. It's better to have a following and access to potential clients before you build a full product. I am thrilled I realised this somewhere during my building time, but I wish I had opened a simple landing page earlier and started some form of content marketing even before launching the product.
Clients will not come if you just build.
How do you keep yourself motivated?
I feel I am, in an honest and real way, impacting people's lives--and this definitely keeps me going. Every struggle is nothing compared to one candidate finding and getting their dream job. This motivates me a lot. I am also happy I can work on this while doing a full-time job. While this increases stress levels and doesn't allow me to dedicate as much time as I want to Preppally itself, it prevents me from being in a financial situation where I would be forced to stop. It's still my dream one day to go full-time for my own business.
What are your plans for the next 6-12 months?
The technical side of the platform is definitely becoming more of a limitation, given I can't expand it in the way I would like to because my own knowledge is limited. Now I have traction, I am looking for a CTO to build out the community aspect and increase recurring revenue.
To expand my audience, I am also linking up with new potential course givers related to other industries, jobs, and experience levels. In the meantime, I am working out a business plan to move more towards B2B in 12 months from now and have a more solid offering for businesses.
Where can people get in touch with you?
Website: https://preppally.com‌‌
Instagram: https://www.instagram.com/preppally/
LinkedIn: https://www.linkedin.com/company/preppally/
Twitter: https://twitter.com/preppally
Personal LinkedIn: https://www.linkedin.com/in/jeroendekoninck/‌‌
Personal Twitter: https://twitter.com/JeroenDeKoninck‌‌