My name is Domenico, a business guy, and I launched RecapioGPT (previously AI Alfred)--an AI tool for web summaries--with my co-founder, Marc-Etienne Dartus.

What's RecapioGPT?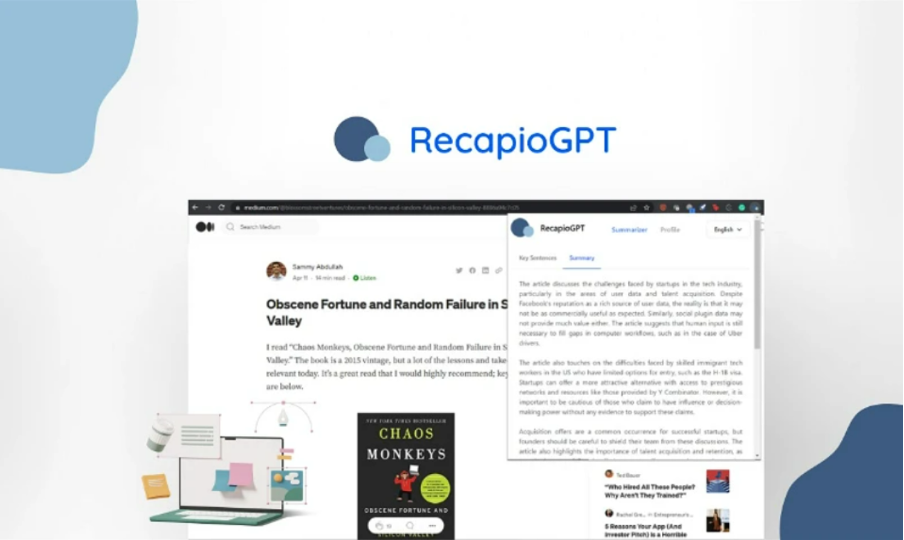 RecapioGPT is your best friend for summaries. It can summarize whatever you want in seconds using our own AI model. You don't need to copy and paste any text or link. You just need our Extension! One single click and RecapioGPT will summarize what you want.
Our focus is on workers, students, and researchers who need to check and read a lot of articles every day. We think we can optimize their time by providing a complete tool for summaries because we offer advanced options, too, like writing and tone of voice styles, translation, summary length, and more!
What's your background, and how did you come up with the idea?

I have always built something else during my full-time jobs. I started this adventure in 2022 thanks to the Build&Sell challenge on Twitter. I need to build and sell a project in 30 days. From there, I joined another person, Tanveer, where we co-built and co-sold three micro-saas, AI-Based, in one year.
From my last exit on Aug 22, I started thinking about new stuff to build until I met Marc-Etienne. We both had the same idea, shared on the Kernal Platform, and then we decided to join the resources and start something bigger!

During the early stage of the company, how did you get your first customers?

This is an interesting part because I have always applied the same strategy for my side projects:
I built a simple landing page on yep.so, with no product.
I launch it on my social network channels, most notably on Twitter.
I try to speak with each early adopter from day 0 and try to understand the needs! We did the same with RecapioGPT. We launched the first basic MVP on Sep 22. We collected the first emails and started to build the first real version on Nov 22. The beginning was hard because we had no metrics, no users, and we didn't know how much users would pay for that service. Indeed, we launched a second MVP on Jan 23 based on our early adopters' feedback, and we finally launched the first official product on Mar 23. As you can see, the roadmap was pretty long here. RecapioGPT is a specific case where we spent a lot of time on the product based on the feedback we got from day 0.
How's the business doing now?

After two MVPs and the first launch on Mar 23, we have good metrics now:
Almost 6k of revenue ($).
Almost 1k users.
We've generated 26k summaries from Mar 23. We're always working on new features suggested by users on our public roadmap: https://recapiogpt.canny.io/ We are using Canny.io for managing our roadmap, which helped a lot!
What marketing channels are working well now to acquire customers?

We have always based our activities on organic growth. But at a certain point, you should invest in marketing to improve. We are now active on these platforms:
TikTok: We will launch the first campaign on TikTok. We have focused the attention on accounts with followers between 10k and 100k. With the right size for a first campaign, we'll see the effects.
Referral Program on Reflio.com: We launched our first referral program with reflio.com. We think referrals are good for growing the business but not for acquiring the first customers
Word-of-mouth campaign on FB Groups: There are a lot of Facebook Groups that can give you the opportunity to launch specific campaigns for their communities. Our goal here is to try to generate a word-of-mouth effect between people, from Facebook to Twitter.

What has been your biggest achievement so far?

Our biggest achievement is our first paying customer. We got it after six months of hard work. To be honest, we were losing the ability to see positive vibes on our product until we got the notification from Paddle! A lesson learned is to always work on customers' feedback and needs because you will get the right reward before or after.

What has been the biggest challenge in your journey?

Our biggest challenge was related to the MVP Stage. When you start a new product, there are a lot of question marks, of course. You could mitigate them by speaking with the people as soon as possible. That's why we decided to speak with them from day 0. I remember the first negative feedback we received: AI Alfred (the previous name) is TOTAL CRAP!
Then the biggest challenge was to build a functional product that could satisfy almost all the required needs. And the only way to do that is by opening your mind to the feedback without leaving your product target and vision.

What's something you know now that you wish you had known when you started?

It's related to the development of new features. From the business perspective, we always try to develop new things. But we should not develop features if not requested. This is what I learned from my last experience. We should always develop new features if requested by the users. That's why we decided to launch our public roadmap. You don't need to lose your time developing something nobody is going to use.
What advice would you give to new entrepreneurs?

People who want to start something new should have a clear final goal. This is the first thing to set up. What do I want from this product? What is the final goal? For example, for RecapioGPT, we decided on day 0 we wanted to sell it. That's because your strategy is going to change according to your goal.
Another piece of advice is related to development: you don't need to develop the product before getting the interest. It should be the reverse, and you can rapidly do that.

How do you keep yourself motivated?

Sometimes it is difficult to stay motivated, especially when you receive negative comments. First of all, I don't try to be influenced by those comments, and I try to think about the positive comments we receive daily. They certainly do not go unnoticed, even though we have often developed something interesting from negative comments. And, of course, you should be focused on your product and your vision.

What are your plans for the next 6-12 months?

Our plan is to exit RecapioGPT this summer, and then I will think about my next adventure. I already have something in mind, but I will not speak about that here!

Where can people get in touch with you?

My Twitter profile is https://twitter.com/DG_9_6
My Co-founder: https://twitter.com/medartus
RecapioGPT Website: https://recapiogpt.com/