Roman Fox is a professional photographer in London specializing in slow travel and street photography. He currently runs a YouTube channel where he talks about photography and travels to inspire other people.
Since his YouTube channel's inception in 2018, he has garnered around 83,000-plus YouTube subscribers and 59,000-plus Instagram followers. In this article, we'll learn more about him as a photographer and how he doubled his YouTube channel's revenue and growth in the past few years!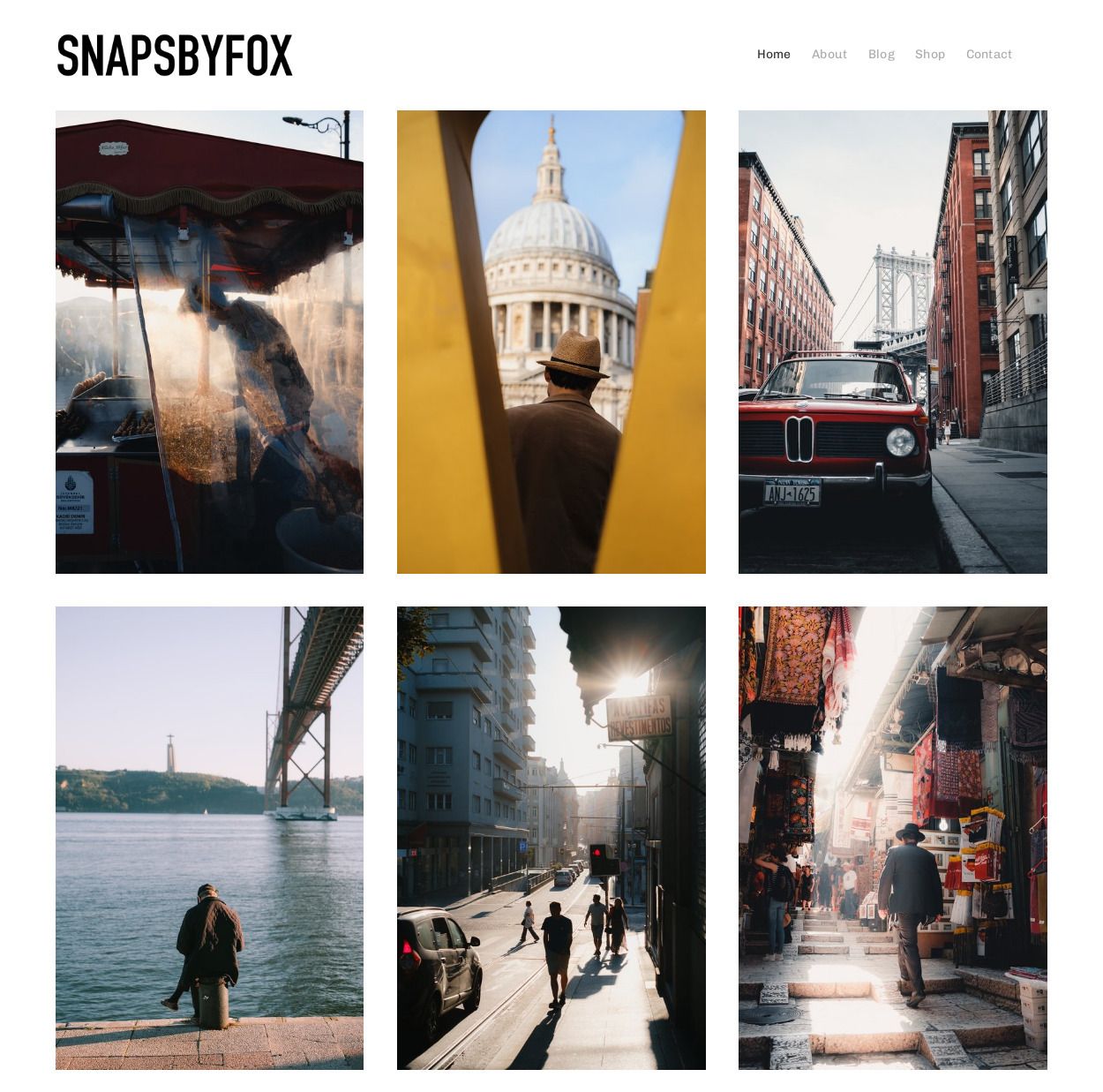 Tell us a bit about your background
My background is in engineering, specifically automotive engineering, where I worked for nearly a decade. But I've always been fascinated with cameras. When my job required extensive travel, I found myself taking more and more photos of the interesting places I visited. After work, I would eagerly return to my hotel room, edit the images, and share them with friends and family.
In 2018, after transitioning to a remote job, I had more free time and decided to explore photography more seriously. I began wandering around London, capturing images that would later become recognizable as my signature work. On January 1, 2018, I opened accounts on Instagram, YouTube, and other platforms to share my passion with a larger audience.
By late 2019, I was taking photos three to four times a week, and a friend, who was a successful YouTuber, encouraged me to share my tips and experiences on YouTube. I started my channel, which began to gain traction just before the pandemic hit. As more people stayed home, my channel saw significant growth.
After about a year of uploading content, I realized that my photography hobby could potentially become a viable business. Since then, I've been approaching it with an entrepreneurial mindset, which has led me to where I am today.
How did you get started on Instagram?
What initially sparked my interest on Instagram was simply the desire to share my creative work as a hobby. Before focusing on photography, I had a personal Instagram account posting casual content and everyday moments.
When I decided to take photography more seriously, I deleted my old account and started a new one dedicated exclusively to sharing my travel pictures and artistic endeavors.

How did you get traction in the early days?
Initially, gaining traction on Instagram was quite challenging. It took me about two years to organically grow my following to just over 2,000 followers. I adhered to best practices, like posting daily and engaging with others, but it was an uphill battle as a small content creator.
At one point, I experimented with paid posts to increase the visibility of my work. While this strategy attracted followers and likes, many people turned out to be empty engagements, as they would unfollow me shortly after discovering my account.
The turning point for my Instagram growth came when my YouTube channel took off. Many viewers from my YouTube channel migrated to my Instagram account, boosting my following and engagement. Although I've heard from others with larger Instagram accounts that they experience lower engagement rates, I've been fortunate to maintain strong engagement without relying on my YouTube presence. The ever-changing nature of Instagram makes it difficult to pinpoint specific reasons for success, but I continue to focus on creating and sharing quality content.

How did you grow on YouTube?
My YouTube strategy is multifaceted, and I focus on creating various types of videos, each with a specific purpose in mind:
Clickable videos: These videos stir viewers' curiosity and generate immediate interest. They usually perform well in the short term but may taper off in the long run, providing a quick boost to my channel.
Search-driven videos: These videos, such as gear reviews, typically have a slower initial growth but gain traction over time. They continue to attract viewers for as long as the discussed technology remains relevant.
Connection-building videos: These videos aim to foster a deeper connection between me and my audience by sharing personal experiences, challenges, or behind-the-scenes content. Although they might not always perform well in terms of views, they help build a loyal audience.
Compilation videos: Once a year, I create a long-form video featuring highlights from my photo walks throughout the year. While these videos may not initially attract a large viewership, they gradually gain popularity as background content for viewers to enjoy.
By consistently publishing a mix of these video types, I've been able to gradually grow my channel and maintain audience engagement.

When did you decide to quit your job and go full-time on your business?
I decided to quit my job and pursue my passion full-time about a year and a half ago. I made this decision after overcoming a business failure that left me with significant debt. Once I had cleared the debt using my day job income and amassed six months' worth of savings, I noticed that my YouTube generated about half of my regular job's income.
Considering the lower tax implications of being self-employed, I decided it was the right time to take the leap and fully commit to my creative pursuits. My transition wasn't a romanticized story of struggling in a basement and eating instant noodles; instead, it was a calculated and pragmatic decision to ensure a smoother and more sustainable journey.

How is the business doing now?
The business is doing exceptionally well today. Since its inception, the revenue and overall growth have doubled yearly. While it may not double this year, I anticipate an increase of about 50%.
In terms of online following, I'm not aiming for viral success, as it can be detrimental in the long term. Instead, I'm focusing on a steady and sustainable growth strategy. My goal is to achieve an annual growth rate of around 30%, which, I believe, will contribute to a more stable and successful long-term business.

How is the revenue broken down?
About half of my income comes from my products, and my goal is to eventually have about three-quarters of my income from items I create myself. This provides more control over my revenue stream. As I travel full-time, there's always something new to make, such as travel guides or other content.
Sponsorships account for a portion of my income. Some months, I can make a significant amount from several sponsors, while others might have none. I don't rely on this income, but it's a nice bonus.
YouTube AdSense is the smallest percentage of my revenue because I've stopped placing ads in the middle of my videos. I've found that this placement hurts viewer retention, and the short-term financial gain is not worth the potential long-term impact.
Affiliate marketing makes up about 5% of my income, but I don't actively promote it as I don't want to encourage consumerism. I also still take on occasional freelance photography jobs but am very selective and charge a premium for my services.
Lastly, I'm working on launching a Patreon to provide more specialized content for the 10-20% of my audience who want to do what I do. Sharing my behind-the-scenes knowledge and experiences should generate additional revenue.
Overall, my income sources are well-diversified, which helps ensure stability and growth for my business.
What's the biggest challenge you've overcome as a content creator?

Time management has been my biggest challenge over the last few years. I prefer not to outsource tasks like editing and creating zines or guides because I enjoy doing them myself, and I believe it's part of my brand's appeal that I make everything. Outsourcing, if ever considered, might involve hiring someone close to me, like my girlfriend, to help me with filming.
As my business expands, with a second YouTube channel focused on travel and the addition of Patreon, managing my time effectively becomes increasingly crucial. Balancing all these aspects while maintaining the personal touch that defines my brand is the most significant obstacle I've had to overcome as I grow the business.
Is there anything you know now that you wish you had known when you first started?

Looking back, I wish I had known that the key to building a sustainable business isn't to have a video go viral or achieve overnight fame. When I first started, I was quite impatient and focused on creating clickbait content to gain immediate traction. But I've learned that real success lies in consistently attracting a sizable audience for each video rather than having one video suddenly explode in popularity.
For those just starting and looking to follow a similar path, I would advise finding a niche you're passionate about and has a dedicated following. Ideally, this niche should be something you enjoy as a hobby and would be happy to do for free. In my case, I've been fortunate that my interest in photography and the use of Fujifilm cameras has led me to a niche with a cult following.
It's essential to genuinely enjoy your work because that passion will help you persevere when faced with challenges. This principle applies to all aspects of running a business, including seemingly tedious tasks like managing your finances. Overall, the key to success is finding something you love and fully immersing yourself in it.
What are the most important tools you use?
In terms of tools and software, I rely on Lightroom for photo editing, Final Cut for video editing, and the Affinity Software Suite, including Affinity Photo, Affinity Designer, and Affinity Publisher, to create my digital products. When it comes to website building, I use Squarespace, as it offers an easy-to-use platform for non-developers featuring a plug-and-play, drag-and-drop interface.
While there may be certain limitations compared to platforms like WordPress, Squarespace provides a good mix of features without plugins. I have tried Shopify as an alternative to diversify my online presence but ultimately found it unnecessary, given the comprehensive functionality of Squarespace for my needs.

Has anyone helped influence your business?
Mike Thurston, a fitness influencer and an acquaintance who introduced me to YouTube, has influenced my journey. I've known him for years, and seeing how his life and business evolved as he grew more successful was inspiring. He had a clear vision of the life he wanted and could reverse-engineer his path to achieve it. Mike's story motivated me to take action and pursue my own goals.
As for other resources like podcasts or courses, I generally don't rely on external influences for inspiration. Instead, I prefer to sit down with pen and paper to plan and work things out on my own. I believe it's essential to know where your influences come from and ensure they align with your values and goals.
Do you collaborate with other YouTubers? Is it a good way to grow?
Collaboration can indeed be a great way to grow a channel. But I tend to be selective about the collaborations I engage in. For me, collaboration must offer more than just a business deal. It should align with my values and interests.
While collaborations can be an effective way to grow, it's important to consider the quality and relevance of the partnership. Bouncing off each other's audiences can lead to significant growth, but ensuring collaboration aligns with your brand and overall goals is crucial. So, while I may be more selective, collaborations can be beneficial for channel growth when approached thoughtfully.

What are your plans for the next year?
Over the next year, my primary focus will be on travel. I plan to travel full-time with my partner for the next five years while we're still in our early 30s. My goal is to be as streamlined as possible and build up a massive content catalog. This way, when we eventually reach the family stage of our lives and can't travel as much, we'll still have plenty of work to process and share.
In the meantime, I aim to expand my digital product line, with Patreon being one avenue to explore. My strategy includes creating online photography courses, as in-person workshops aren't feasible these days. I also plan to develop more zines, travel guides, camera guides, and possibly an editing course. Another idea is to create a Skillshare course to reach a new audience.
As I approach the end of this travel-intensive period, I envision settling down with a permanent apartment and studio. At that point, I may consider delving into physical products, focusing on low-volume, high-value items. I could also revisit the idea of workshops and explore traditional freelance work to diversify my income sources. This comprehensive plan will guide me through the next few years, allowing for personal and professional growth.
Where can people contact you?
They may reach me on Instagram. They may also visit my website and YouTube channel.