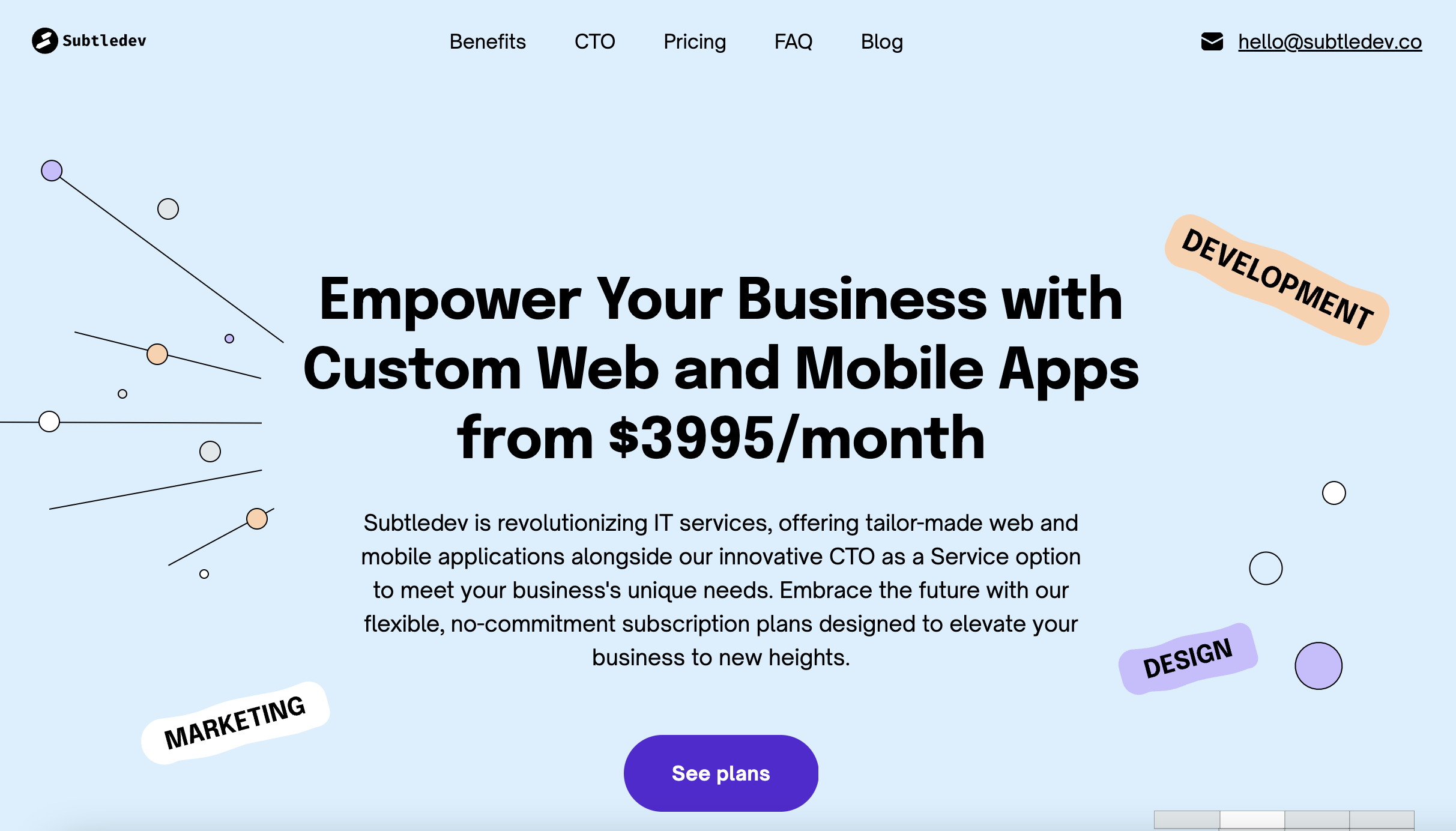 Subtledev, founded by Jeremy Scatigna, is a game-changing development services provider that is transforming the way businesses approach their technological needs.
Tell me more about Subtledev
Subtledev is a collective of experienced developers and designers dedicated to helping startups build their products from the ground up. Our team consists of professionals who have worked with renowned companies such as Apple, Meta, Spotify, Zendesk, and many more.
Our primary focus is assisting startups in creating their Minimum Viable Product (MVP) or their first product by overseeing every aspect of the process. We handle everything from branding and design to visual research, as well as managing the entire development lifecycle to transform an idea into a tangible product.
What's your background, and how did you come up with the idea?
With a background in software engineering spanning approximately a decade, I have had the opportunity to work with various startups and even co-found one a couple of years ago.
This experience has given me insight into the challenges non-technical startups face when developing their first viable product, ensuring proper design and functionality.
Recognizing these hurdles, I teamed up with my co-founder, an exceptionally skilled designer, to create a collective focused on overcoming these obstacles. Since its inception, our venture has continued to grow and thrive.
How did you get your first customers during the early stage of the company?
During the early stages of our company, we primarily acquired our first customers through word of mouth and by leveraging our professional network for outreach.
How's the business doing today?
As of now, our business is generating approximately $10,000 in monthly recurring revenue (MRR). We are in the process of rebranding and introducing a new offering, with the goal of surpassing $1 million in revenue by the end of the year.
Currently, our clientele primarily comes from outreach within our network, which we attribute to our past experiences in the startup industry.
We are working on establishing partnerships with startup incubators, accelerators, and venture capital firms to directly connect with early-stage startups in need of assistance with their product development.
Do you use AI in your company now that it is prevalent nowadays?
Yes, we actively incorporate AI into various aspects of our company, as it has become increasingly prevalent in today's business landscape.
We utilize AI not only in our development and design processes but also across the entire business. For example, we apply AI-driven automation to assist us in both the business and personal branding aspects of our operations.
What has been your biggest achievements so far?
Our most significant achievements within the company have been numerous and memorable. One such accomplishment was when our previous startup was incubated in Monaco, where we set up our offices.
This remarkable experience provided us with the opportunity to meet the Prince of Monaco and Xavier Niel, a renowned French entrepreneur and owner of numerous companies, including Three. The chance to pitch our ideas to these influential individuals has been a major milestone for our company.
What has been your biggest challenge since you started the company?
One of the biggest challenges I faced as a founder, given my technical background, was navigating the business side of the company during its early stages. I had to learn how to effectively communicate with potential clients, develop appropriate pricing strategies, and create compelling offers. Though it was quite challenging initially, I have gradually grown more comfortable and confident in managing these aspects of the business.
In retrospect, I wish I had recognized the importance of personal branding early on. Traditional outreach methods for acquiring clients can be time-consuming and short-term. By focusing on building a strong personal brand on social media platforms like Twitter and Instagram, I have found that it is a long-term strategy that can shift the dynamic, attracting clients to you instead of having to actively seek them out.
As for our company, we currently have two co-founders. Our vision for growth involves working with freelance designers and developers to form a collective, fostering a sense of community.
Our management approach will be inspired by the startup culture, with the aim of creating an environment where developers and designers feel at home and truly connected to the company.
How do you keep yourself motivated?
Maintaining motivation comes naturally to me, primarily driven by my passion for the business and my love for my wife and daughter. My enthusiasm for technology and startups, coupled with the gratification of helping entrepreneurs transform their ideas into tangible products, keeps me energized and focused.
Additionally, the support and inspiration I receive from my wife and daughter serve as powerful motivators that encourage me to rise and face each day with determination.
What advice would you give to new entrepreneurs?
The most important advice I wish I had received sooner is to simply start taking action instead of overthinking. While it may seem straightforward, this principle is crucial to success. Spending countless hours on business plans, websites, and logos won't necessarily bring in clients or generate revenue.
The key is to stop overanalyzing, start executing, and move quickly. Embrace the idea of failing fast, learning from those experiences, and iterating time and time again.
What are your plans for the next 6 to 12 months?
Over the next six to 12 months, our primary objective is to establish partnerships with startup incubators, venture capital firms, and accelerators. This milestone is crucial, as it will enable us to connect with a broader range of startups and provide valuable services to those incubators and accelerators for their portfolio companies.
In addition, we will continue to work on our projects, expand our team, and strive to automate as many tasks as possible. This will allow us to concentrate on the most important aspects of our business and ensure steady growth.
Where can people get in touch with you?
People can easily contact me on LinkedIn and Twitter, where I am quite active. Additionally, they can reach out to me via email or visit our website.