Tell us a bit about yourself and your business
I'm Sveta Baym co-Founder of FounderPal.ai and MakerBox.club. Around ten months ago, I quit my full-time job as a project manager to focus on my indie projects.
So currently, I'm building marketing products, growing my brand, and living the lifestyle of a digital nomad alongside my husband.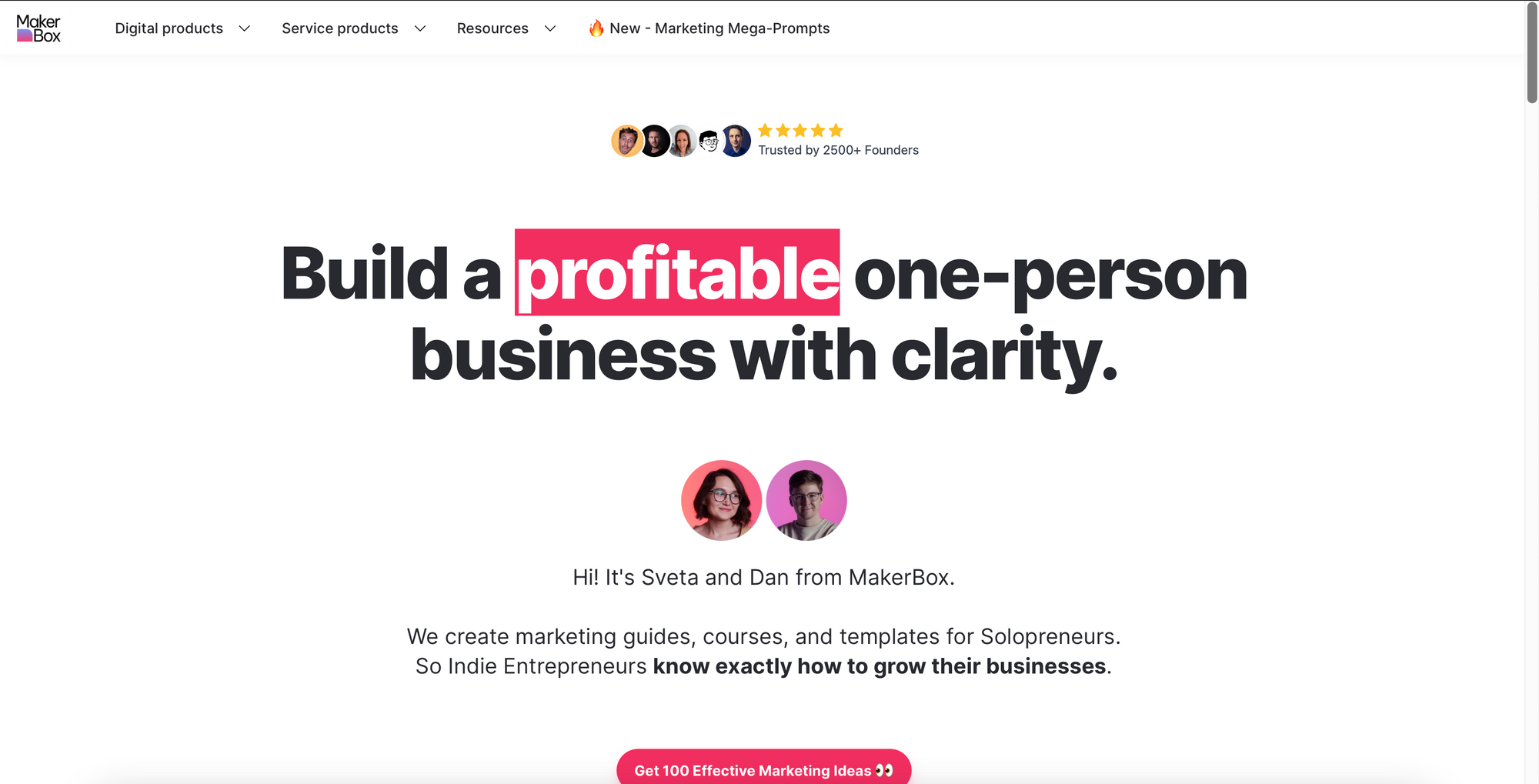 ‌                                                                                                                                                                                                                                                                                                                                                                                                                                                                                                                                                                                                                                                    
The latest product that we released was FounderPal.ai which helps users generate ideas for Twitter content.
It helps people who want to consistently build personal brands on Twitter and show their expertise.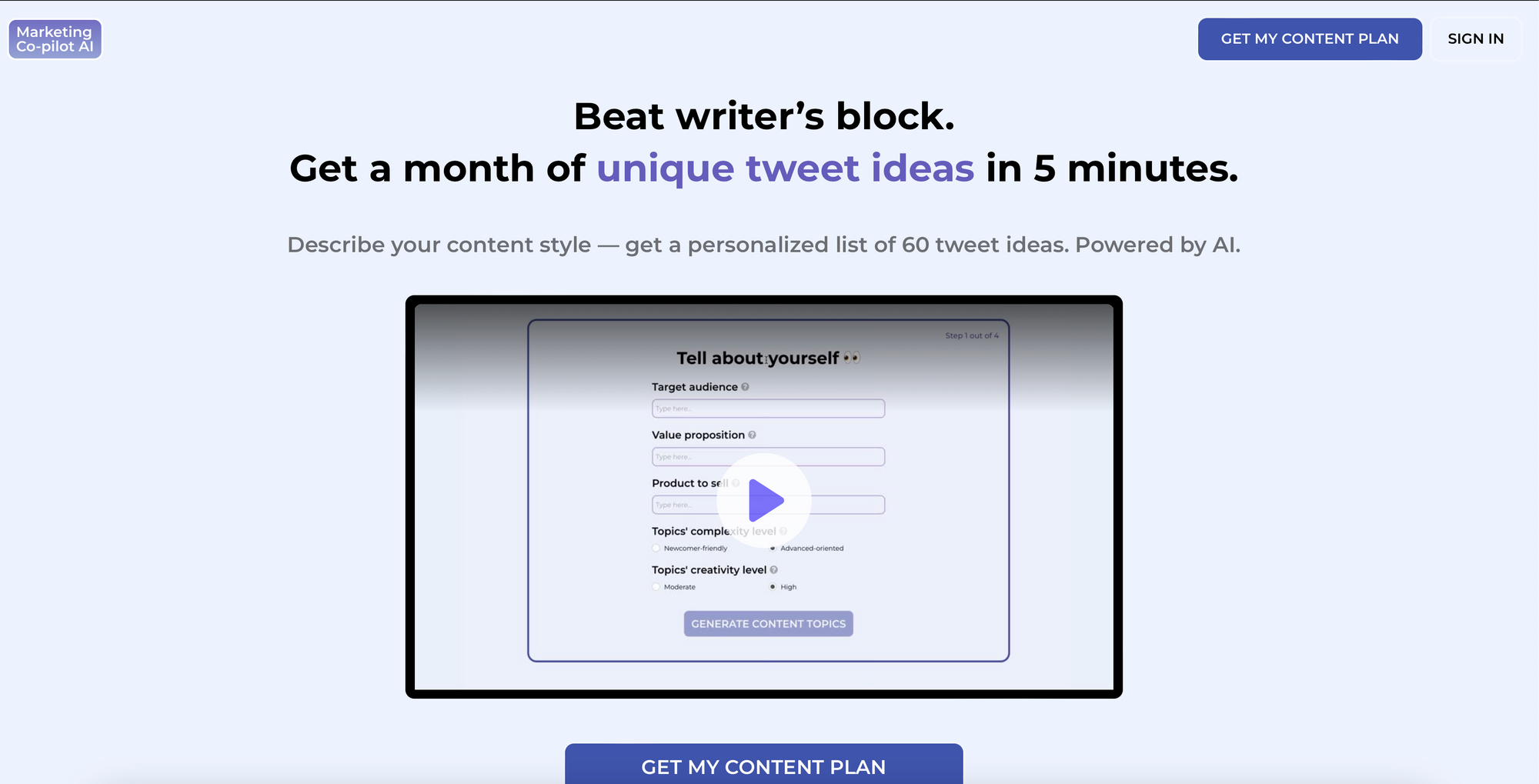 Sometimes that's hard to do because you don't know what to tweet about. It might feel like you already said everything you wanted to say.
With our tool, you describe your niche, value proposition, and product, and get tweet ideas for the next 30 days, making it easier to tweet consistently and attract your audience and potential customers.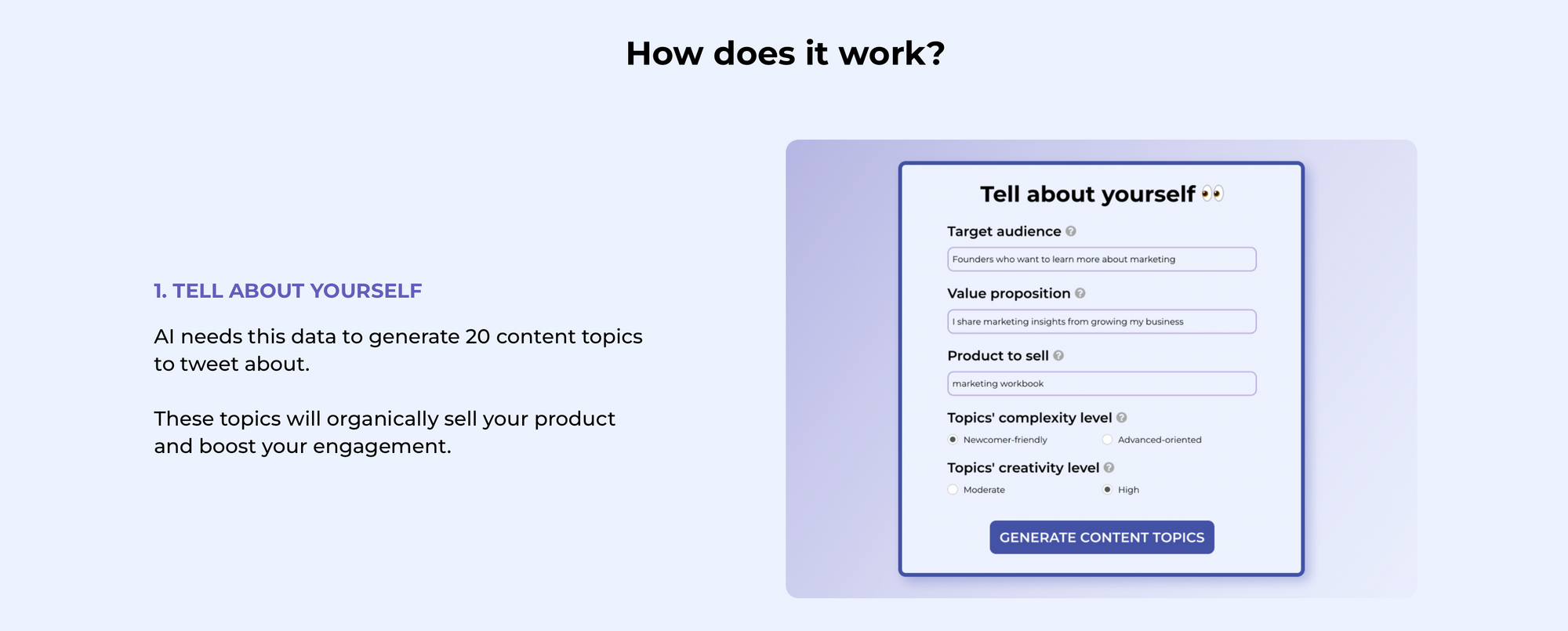 ‌                                                                                                                                                                                                                                                                                                                                                                                                                                                                                                                                                                                                                                                    
How did you come up with this particular idea?
It all started when we had just begun building our Twitter audiences. The biggest struggle was coming up with something new because of the way the Twitter algorithms work.
You need to tweet a lot so that people notice you. And after a month of tweeting consistently, you start thinking, "What else is there to say because I have already said everything".
This is some kind of a writer's block that we decided to beat with MarketingCoPilot.ai.
Is this a tool that you wish you had at the start?
Yeah. I think a great approach for finding new product ideas is to brainstorm problems you have in your daily life.
It's likely you're not the only person dealing with these problems. After this brainstorm, you can run 10-15 interviews with your target audience to prove your hypothesis.  If you prove them, you can start building a solution to this problem.
Did you seek any funding or were you bootstrapped?
We were bootstrapped, and we started building products while still having jobs. We had this idea that if we could make just $1 online, then we could scale.
The first product we made was MakerBox Tools - a directory of free tools for startup founders. It was the first pain point we came across.
We had all these great ideas, but we realised that we weren't able to cover all the tool's costs. So we made this directory and launched it on Product Hunt. Building MakerBox Tools helped us to learn more about our target audience.
We found out that founders and creators often had problems with marketing their products.
While they love building, creating, and writing, they absolutely hate marketing. The problem is they're competing with corporations that have big marketing budgets, paid ads, billboards, TV, and so on. So, solopreneurs and indie founders need to be different and stand out somehow.
We understood that there's an opportunity here. We decided to make products that help small businesses and indie founders market their products with limited budgets.
How have you been able to grow and find new customers?
We have three core customer streams. The first one is Twitter. We build our products in public, create content around marketing, and connect with our target audience.
The second stream is Product Hunt where we launch our products. It's a platform where new startups show their products and find the initial traffic. If the Product Hunt community loves your product there, it ranks higher, and more people see it.
The third stream covers everything else: newsletters and smaller startup directories. Individually these channels don't bring in many people, but collectively these sources bring in around 30%-40% of our traffic. At the moment, we're using only free marketing tactics, and it's interesting to see how we can grow without using paid ads.
How is the business performing?

During the 10 months, we generated $55K and made a 5 digits exit of one of our products (sponsorthisnewsletter.com).
You are a digital nomad. Where have you travelled?
We prefer to stay in a country for around three to six months. Our first stop was in Tbilisi, Georgia.
Then we stayed in Bali for six months, and now we are in Thailand. Our next stop will most likely be Seoul, South Korea.
So,we are currently exploring Asia as there are a lot of countries you can visit with amazing sights and nature that are really cheap in comparison to Europe.
What were the biggest challenges you encountered and overcame?
I think it's always a big challenge to find new growth opportunities because you can get too comfortable with what you already have, and that's especially true with our cheap lifestyle in Asia.
You can chill on the beach thinking, "Well okay, that's great. I like this life and can happily live like this forever." Luckily for me, after two or three days, I get the urge to start brainstorming and get back to working on something new.
I think that's one of the most challenging things. To combine the desire to explore new countries and the need to get the work done.
You soon understand that time is limited, and you can't just put things off because there are plenty of other people in the world that know about your niche and will conquer it if you don't ship fast enough.
That's especially true at the moment when there are thousands of new products being launched weekly.
What advice would you give new entrepreneurs?
I think the most important advice I can give is to not start with BIG things. Everybody dreams of building another Tesla or Facebook, but that's not the best way to start. I believe you need to start small and test your ideas with really simple MVPs.
For example, if you want to launch a SaaS, you don't need to start building it. You need to start with the products around it, like an Ebook, a workbook, or a PDF file, even if it's free.
By doing this, you will get to know your audience and be able to understand the problem you are fixing. Don't just start blindly building the product because it will probably be something nobody needs.
What are the 'go-to' technology or software tools you can't live without?
We use no-code platforms like Typedream and Webflow for making websites and Bubble for building products.
For example, Marketing Copilot is built on Bubble. We use these no-code products because they're faster. We also use a lot of supporting apps like Notion, Airtable, and Senja, as well as ConvertKit for our email marketing.
Are there any books or podcasts that you would recommend?
I do recommend reading newsletters because when you read the newsletters from people in your niche, you understand what's happening now.
Find newsletters in your niche by successful creators, founders, or just a niche overview newsletter. But don't subscribe to ten newsletters, choose three to five niche newsletters and read them.
You'll get some really valuable insights that way. By the way, I also have one. I share weekly Marketing case studies from profitable Indie Founders.
Do you have any new projects or plans for the future?
We are currently focusing on developing Marketing Co-Pilot because we want to make more AI products, as it's a hot topic right now.
We also have our MakerBox, and we want to create a stable marketing funnel for it.
It can be hard to market two products at once, so if we can get MakerBox to a point where its sales are stable then we can focus on growing Co-Pilot faster.
Where can people get in touch with you?
Twitter @sveta_bay
Newsletter: Marketing Bay
‌‌