---
Can you give us an overview of what Traverse is?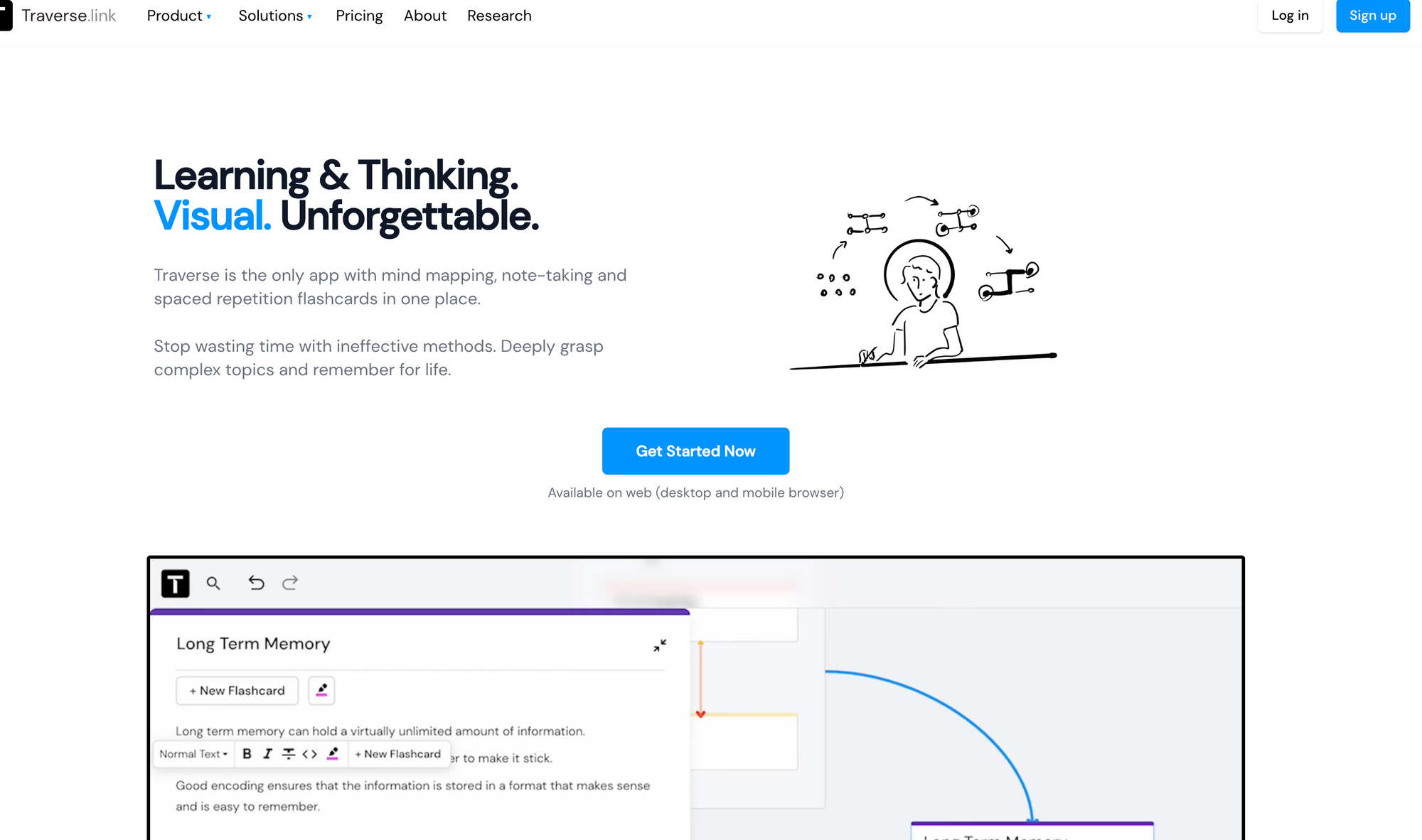 With Traverse, I aimed to create the ultimate app for self-learning. At its core, I incorporated note-taking features, which are essential for many individuals when acquiring new knowledge. I also emphasized a visual approach, as I discovered that visual learning is highly effective for a wide range of learners, not just those who identify as visual learners. This is why I integrated mind maps as a key feature of the platform.
To further enhance the learning experience and facilitate long-term memory retention, I included flashcards that utilize spaced repetition and active recall in Traverse. These evidence-based techniques have been proven to significantly consolidate information, making them invaluable tools for our users.
What is your background, and how did you get into this niche?
My journey began when I met my now-wife, who is Chinese. At that time, I was trying to learn Chinese to communicate with her parents, who don't speak English. Although I had previously learned foreign languages like English, German, and Portuguese, I faced significant barriers when it came to Chinese due to the complexity of the characters and their interconnections. As a result, my traditional learning methods were no longer effective.
This led me to evaluate my learning process and realize that I didn't have a structured approach. Intrigued, I started researching various learning processes and scientific discoveries in the field. Eventually, I developed a method that worked for me, combining visual connections with flashcards and spaced repetition to enhance long-term retention.
While this makeshift solution was effective, I noticed that there was no app on the market that seamlessly integrated all these elements in a polished way. Motivated by this gap, I set out to build the app myself, and that's how Traverse came to be.
When did you launch the app, and how did you acquire its first users?
We launched the app a little over two years ago. Initially, I posted about it on Reddit to attract the first few users and gather their feedback. Shortly after, I began promoting the app on Twitter, where I was quite active at the time. Through Twitter, I connected with someone who could help launch our product on Product Hunt. This exposure significantly increased our visibility, and that's when things started to gain momentum.
Who are your ideal customers?
Our primary focus is on individual consumers, as they are the demographic I understand best. While we are open to partnerships and currently have significant collaboration with a Chinese course, our ideal customer is an individual learner tackling challenging subjects. Typical areas of interest for our users include Mandarin, medical studies, machine learning, and psychology. These subjects often involve a vast amount of interconnected content that can be difficult to grasp, making our app an invaluable resource for learners in these fields.
How is the business doing today?
The business is doing reasonably well at the moment, we've just reached $3900 MRR which is a point where I can break even, pay myself a salary, and cover expenses. However, there is room for improvement in terms of lead generation, as our current approach is somewhat random, and we lack control over who finds the app and how they convert.
As a startup, it's often said that success hinges on mastering one marketing channel. Our primary goal is to identify and optimize that channel to drive growth and better serve our target audience.
What different marketing channels do you use?
In the past, we've found success with channels like Reddit, which has been our most effective marketing platform so far. We're also exploring YouTube and SEO, as they tend to complement each other well. While we have used Twitter, we discovered that our ideal customers aren't necessarily active there, as the platform caters more to those seeking quick insights rather than in-depth knowledge.
Traverse is designed for focused learners who want to delve deeply into a specific topic. We've found that such users are more likely to be found on Reddit and YouTube compared to Twitter. We also experimented with TikTok influencer campaigns, but they haven't been particularly successful. Interestingly, we had a spontaneous TikTok video about Traverse go viral, resulting in a significant number of signups, but the conversion rate was quite low.
One challenge we face is that many of our potential users are students with limited budgets, making it more difficult to convert them into paying customers compared to other industries.
What has been your biggest achievement?
For me, the most significant accomplishment has been creating an app that I'm truly confident in, one that effectively helps people learn and master challenging topics. I'm particularly proud of having a dedicated group of fans who not only agree with the app's efficacy but also successfully use it in their daily lives. This validation is something I cherish and consider my biggest achievement to date.
What has been the biggest challenge the company has faced so far?
The most significant challenge I've faced is mastering marketing and gaining control over the top of the funnel. Specifically, it involves determining who sees Traverse, who learns about it, and who clicks through to visit our website. So far, this aspect has been fairly random, and establishing control over it would greatly benefit our business.
Is there anything you know now that you wished you had known when you started the business?
What I've learned is that there are different ways of doing things, particularly in marketing. Some strategies work well for certain businesses but not for others. I tried replicating methods that worked for others, such as building a Twitter audience or reaching out to YouTubers, but some of those approaches didn't align with my working style or our B2C focus.
For instance, I enjoy writing long-form content but don't like spending an hour a day on social media responding to messages or engaging with trending topics. Additionally, much of the advice available in the solopreneur SaaS space is tailored to B2B businesses, which requires a different approach for a B2C company like ours.
In hindsight, I wish I had known that finding an effective marketing strategy for my business and personal working style would require more trial and error. Identifying companies in the same position to learn from has been challenging, so it's essential to be prepared for the experimentation process.
Are you still working solo?
While I have people assisting me, particularly in UX design, marketing, and copywriting, I am the only person working on the project full-time. The others contribute on an as-needed basis.
Are there any tools you use inside your business that you can't live without?
One indispensable tool I use in my business is Notion. It houses all of our workflows and is excellent for managing the business and product management aspects. However, I have a love-hate relationship with Notion because, while it is widely used by students and researchers, it lacks features that help users learn or study efficiently. Despite many YouTubers promoting Notion to students, I feel a sense of frustration knowing it's not an ideal tool for studying. Nevertheless, it remains an invaluable tool for managing my business.
Do you have any advice for beginning entrepreneurs?
My primary piece of advice is to choose something you genuinely love and can work on for years, as everything will likely take much longer than you anticipate. It's essential to find what keeps you motivated and dedicate the necessary hours to your project. However, don't forget to keep financials in mind. Aim to validate your product as quickly as possible. For example, when I launched Traverse, it didn't have a paid plan for the first six months. In hindsight, I suggest introducing payments as soon as possible to confirm that people are willing to pay for your product. Otherwise, you might end up investing a lot of time in something that fails to generate income, which can be demotivating.
How do you keep yourself motivated? Did you ever think about giving up in the early days?
There were certainly tough moments, especially when the financials weren't looking great. I've learned that there will be good days and bad days. On challenging days, you have to persevere and push through. Usually, you'll come out stronger on the other side. Once you've experienced this a few times, it serves as a reminder that you can learn and grow from each difficult situation. That's my primary source of motivation.
What are your plans for the next year?
My main goal is to find a marketing channel that works effectively for the app. Over the past few months, we've made significant progress in polishing the app, and it now has a comprehensive feature set.
We recently launched iPhone and Android apps, which make it easier for users to learn and build habits and serve as a marketing channel. I
I'm also exploring the potential of AI & have recently written an article about How ChatGPT can help with learning.
In addition to that, I have attempted to create a lively community around the app several times, albeit unsuccessfully. However, building such a community remains on the agenda.

Where can people contact you?
Sign up at Traverse and you'll also get my newsletter (I read and respond to all replies)
You can also reach me on Twitter @DominicZijlstra or Linkedin here.