Tells us about yourself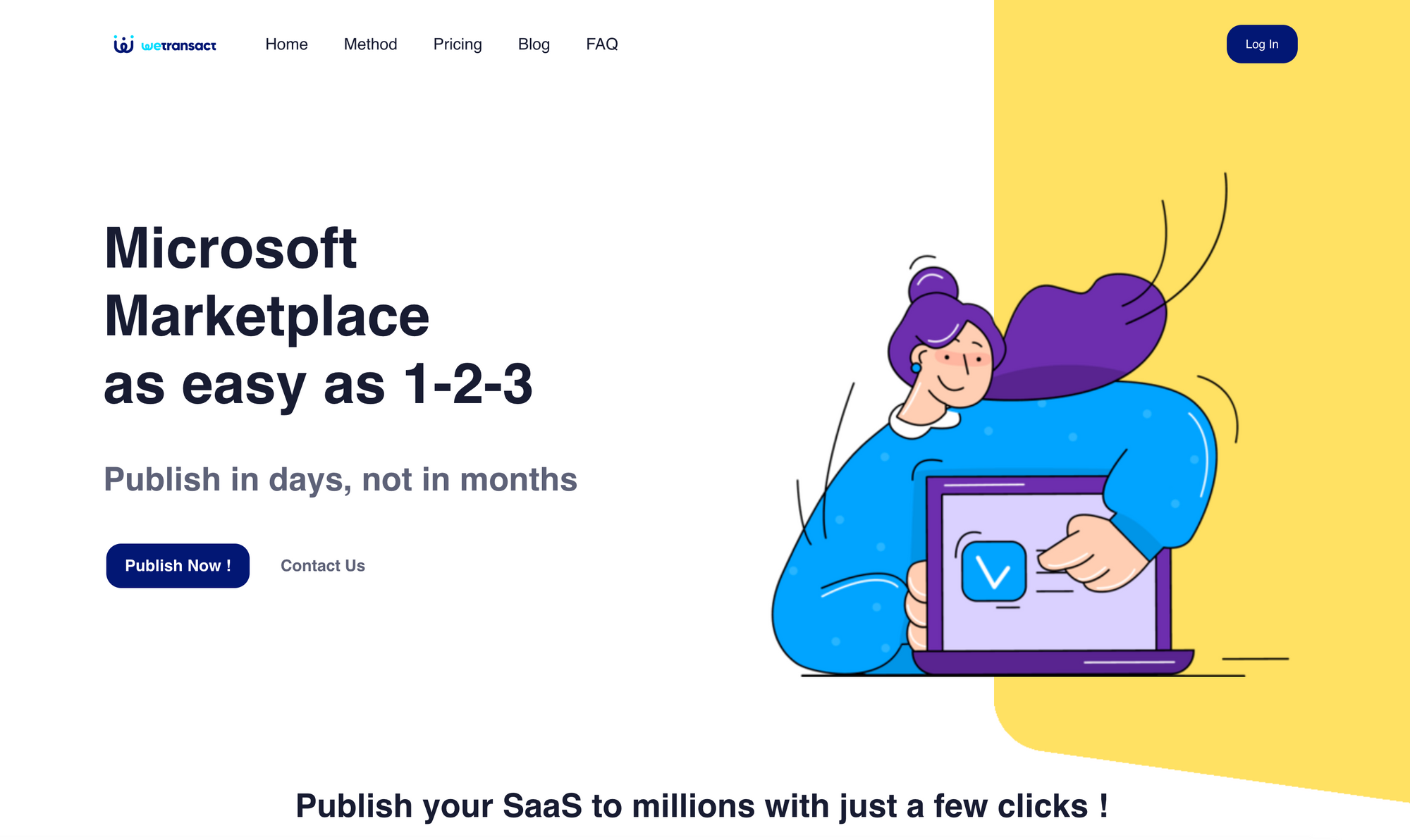 My name is Johan, and I founded WeTransact in March 2023. WeTransact is a platform that helps SaaS companies easily list and sell their solutions on the Microsoft Marketplace. We saw an opportunity to create a service that streamlines the process of selling on the marketplace and allows SaaS companies to focus on their core business. By taking care of the technical, operational, and marketing aspects of the process, WeTransact provides a simple solution that can save SaaS companies time and money.
What problem does WeTransact solve?
Selling on the Microsoft Marketplace can be a complex and time-consuming process for SaaS companies. The marketplace requires technical expertise and knowledge of the operational and marketplace go-to-market.
WeTransact streamlines the process by providing a platform that makes it easy to list and sell on the marketplace. We offer a simple solution that can save SaaS companies time and money, allowing them to focus on their core business. Our platform is centralized, which means SaaS companies can delegate maintenance, financial reporting, and focus on sales. We also offer hands-on marketing advisory services that help SaaS companies land significant sales quickly.
That's why our tagline boldly say: "Say goodbye to tedious listing processes and hello to cash"
What's your background, and how did you come up with the idea?
I studied Management at Kedge Business School and started my career as an economic attaché at the French Embassy in South Africa. Later, I worked for Microsoft for 5 years and became an expert in Microsoft Marketplace.
During my time at Microsoft, I saw hundreds of SaaS companies struggling to list and sell on the marketplace. I became a subject matter expert in that area and saw an opportunity to create a platform that simplifies the process. After some months of thinking, I decided to leave Microsoft and build WeTransact. It was a difficult decision to leave such a great company, but Microsoft was amazingly supportive, and I'm grateful for the support they provided along the way.
How's the business doing now?
Our first customers came from our readiness sessions around the WeTransact offering to Microsoft channel partners, which helped us get positioned as a solution alongside our competitors. We also did a lot of outreach to SaaS companies and offered them demos of our platform. We were fortunate to have customers from the first two weeks of operation. Currently, we are generating around $45K in monthly recurring revenue, which is a promising start for our growth. However, it also poses new challenges as we need to structure the company quickly to meet demand. We are profitable but looking at more cash flow to grow fast in a qualitative way.
What marketing channels are working well now to acquire customers?
We use a blend of three inbound channels and one outbound channel to acquire customers. Outbound, we use Lemlist, a tool that helps to launch Emailing/Linkedin reach outs at scale to a targeted audience. We also work with resellers with which we agree to a commission for reselling our product. Inbound, we work with Microsoft as we joined their Start-Up program (Founder Hubs), which helps us pitch our solution to sellers that can position our solution when it makes sense. We've also seen success with word-of-mouth marketing, as our customers have been happy to recommend us to their colleagues and partners.
Inbound contributes today to more of 70% of the revenue generated.
What's been your biggest challenge?
Structuring growth has been our biggest challenge so far. We need to maintain quality while finding more scalable approaches within the product so less is pending on manual action. It's a big work in progress, and we're continually looking for ways to optimize our processes and improve our platform. We also want to ensure that we're providing excellent customer service and support, which can be challenging as we scale our business. We're working hard to create a solid foundation for growth, and we're confident that we can overcome this challenge with the right strategy.
What's something you know now that you wish you knew when you started?
I wish I had been more aware of the administrative fees associated with running a business. There are a lot of costs that I underestimated, such as legal and accounting fees. Incorporating in different countries can also add additional costs, which I didn't consider initially. I would advise every new founder to do thorough research on the administrative obligations based on the country they incorporate in. Doing so will give them a clearer picture of the running costs of their business over areas they initially didn't have expertise in, allowing them to budget accordingly.
Any advice for new entrepreneurs just starting out?
Focus on retention, not just acquisition. Your first users must always be delighted with your offering. That's how you build your brand and pinpoint what the pressing features are to build. In other words, go build your product along the way with your customers. The sooner you speak to your customers, the better. Be open to feedback and constructive criticism, and always aim to provide an excellent customer experience. As a new entrepreneur, you'll face many challenges, but don't give up. Stay focused on your goals and always be willing to learn from your mistakes.
How do you keep yourself motivated?
I don't compromise on my quality of life. It's important to maintain some habits, such as daily exercise, healthy eating, and getting enough sleep. I also prioritize my social life and make sure to disconnect from work on weekends. I believe that taking care of yourself is crucial to maintaining high energy levels and productivity. Having a healthy work-life balance allows me to stay motivated and focused on my goals.
What are your plans for the next 6-12 months?
Our primary goal is to grow our MRR at $100K. We plan to hire two engineers, one marketing specialist, and one seller to help us with the project. We're also working on our own private R&D to develop a GPT-4 assistant that will help our customers in real-time with their Go-To-Market strategies. We believe that this will add value to our platform and help us differentiate ourselves from our competitors.
Where can people get in touch with you?
Directly through our website, https://wetransact.io/ .
They can also reach out to me directly on my LinkedIn profile