Tell us a bit about yourself
My name is Marco, I am an app developer from Germany and I started my app development business as a side project in 2020. My first app, named Captize, is a document management app available on Apple platforms. Captize helps people to digitize and organize their documents with a focus on privacy, optimized PDF workflows and modern design.
Tell us more about Captize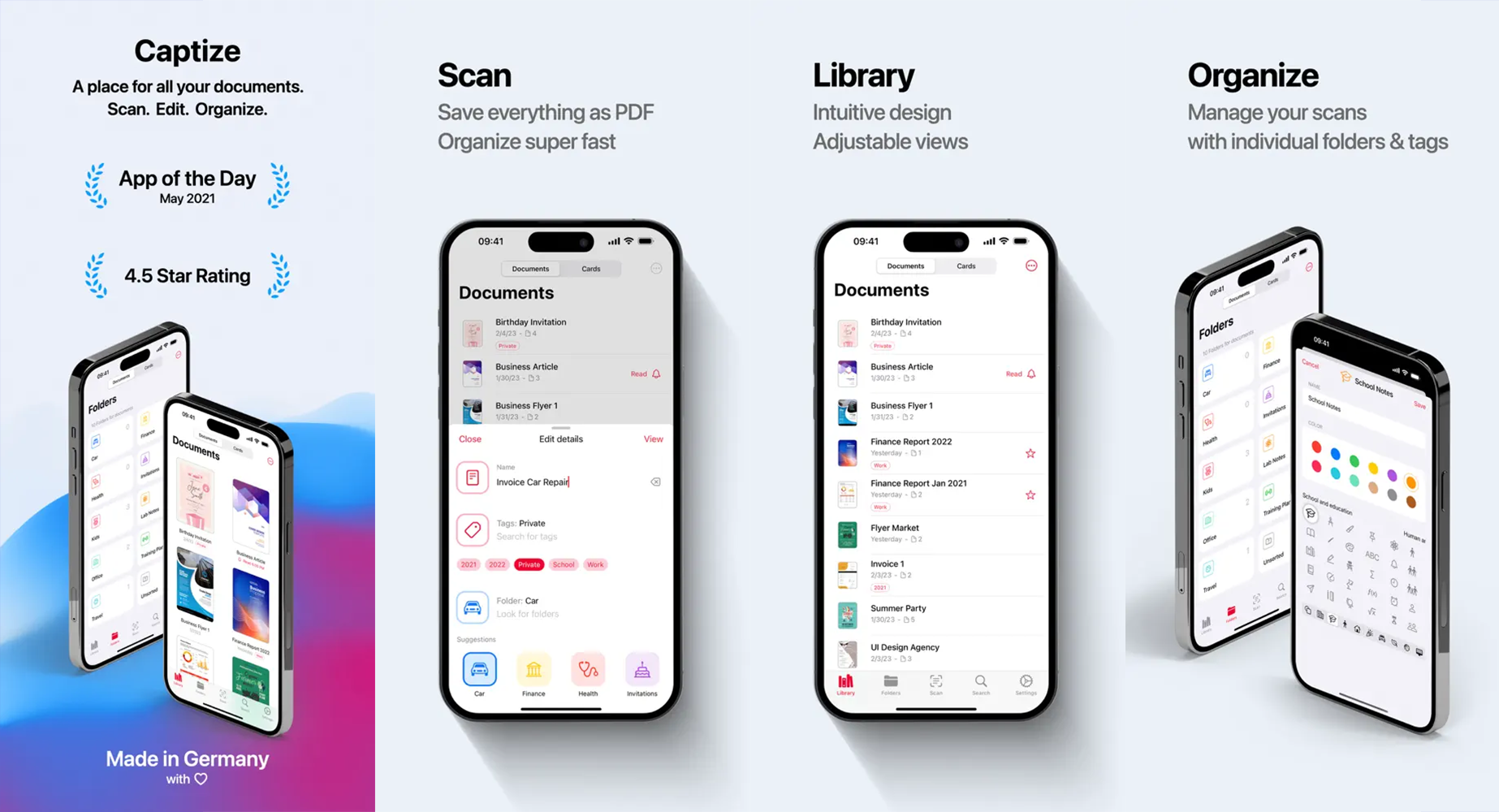 The vision for Captize (short for capture and digitize) was to build a lightweight, fast and privacy-friendly productivity tool in a refreshed design. Captize is exclusively built for Apple devices, with focus on the newest hardware and software capabilities to create a great user experience.
From AI boosted text recognition, super fast loading times or seamless iCloud sync to clean and intuitive UI design, the app focuses on what many Apple users value. Privacy and security are always a concern when using mobile apps, especially when it deals with personal documents. Captize raises the bar with user privacy, collecting no user data at all from the developer side. This is possible due to using the user's existing Apple Account for cloud sync, which is why no extra account is needed for the app.
In addition, Captize uses on-device image processing and text recognition, which means that the users scans are never sent to any external servers. So for anyone looking to streamline their digital workflows, Captize might be worth a try. Use the offer code FOUNDERCLUB23 when purchasing the Pro version to get a special discount. Apple App Store link: https://apps.apple.com/app/captize/id1488667597
What's your background and how did you come up with the idea?
After studying engineering with a focus on simulation and data processing, I worked in the engine development department at a German car manufacturer, creating computer models for powertrains. However, my fascination for programming and app development has always been present.
In the summer of 2019, I decided to learn iOS development and was encouraged by Apple's announcement of the SwiftUI user interface framework. After completing an online course from Stanford University, I devoted a lot of my free time to improving my coding skills. The idea for Captize, a document scanner app, came from identifying a common problem and figuring out how I could solve it. Despite the competition on the market, I believed there was room to create something better.
Talk us through the early stages of the business, how did you get your first customers?
After three months of learning the basics, I began working on the prototype for Captize, sketching out its core functionalities. By February 2020, the app was approved by Apple and ready for release on the App Store, marking a major milestone for me.
At first, I released Captize as a free app to gauge interest and get customer feedback. With a small advertising budget, I was able to acquire the first users, and positive reviews gave me the confidence to continue expanding the app's functionalities, including a pro subscription model to create a revenue stream.
How's the business doing now?
Captize is growing constantly. It has been downloaded over 50k times with 2k sold lifetime pro licenses and currently around 300 active subscribers. The app had a great year in 2021, being awarded as App of the Day.
Unfortunately, due to personal reasons, I was not able to work on the project as much in 2022, resulting in a revenue impact. However, this year I have added new functionality and managed to grow the MRR to $1500, which has been consistently increasing over the past six months.
What marketing channels are working well now to acquire customers?
When it comes to promoting new iOS apps, I believe that Search Ads, Apple's platform for placing ads in the App Store, is an excellent starting point. This is because potential customers are already browsing for apps in the App Store, making them the perfect target audience. The platform also offers a promo credit for new developers, allowing you to boost the initial downloads of your new app for free.
What's been your biggest achievement?
My biggest achievement was when Captize was awarded "App of the Day" by the Apple App Store team in May 2021, and recognized as one of the best apps of the year. It was a great moment of recognition for all the hard work and dedication put into the project. This achievement proves that with passion and dedication, even a small team or individual developer can make a big impact and achieve success.
What's been your biggest challenge?
Developing a mobile app poses significant challenges, such as scaling the app for efficient data handling, integrating a robust cloud sync mechanism, and staying motivated throughout the development process.
Scaling the app is critical for efficient data handling, while a robust cloud sync mechanism allows for seamless synchronization across multiple devices. Persistence and dedication to the development process, coupled with the willingness to improve, are essential for success in the highly competitive app market.
What's something you know now that you wish you knew when you started?
Looking back, there are a few things I wish I had known when I first started developing mobile apps. Firstly, I would emphasize the importance of doing more marketing, especially in the beginning.
It's vital to attract users and build a community around your app. Secondly, it's essential to think big and use a scalable approach to development, as it will save time and resources in the long run. Lastly, don't hesitate to release the app even if it's not perfect, as feedback from users is valuable for improving the app. Overall, taking a strategic approach to development and marketing can help ensure the success of a mobile app.
Any advice for new entrepreneurs just starting out?
During my journey as a founder, I have learned an important lesson - not to fear creating something just because there are already big players in the market offering a similar product. With a smart, innovative, and cost-effective approach, it is possible to solve the same problem in a unique way that can set you apart from the competition.
I believe in making progress over perfection and avoiding getting lost in the details, which can delay the product launch. Instead, it's better to focus on the most critical features and release the product to the market. The feedback from early adopters can help improve the product while gaining traction and market share.
How do you keep yourself motivated?
As an app developer and founder, seeing my app being used worldwide and helping users become more efficient in their workflows is what keeps me motivated. The positive impact my app makes on people's lives is rewarding, and user feedback drives my passion for creating technology that solves real-world problems. Knowing that I am contributing to the advancement of technology is a great feeling.
What are your plans for the next 6-12 months?
My plans for the coming months include constantly improving Captize based on customer feedback and adding new features to maintain the positive MRR trend.
I'm also working on a new app project that I plan to launch this summer. I'm excited to bring this new idea to life and continue to innovate in the app development space. In addition, I will share details of the development of new and current projects on my twitter profile.
Where can people get in touch with you?
Visit our website at https://www.captize.de/en
Alternatively Let us connect on Twitter and share ideas about technology, apps and growing your business. Twitter profile link: https://twitter.com/swmw906