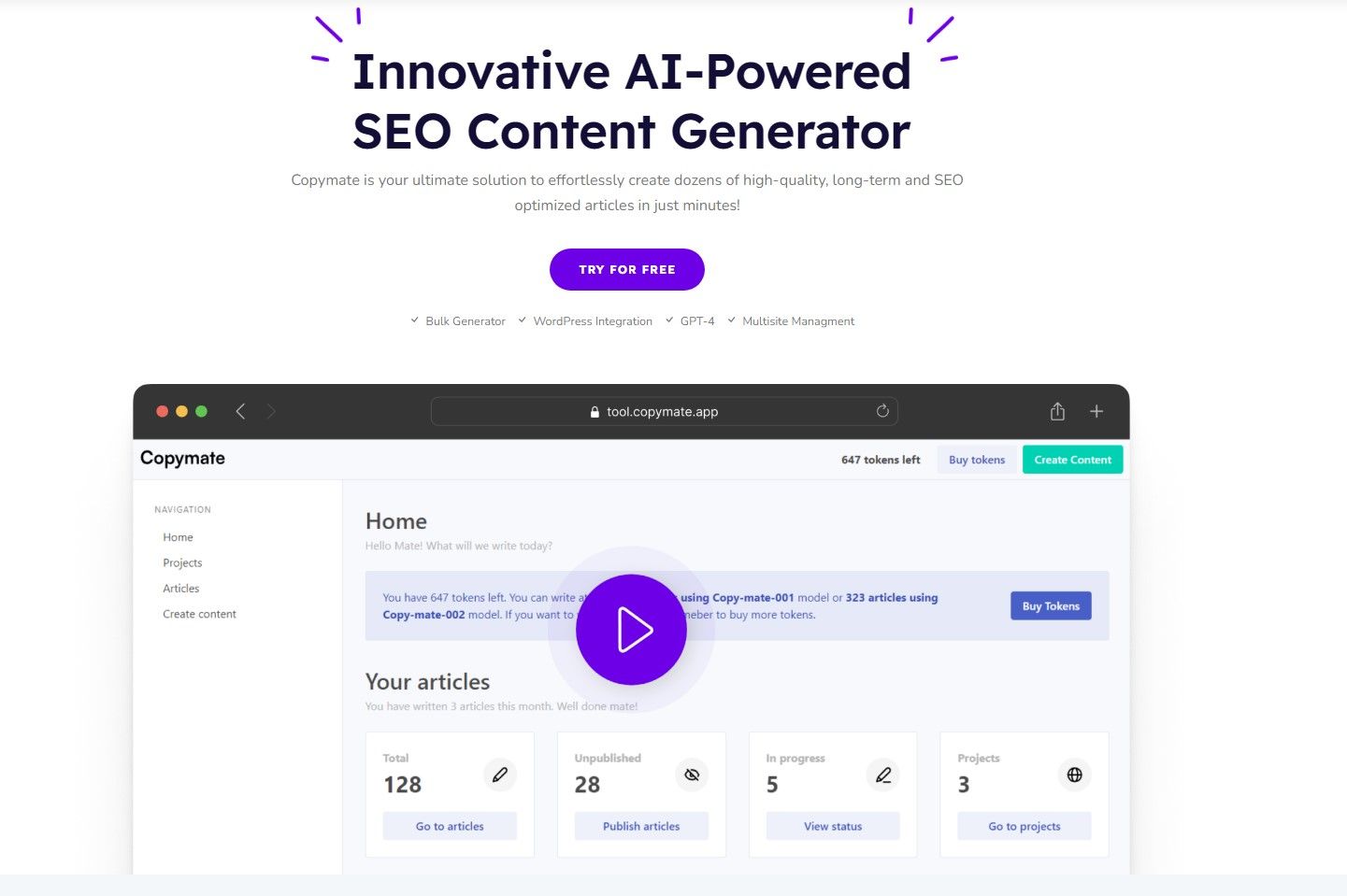 My name is Marek Foltanski, and I am delighted to be here with all of you. I'm an SEO expert with extensive experience in the field and the proud founder of Copymate.
Tell us more about Copymate
In summary, Copymate is an AI-powered SEO content generator that helps businesses and individuals streamline their content creation process while reducing costs and maintaining high-quality content.
Built on the latest OpenAI models, Copymate enables users to generate an unlimited number of articles in just minutes, making it a cost-effective solution for businesses looking to improve their online presence and generate more organic traffic.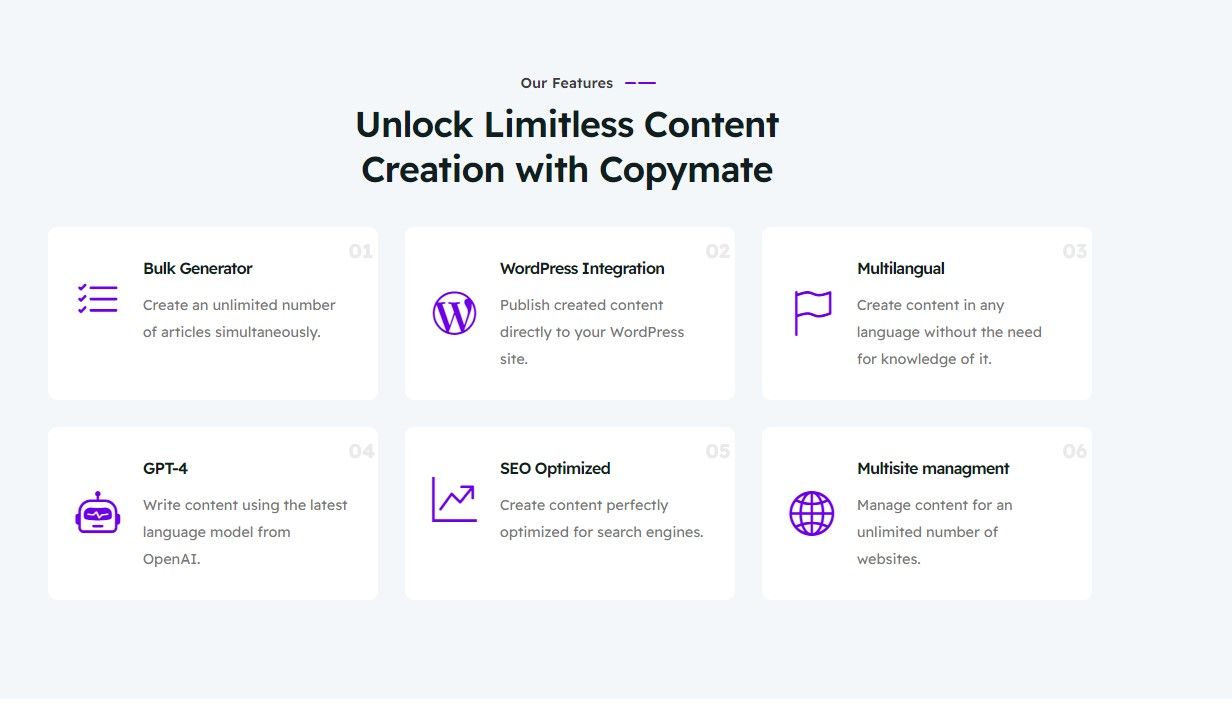 Copymate's user-friendly interface and advanced features make it the ultimate solution for businesses looking to elevate their content strategy.
With Copymate, users can create high-quality, relevant, and engaging content that drives organic traffic, ultimately enhancing their website's performance and online presence. Users can push created content directly to WordPress.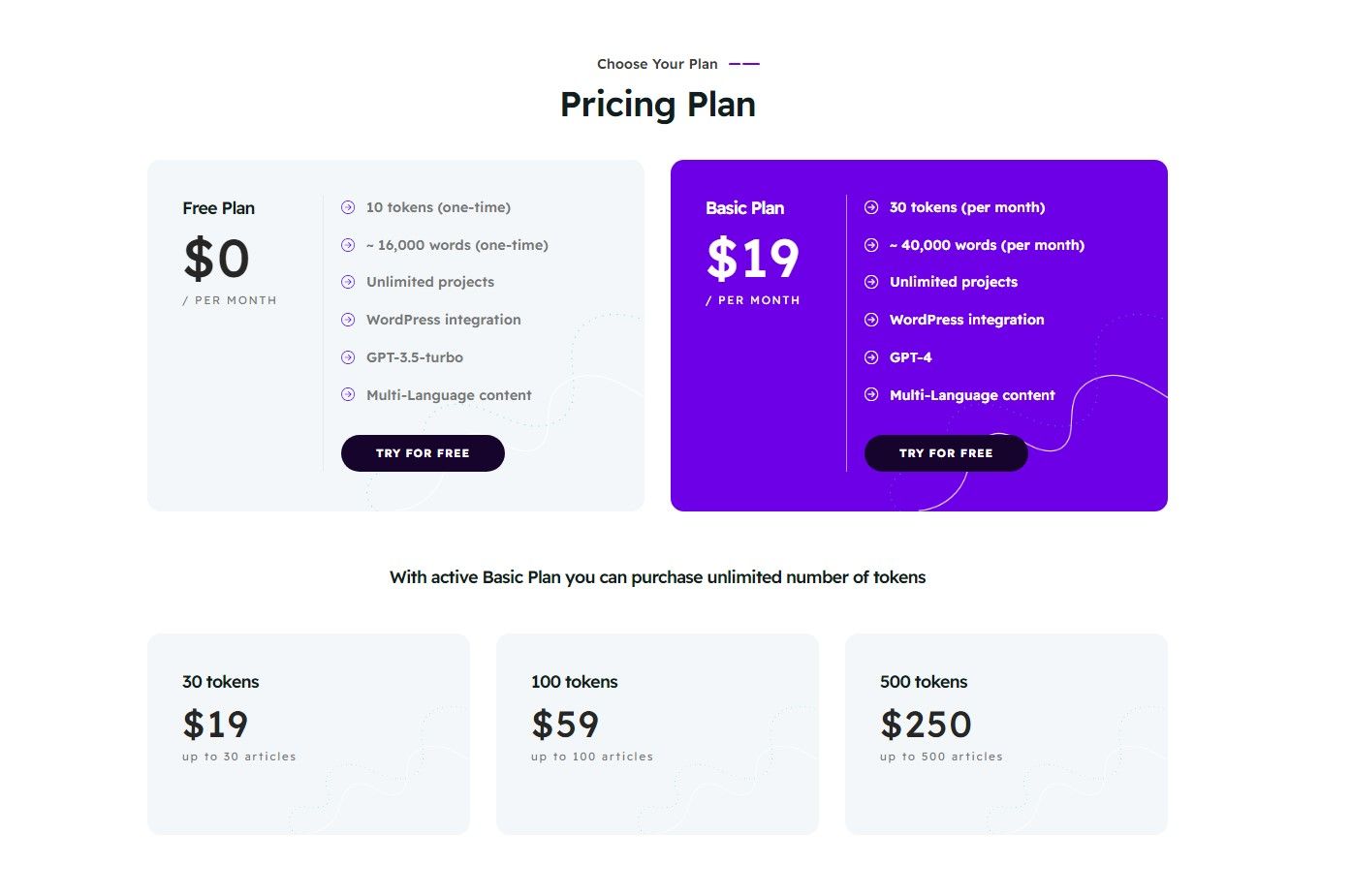 Cutting-edge technology and an AI-driven approach to content generation allow businesses to unlock the full potential of their website and stay ahead of the competition.
Say goodbye to manual content creation and embrace the future of AI-driven content generation with Copymate.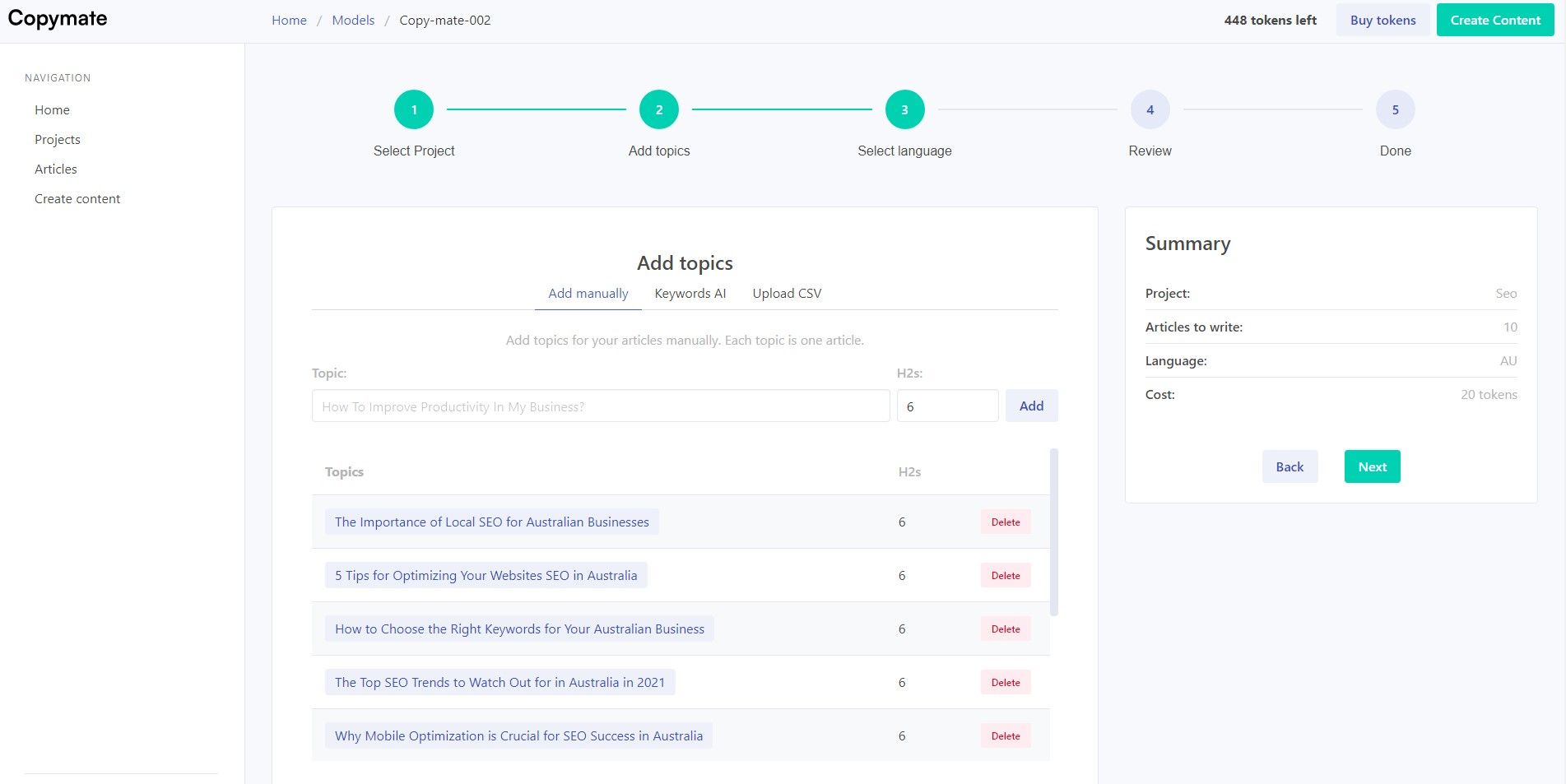 What's your background, and how did you come up with the idea?
As for how I came up with the idea, it was through my own experience in the SEO and content marketing industry.
I saw firsthand how time-consuming and expensive it can be to generate high-quality content optimized for search engines. I also recognized the importance of having fresh and relevant content to attract and engage audiences.
That's when I started researching AI-powered content generation solutions and came across the team behind Copymate.
I was impressed with their deep understanding of SEO and their use of the latest AI technology to create a product that solves the content generation problem for businesses. I knew this was a game-changer in the industry and wanted to share it with others.
Overall, my background in SEO and content marketing and my passion for leveraging technology to solve business problems led me to discover and recommend Copymate as an innovative solution for businesses looking to improve their online presence and generate more organic traffic.
How did you get your first customers during the early stage of the business?
It was a great way to start my business as it was a cost-effective method that didn't require any paid advertising.
I found that social media platforms were a great way for me to connect with potential clients, as I was able to demonstrate my expertise and provide valuable insights into the world of SEO.
In addition to social media, I also reached out to friends and family members who were in need of SEO services and offered them special discounts or promotions.
This helped me build a solid foundation of clients willing to refer me to their colleagues and friends.
Finally, I attended networking events and industry conferences to connect with other professionals in my field.
This allowed me to build relationships with potential clients and partners and helped me to establish myself as a trusted and knowledgeable expert in the industry.
Overall, my early success was due to a combination of social media marketing, personal networking, and a commitment to delivering high-quality services to my clients.
How's the business doing now?
The business is doing very well overall, and we are pleasantly surprised by the interest in our product. Since launching our application on March 17, 2023, in just 1.5 months, our monthly subscription revenue has grown to $2,500.
Additionally, we have had more than 4,000 users register for our services. We are optimistic about the future and expect continued growth as we expand our offerings and reach more customers.
As of now, what marketing channels are working well for acquiring customers?
For our business, we are starting to explore Facebook and Google paid ads, but we don't have any data to provide yet as it is a fresh strategy. However, we will monitor the performance and share insights in the future.
One surprising success we've had recently is connecting with influencers on YouTube.
We found that this has led to a conversion rate of 10% for us, which exceeded our expectations.
This indicates that if done correctly, influencer marketing can be a valuable channel for acquiring customers.
Overall, it's essential to continually test and optimize marketing channels to determine what works best for your business and target audience.
What has been your biggest achievement as a founder?
One of my biggest achievements as a founder has been the exceptional quality of the generated content by our platform.
From the very beginning, our primary focus has been on ensuring the highest level of content quality that not only meets but exceeds the expectations of our users.
Over time, we have been able to refine and improve our technology and algorithms to create content that truly stands out.
The fact that our users heavily rely on our solution and frequently express their satisfaction with the generated content makes me immensely proud.
Another significant achievement I hold dear is our platform's strong performance in search engine rankings, particularly on Google.
This accomplishment is a testament to the hard work and dedication put into optimizing our content and platform for search engines.
The positive feedback from users and their continued engagement with our platform serve as validation for our efforts and encourage us to keep pushing the boundaries of what we can achieve.
It is gratifying to know that our platform is making a real difference in the lives of our users and that our hard work is being recognized by both our audience and the industry as a whole.
What has been your biggest challenge since you started the business?
Since starting our SaaS business, the biggest challenge we have faced is maintaining a balance between the rapid advancements in AI technology, specifically from OpenAI, and ensuring that our content creation solution remains relevant and effective for our clients.
This challenge is two-fold: staying updated with the latest AI developments and adapting our solution to incorporate them, and ensuring that the generated content aligns with our client's expectations and high-quality standards.
To overcome this challenge, we have implemented the following strategies:
1. Continuous learning and research: Our team stays up-to-date with AI advancements, research papers, and industry news.
We also actively participate in AI-related events, webinars, and workshops to maintain our knowledge and stay ahead of the curve.
2. Regular updates to our solution: We continuously evaluate our solution's performance and incorporate the latest AI models and algorithms, ensuring that our content generation capabilities remain cutting-edge.
3. Client feedback and collaboration: We actively engage with our clients to gather feedback on the content generated by our solution.
We use this feedback to refine our algorithms, ensuring that the content aligns with their expectations and requirements.
4. Fostering a culture of innovation: We encourage our team members to think creatively and bring forth new ideas for improving and enhancing our solution.
This mindset ensures we're always exploring new ways to optimize our content generation capabilities and deliver better client results.
By implementing these strategies, we have not only overcome the challenge of staying relevant and effective in the rapidly evolving AI landscape, but we have also managed to establish ourselves as a trusted and reliable content creation partner for our clients.
As we continue to grow and evolve our business, we remain committed to maintaining this balance and providing our clients with cutting-edge, high-quality content solutions.
What's something you know now that you wish you had known when you started?
One thing I wish I had known when I started working on my SaaS solution for content creation based on OpenAI models is the importance of iterative development and continuous user feedback.
When I began, I focused too much on building a perfect product with all the features I thought users would want. However, I soon realized it's better to start with a minimum viable product (MVP) and then improve and expand it based on user feedback.
This approach would have saved me time and resources and allowed me to adapt my solution more effectively to meet the needs of my target audience.
Another valuable insight I've gained is the significance of marketing and building a strong online presence for the success of a SaaS solution.
When I started, I was more concerned with the technical aspects of the product rather than how to effectively reach my target audience and communicate the value proposition.
If I could go back, I would invest more time and resources in marketing strategies, such as content marketing, social media outreach, and search engine optimization (SEO), to build awareness and drive user adoption.
Understanding the importance of marketing and having a well-thought-out plan from the beginning would have given my SaaS solution a better chance of success and growth.
What advice would you give to new entrepreneurs?
As a new entrepreneur, especially with a focus on SaaS solutions and AI-driven content creation, it is crucial to keep in mind the importance of understanding your target market and continuously refining your product based on user feedback.
Start by conducting thorough market research to identify the pain points of your potential customers and tailor your solution accordingly.
Once you have a clear vision for your product, focus on building a minimum viable product (MVP) that can showcase your solution's core functionality.
This will allow you to gather valuable user feedback and make any necessary improvements before launching the full version.
Additionally, stay updated with the latest advancements in AI and machine learning, as these technologies are rapidly evolving.
This will help you stay ahead of the competition and provide your users with cutting-edge product.
Finally, invest in building a strong online presence and utilize effective marketing strategies to create awareness about your SaaS solution and establish a steady customer base.
How do you keep yourself motivated?
To keep myself motivated, I set clear and achievable goals and break them down into smaller tasks to make the process more manageable.
I also maintain a healthy work-life balance to prevent burnout and ensure I have enough energy to stay focused on my objectives.
Creating a daily routine helps me maintain discipline and structure in my life, allowing me to prioritize important tasks and allocate time effectively.
I find various resources helpful in maintaining motivation, such as motivational podcasts, TED Talks, and books on personal development.
These resources offer valuable insights and advice from successful individuals, which helps me stay inspired and committed to my goals.
Additionally, I surround myself with positive and supportive people who encourage me to push through challenges and celebrate my achievements, fostering a sense of accomplishment and motivation to continue pursuing my objectives.
What are your plans for the next 6-12 months?
Over the next 6-12 months, our primary focus will be on developing innovative tools and solutions for professionals in the SEO industry to help automate and streamline their processes.
We are currently in the final stages of building a PBN (Private Blog Network) management system, which will enable users to effectively manage their networks and improve their online presence.
This platform will provide essential domain management, content management, and backlink tracking features.
In addition to the PBN management system, we are also working on a free tool that will allow users to quickly index their web pages through integration with the Google Indexing API.
This tool will significantly reduce the time it takes for new content to appear in search results, thus improving the overall effectiveness of SEO efforts.
To achieve our revenue target of $20,000 per month within the next 12 months, we plan to explore new marketing and sales channels, including targeted social media campaigns, content marketing, and strategic partnerships with key influencers and industry experts.
This multi-channel approach will help us reach a wider audience, drive engagement, and ultimately convert more prospects into paying customers.
By consistently delivering value to our users and staying ahead of the latest industry trends, we are confident that our growth plans will come to fruition and solidify our position as a leading provider of SEO tools and solutions in the market.
Where can people get in touch with you?
Please visit https://copymate.app and choose one of the options to reach out to us.