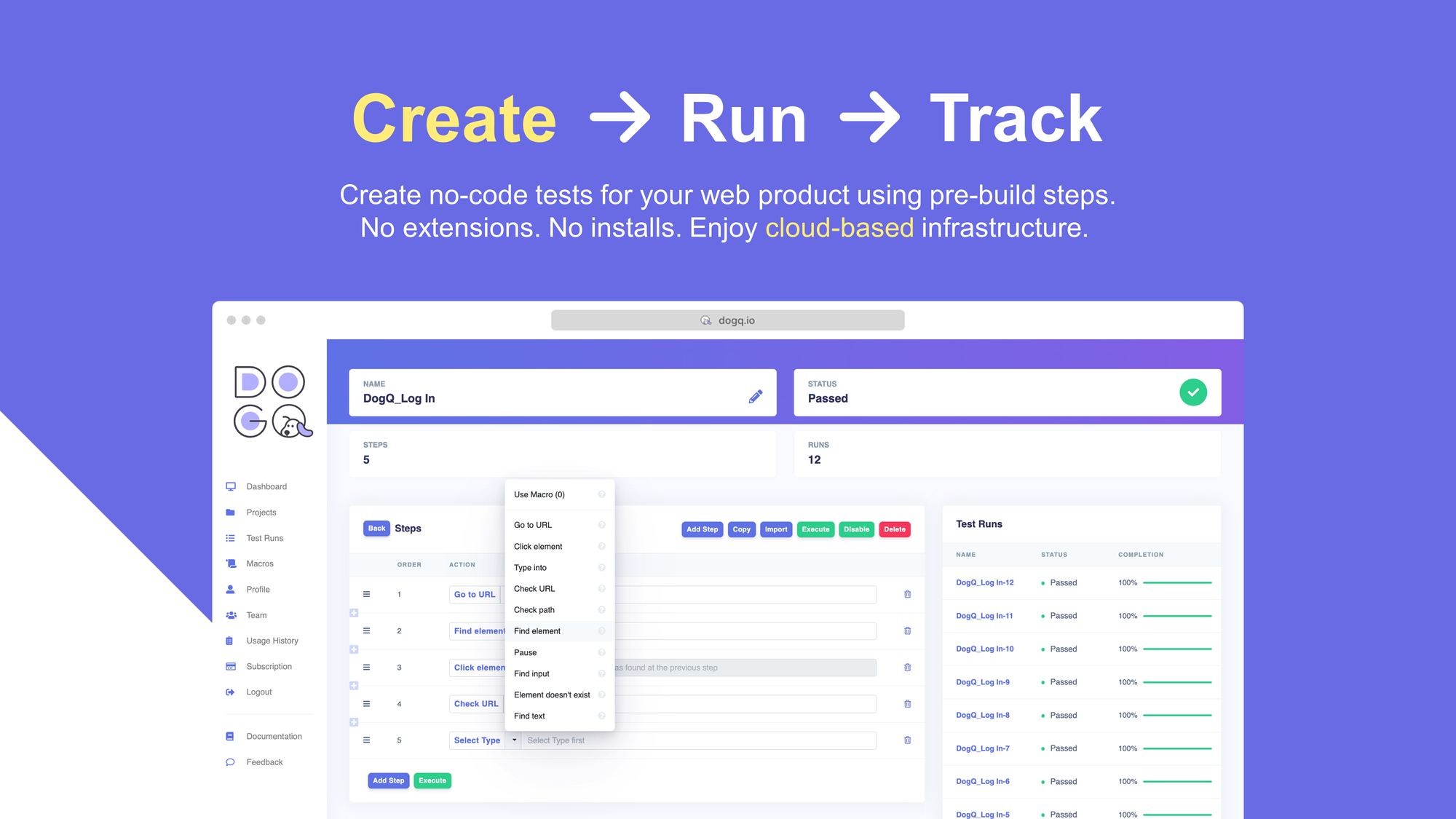 My name is Alex Zaytsav, and I am the founder of DogQ, a no-code testing tool.
You might be wondering why our tool has this name. Allow me to explain: "Dog" represents a loyal and reliable companion to humans, while the letter "Q" stands for "Quality."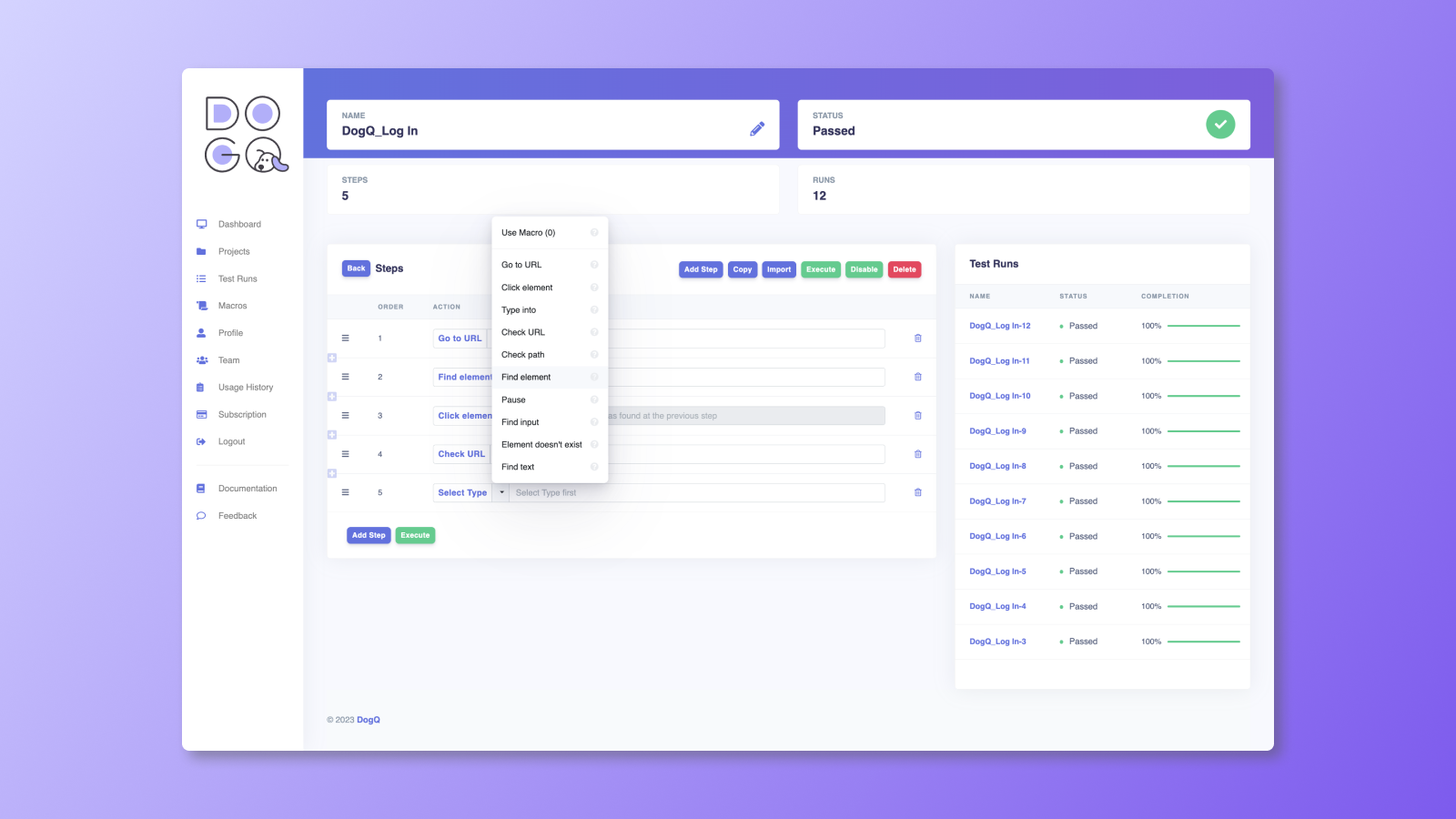 Tell us more about DogQ
DogQ is a no-code automated testing tool designed to help makers, developers, and testers – both high-skilled and low-skilled in coding – test their web products.
If you have experience building web products, you know there's always room for bugs: forms that don't work, images that don't load, payments that fail, and so on. Providing the best user experience is crucial, especially with demanding customers in today's market.
No one wants to waste their precious time waiting for a product to work properly. It's better to find another solution.
I strongly believe that testing is an essential part of web development that ensures the quality of the product before it or its versions are released to the public. However, most traditional testing methods require coding skills and are time-consuming for everyone, and complicated for beginners.
DogQ solves this problem by providing a user-friendly, no-code testing platform that is easy to use and available to everyone. With DogQ, you can simulate user flows, check what should or should not be displayed on a specific web page, and ensure your product features work properly. Simply use pre-built steps such as "Go to URL," "Find input," "Click element," and other steps to have DogQ perform testing while you focus on other tasks. Then, check or schedule notifications to ensure there are no bugs and everything works as it should.

What's your background, and how did you come up with the idea?
I'm a software engineer with over ten years of experience specializing in web & databases and who loves to build cutting-edge products and high-performing organizations. I've been a CTO & Co-Founder of an NLP company that was acquired, and I'm currently leading a no-code test automation startup.
As a software engineer, I have worked on several web development projects and realized the importance of testing. I came up with the idea for DogQ after noticing that many web creators, particularly those with limited resources and/or coding skills, struggle with testing their web products.
You might know that there are other automated testing solutions on the market, but some boundaries are connected with coding, web development experience, and price. After exploring various options, I ultimately decided to pursue the development of DogQ as it aligned with my skills and experience, particularly my background with Selenium.
Honestly speaking, I have a deep-rooted passion for building solutions that genuinely help people and address real-world problems. I wanted to create something that I would personally use, and that would have a positive impact on others. The main goal was to democratize the process of development and testing web products, especially for beginners and startups.
How did you acquire your initial customers during the early stage of the company?
In the early stages, my focus was on building an MVP of the product and gathering feedback. I collaborated with other engineers during this process, so I'm no longer a solo entrepreneur.
It took us about a year to create a tool that I believed would make a difference for businesses. Around that time, we began using DogQ to test the tool itself, ensuring its quality. This practice is referred to as "eating your dog food."
As a team of experienced engineers and entrepreneurs, we utilized our previous industry connections and expertise to attract our initial customers. Networking and word-of-mouth recommendations were key in reaching out to clients who could benefit from our testing tool.
Looking back, one area for improvement would have been to start marketing activities earlier. This would have allowed us to reach a wider audience and generate more interest in my product from the beginning.
How's the business doing now?
Maybe I am too optimistic here, but considering our early stage, the business is doing well now and has a growing customer base. We already have around a thousand registered users; we're running dozens of pilot projects with larger players, executing tens of thousands of tests every day, and starting to generate revenue.
Our customers have given positive feedback on the product, which has motivated me to continue improving and adding new features to the tool. I am committed to providing customers with a high-quality, user-friendly product that meets their testing needs.
Presently, what marketing channels are working well to acquire customers?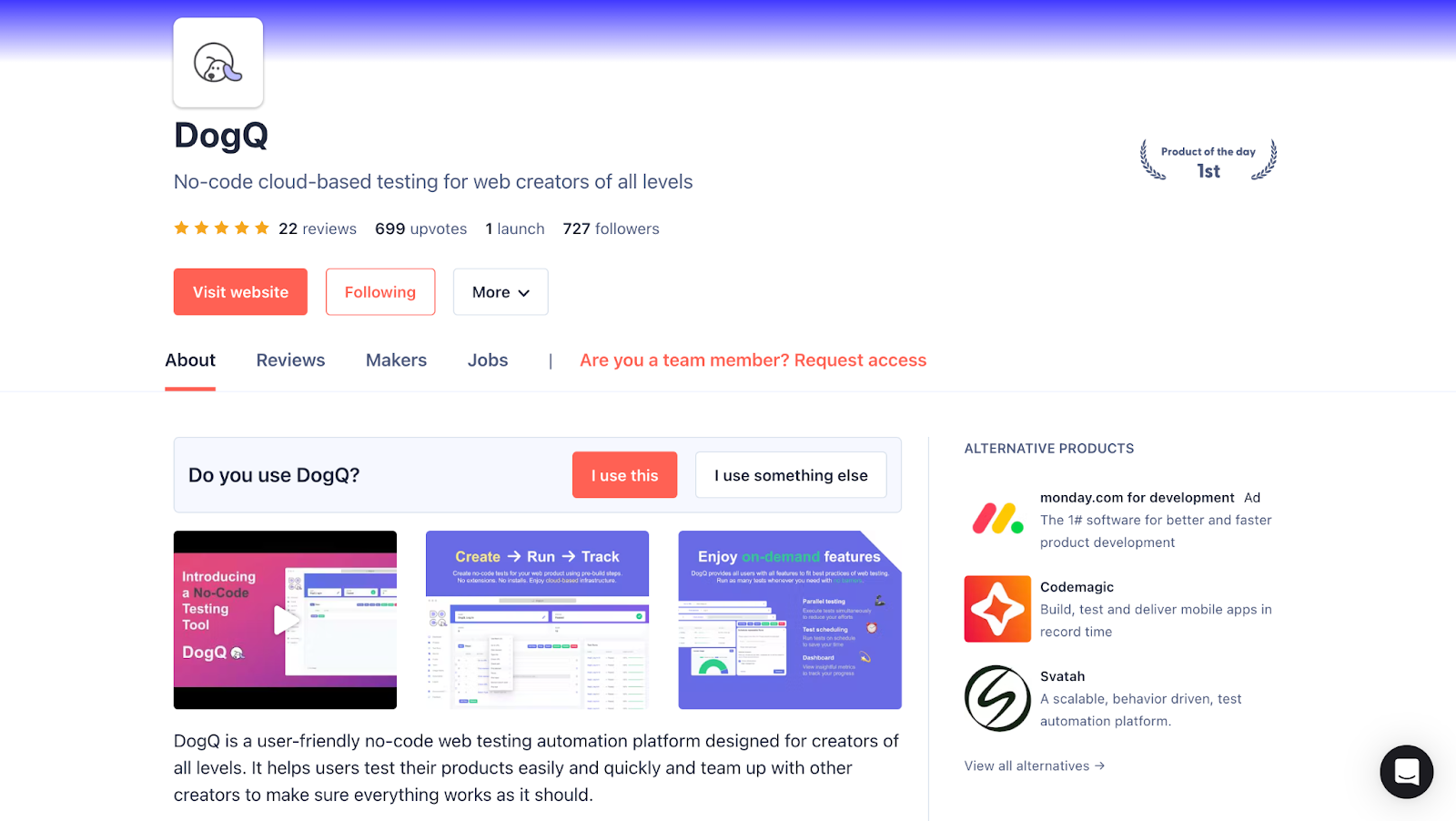 The most successful marketing activity for us was launching on Product Hunt, which changed the game. The product attracted a lot of attention, and DogQ became the #1 Product of the day. Our organic user acquisition metrics are dramatically higher now than before. As I see it, this is because of the approach we provide and the idea of the product itself. I really care about what we are doing and constantly think about what more I can do.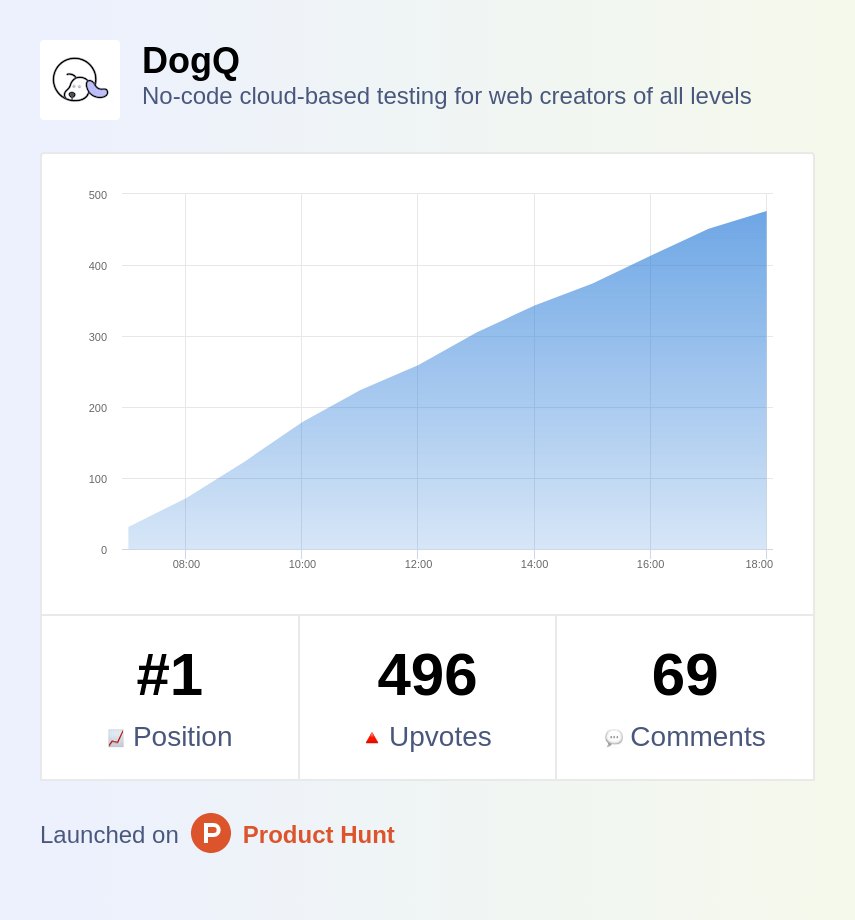 DogQ is also presented on social media, and Twitter was the primary marketing channel for content promotion. Will it remain the main social media is a big question right now.
As DogQ is a specific tool, some standard marketing activities might not work. Personally, I have had a great experience with personalized direct marketing, so I could explain and show the product considering a customer's specific needs.
Also, we started focusing on SEO, and we saw positive results.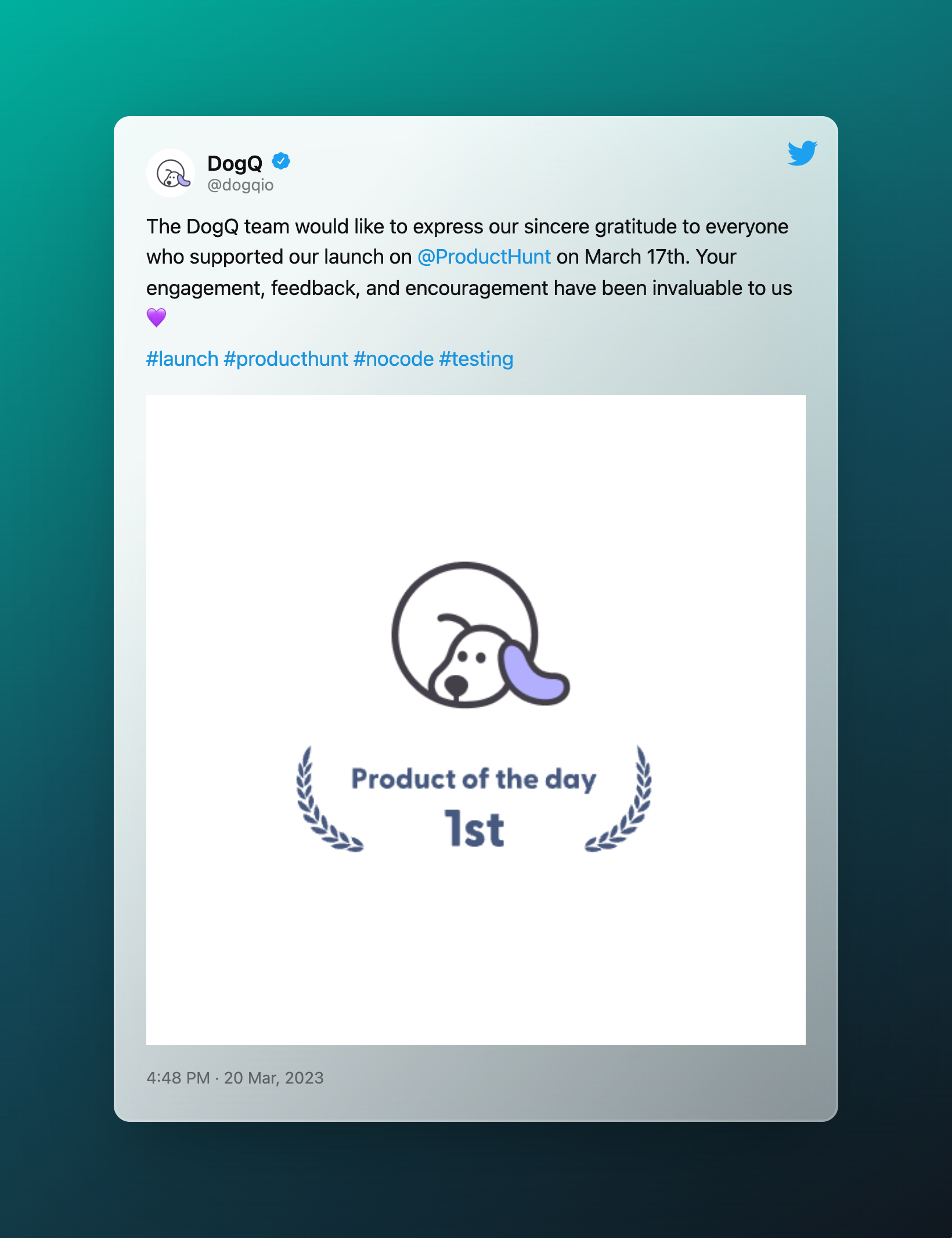 What has been your biggest achievement so far?
Our biggest achievements lie in the future. We are only at the beginning of our company's journey, but we are very ambitious and confident that there will be many achievements and victories to celebrate.
To be more grounded, I would mention two things: winning "Product of the Day" on ProductHunt and consistently getting up every day to take another step, improve the product, and serve our customers as well as we can.

What has been your biggest challenge since the company's inception?
I am facing three major challenges in my work.
First, I struggle with balancing the need for new feature development with customer support and bug fixing. It can be difficult to prioritize these competing demands, but I am constantly working to improve our processes and ensure that the product is meeting the needs of our customers while also developing new features and improving the product.
Second, some customers are unsure if DogQ can be useful to them or have difficulty with onboarding. To address this, it is planned to create more useful tips, tutorials, and even a new service to "manually" onboard clients, create test cases for them, and explain how it all works.
Third, I am still searching for the best marketing strategy to expand the customer base and raise awareness of the benefits that DogQ can provide for testing processes. This experience has taught us the importance of balancing product development with marketing efforts to ensure that the tool reaches the businesses that can benefit from it the most.
What's something you know now that you wish you had known when you started the company?
In hindsight, I wish I had known there is a long road from having an idea to evaluating it as good, putting it into practice, and finally showing it to others. I would also like to know more at the start about how to briefly and tell about my product because everything is clear and in my thoughts, but in fact, it's a whole art – to convey to people what I want to say.
Although these seem obvious considerations, it's hard to fully appreciate the impact of time constraints, unexpected setbacks, and remote collaboration challenges. With a better understanding of these, I could have better prioritized my efforts and been less discouraged by some failures.
What advice would you give to new entrepreneurs?
First of all, there will never be a perfect time to start your business. The sooner you begin, the sooner you can learn, adapt, and grow.
Connect with others in your industry and leverage word-of-mouth marketing to reach potential clients.
Surround yourself with the right team and collaborate with people who share your values.
And remember to enjoy the journey. Building a business is a challenging yet rewarding experience. Embrace the process, celebrate your successes, and enjoy the personal and professional growth that comes with it.
How do you keep yourself motivated?
I stay motivated by reminding myself of the core reason behind starting DogQ: to help companies worldwide ship better-tested, less-buggy products. This idea fuels my passion and motivation, as I know DogQ has a positive impact on customers' businesses.
I also make a conscious effort to maintain a work-life balance. Although it can be challenging, simply walking can often help me feel more motivated than sitting and dwelling on product issues.
What are your plans for the next 6-12 months?
Over the next 6-12 months, my primary focus for DogQ will be expanding the customer base and improving the product based on user feedback. The plans include the following:
Enhancing marketing efforts.
Strengthening product features.
Building integrations.
Improving customer success.
Growing my team.
I have big aspirations for the future, including revolutionizing and dramatically simplifying how companies test their products. In the long term, I plan to diversify my product portfolio by eventually covering mobile and API testing.
Where can people get in touch with you?
Directly through our website: https://dogq.io/
Or connect me with any questions on my personal LinkedIn: https://www.linkedin.com/in/alexzaytsav/