---
Can you give us a quick overview of what EmbedQuiz is?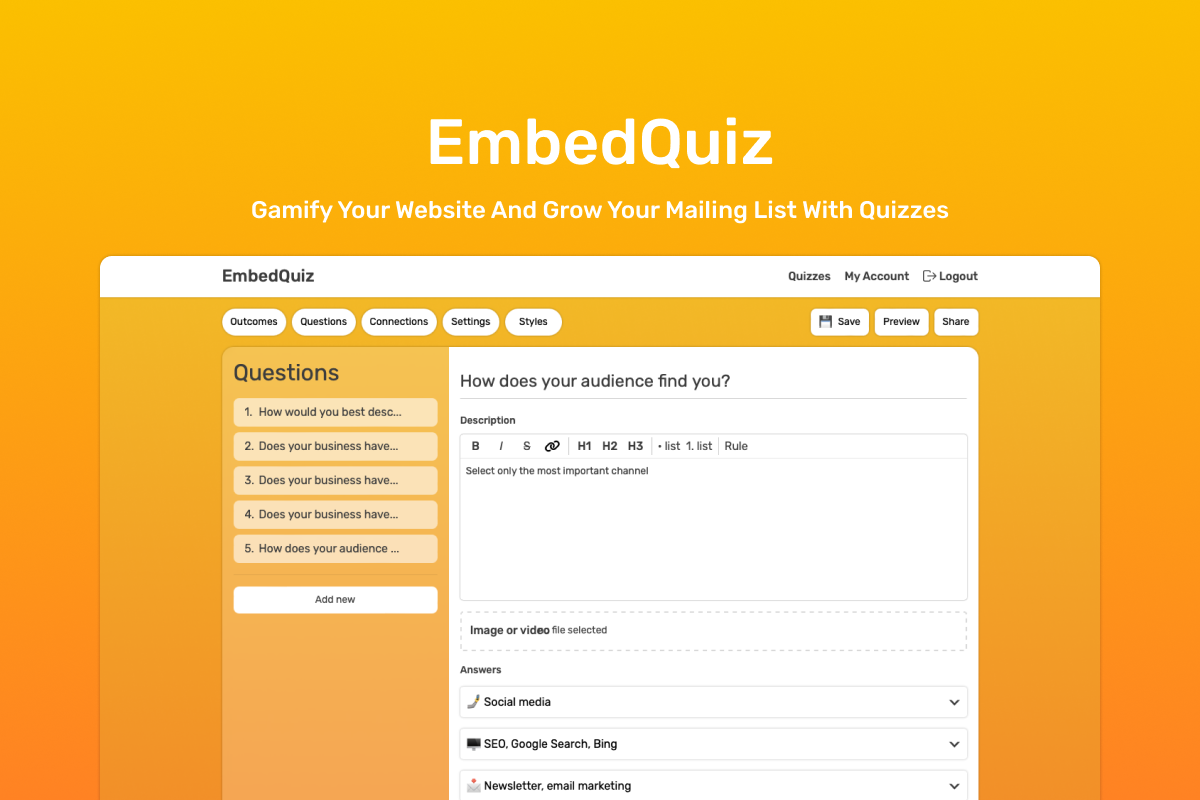 In the last six months, I've been working on EmbedQuiz.com. It's a free quiz maker platform made especially for marketers and content creators. The goal is to provide an easy-to-use interface where people can create lead magnet quizzes.
A lead magnet quiz is like a traditional quiz, but you ask for the player's contact information at the end, and they receive the results by email. Most often, the results are personalized suggestions or other valuable information for the player worth giving you their email addresses. With EmbedQuiz, you can automate the whole pipeline and give personalized results without manual intervention.
For example, if you have a marketing agency and want to build an email list of potential clients, you can use EmbedQuiz to audit the player's current marketing strategy and suggest better ways to sell online.
Quizzes have a higher conversion rate than traditional lead magnets, like PDFs. It's because they provide something unique for each player, and we only ask for the player's email address at the end of the quiz when all the questions have been answered.
Besides many other advantages, quizzes provide much more information about your subscribers than traditional subscription forms. They are the intersection of lead magnets and surveys!
What's your background, and how did you come up with the idea?
I started my first company six years ago when I was 17. My first business was a web design and development agency. We worked with many local clients and even built whole SaaS platforms for startups.
During this time, I clearly understood that businesses' most common pain point is finding high-quality leads online. People try everything to optimize their conversion rate, and even a small improvement in the metrics can mean a huge win for the company.
According to most studies on this topic, email marketing continues to be one of the highest ROI marketing channels out there, and it's a trending topic on social media as well!
Unfortunately, it's still not easy to build an email list. People are bombarded with newsletters and won't give you their information without a good reason. Because of privacy regulations, you can't just mine email addresses from websites.
My goal with EmbedQuiz is to help businesses build high-quality lead magnets, forms, and surveys, with gamification that provides valuable information to players in return for their data.

Talk us through the early stages of the business
The MVP of EmbedQuiz was published on January 18, 2023. In the beginning, I didn't do much to get users; I focused on feedback and improved functionality. The first users came from Twitter and organic Google Searches.
I fell into the trap of trying to build the perfect product. Of course, a product can never be perfect, and it's better to launch early than never.
Later I launched EmbedQuiz on ProductHunt. It received 86 upvotes and acquired some users that day. I was amazed by the number of positive comments and the kindness of people on the forum!
Now, after almost three months of the publication, we are at 96 users. Most of them came from Reddit. I think it's an awesome place to acquire your first users with organic content!
How's the business doing today?
Currently, EmbedQuiz has no paid subscription, and I plan to keep all the currently available features free. EmbedQuiz saves all responses to the user's Google Drive so that data can be imported into any Google Sheets-compatible software, and I can keep the platform free since it doesn't require much storage to host the application.
In the background, I'm working on new features for the free plan and will introduce a paid subscription in the following months. The pro version will have new quiz types with logical connections, highly customizable styling, and advanced analytics.

What marketing channels are working well in acquiring customers?
I didn't do any paid advertisement; I just posted and commented about EmbedQuiz on related subreddits and Quora questions. It works surprisingly well, and users are coming every day from these platforms.
In the future, I will publish integrations with many platforms, like WordPress, Webflow, Wix, Shopify, Mailchimp, and Zapier. The WordPress plugin is currently under approval.
I hope these integrations will make the life of our users easier, and the marketplace listings will help us grow our user base!

What has been your biggest achievement so far?
After the ProductHunt launch, I did a lot of research on how to improve the UX of the website and make it simpler to use. Most people have no experience with quiz makers, so I had to create a product that can be seamlessly used without previous knowledge about quizzes.
When I analyzed the behavior of users on the first version of EmbedQuiz, I saw that people had a hard time figuring out how to create quizzes, and there were often users who left quizzes unfinished.
I worked extensively to improve the UI, rename features, provide better illustrations, and create a product walkthrough. Of course, the user experience can always be improved, and I'm working on this constantly, but currently, users have a much easier time creating quizzes, and the statistics show a vast improvement regarding the UX.
I'm pretty happy with this result and want to keep the easy-to-use interface as our strength in the future!
What's been your biggest challenge?
Building a SaaS project as a one-man team has always limiting factors on your productivity. For me, the hardest challenge is to develop new features and create organic content at the same time.
I love building and could spend weeks without even thinking of marketing, but of course, it's necessary to play both roles when working alone.

What's something you know now that you wish you had known when you started?
Build, get feedback, iterate. It's the basic formula behind every successful business. You can't create a perfect product, and most importantly, you can't create the perfect product on the first try.
To be successful, you must understand this and continually improve your project. Apple started making desktops, and now they are selling AirPods, watches, and iPhones.
It's great to have a business idea that you can go in any direction since it gives flexibility to your business, making it much harder to fail!

Any advice for beginning entrepreneurs?
Building a product in public is a great way to get feedback and form a user base for your company. Even if you fail with this project, you will have an initial following next time, and launching your next project will be much easier!
Twitter and Linkedin are amazing places to connect with new people, and having a good business network always gives you unexpected opportunities!
How do you keep yourself motivated?
Fortunately, I'm always motivated; this is not an issue. I love building things, and EmbedQuiz is my greatest project yet! I left my agency, and I'm working on this full-time, so there is plenty of time during the day to be productive!

What are your plans for the next 6-12 months?
My main goals are to improve the user experience, increase the number of users and monetize the platform with a paid subscription plan. Currently, I'm more focused on the first two, and I will release the paid subscription a bit later.

Where can people get in touch with you?
I'm happy to connect on Twitter, LinkedIn, and ProductHunt. You can also contact me on my website, AghHelmut.hu, and on EmbedQuiz.com.