My name is Neil, and I started Narvi Payments, a NeoBank which builds a modern digital business bank account.
Tell us more about Narvi Payments?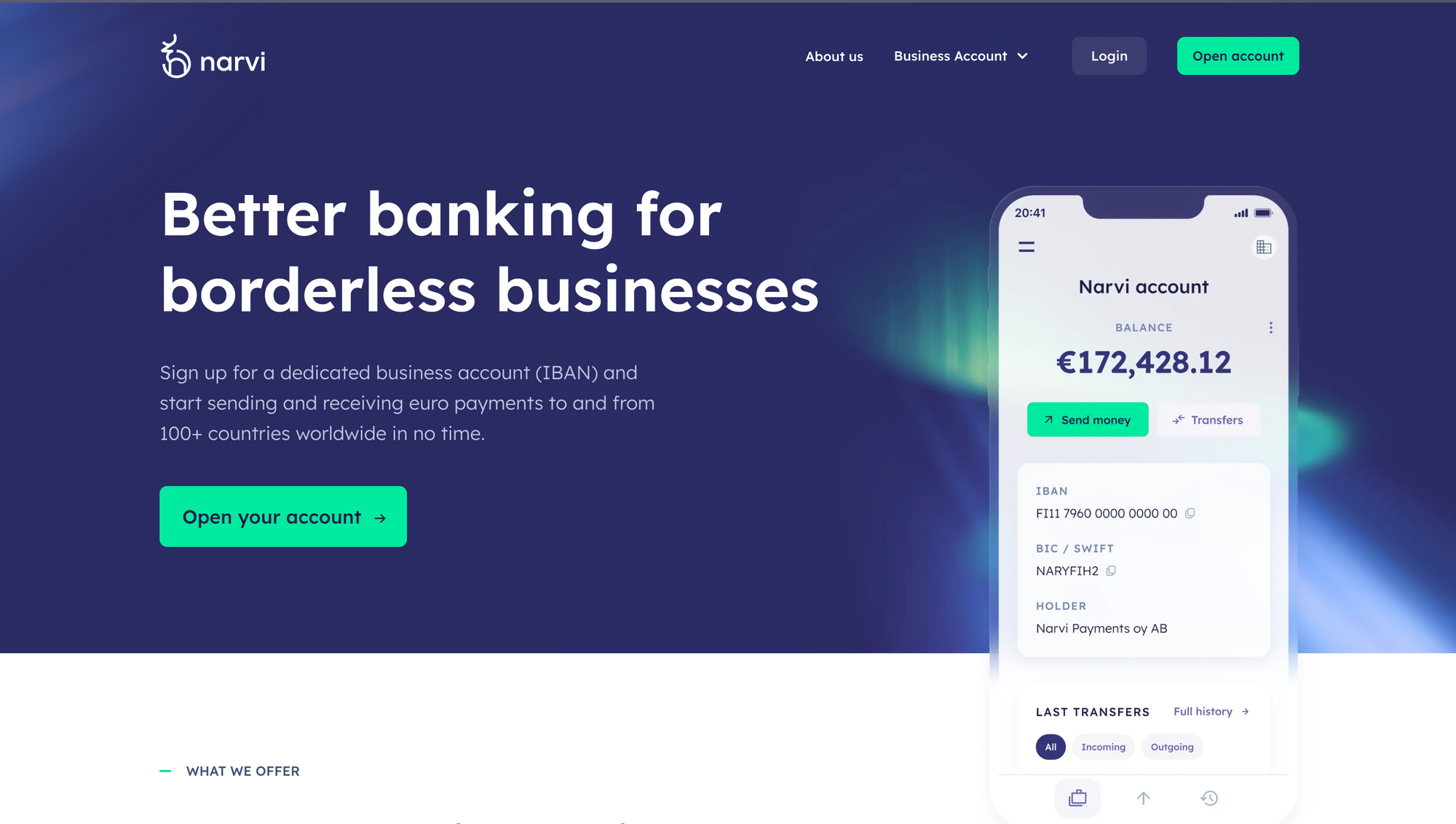 Narvi Payments is a licensed Financial Institution that provides business bank accounts to companies. We build our own core banking solution and provide a fully digital banking experience. One of the unique things about us is that our onboarding is fully digital and takes less than 15 minutes.
Because we build our own technology, we are obsessed with the user experience and making sure that we build a beautiful banking app that is easy and fast to use.
Our goal is to be a super banking app with a beautiful Nordic design philosophy of minimalism and functionality.
What's your background, and how did you come up with the idea?
I previously worked in auditing and consulting for large corporations. Because I have lived in many countries and traveled a lot, I have often witnessed the major issues that one faces with international banking– especially with setting up companies and accounts.
Five years ago, I saw many Fintechs trying to help regular people with cross-border transactions and banking, but no one was trying to help small businesses. I saw a need to create a banking platform that helps small and digital businesses with banking, just like Venmo or Revolut do for consumers.
How did you get your first customers?
The first 2-3 years were tough– no one talks about this. However, I now know 99.9% more things about my industry than I did when I first started.
A lot of the initial ideas we had and problems we wanted to solve did not work out. After pivoting and changing the concept multiple times, we saw the need for a digital bank account for digital businesses that were being ignored by mainstream banks. For example, one of the first ideas was to help imports/exporters with cross-border banking and FX.
However, after talking to hundreds of manufacturers, we realized that we did not have the product-market fit. As manufacturers are very traditional, they have a deep relationship with their banks due to letters of credit facilities or working capital loans. Therefore, we had to abandon this product and pivot. During this journey, we figured out that digital businesses were looking for a better banking experience, and that is where we found our product market fit.
Also, we are in a heavily regulated space, so it took a long time to both understand all the rules and get licenses to operate.
How's the business doing now?
We are entirely self-funded and profitable, which means we can take the time to build excellent products and are not under pressure to grow too fast or do things we are not comfortable with.
Without giving our exact figures, we expect to have revenue this year of above €5m+, with a high-profit margin as we build everything in-house.
What marketing channels are working well to acquire customers?
We have strong SEO as we write a lot of quality content and work with our partners on our two main sites Narvi.com and b2bpay.co. This brings in over 1,000+ leads organically per month.
Linkedin is also essential to us as most business owners and financial staff are on there. Moreover, we often attend conferences where our customers are.
What has been your biggest achievement so far?
Getting regulated and launching a fully digital bank without any external funding is, for me, a pretty big achievement. However, I'd say the best achievement is when our users use our product and enjoy it. We like to have long-term relationships with our clients and work with them to improve our product.

What's been your biggest challenge?
Being in a regulated space is very frustrating. It takes a long time to get regulation and access to banking networks like FX and SWIFT. I am not getting younger! That is the biggest challenge and frustration in our space– how to move faster.
For example, things that can be done in e-commerce in, say, a week might take us a year due to all the hurdles we have to go through.
What's something you know now that you wish you had known when you started?
To never get caught up in the startup hype. Each business is unique, so find your way. Also, I started in an industry where I felt I was not an expert. This meant I spent 2.3 years learning.
What advice would you give to new entrepreneurs?
Try to stay in your field of expertise, especially if you know something unique about it. If you plan to switch to a new industry, be realistic that it might take 2-3 years to get up and running. Treat the first 2-3 years like you are working towards a double Ph.D. in the industry you have chosen, and you need to learn a lot. I have gained 100x more skills and knowledge than before, which is part of the journey.
How do you keep yourself motivated?
I have worked hard for five years without actual holidays, so failure is not an option. I have worked too hard to "give up," and I plan to see this journey to the end. With the knowledge I have gained, I feel we still have 95% of the product to build and grow, and I will not feel satisfied until I have completed this journey.
What are your plans for the next 6-12 months?
The focus is on adding new product features and increasing our sales.
Where can people get in touch with you?
Our website is Narvi.com, and you can also reach me via LinkedIn.