Tell us a bit about yourself and your business
I'm currently building a high-impact, high-conversion storytelling agency. So, if you are a fast-growing startup, a solopreneur, or an agency with a small team, and you want to get high-quality leads through organic social media, we are your people.
Why this particular business model?
I just converted my business to an agency model around thirty-five days ago because I realized that I'm enjoying what I do, and I need to scale this up and see how far it could go.
Right now, the future of marketing is something that I'm very excited to see, and I want to be in the front running of human-to-human businesses.
It's always been brands-to-people, and there's nothing wrong with that. I'm a huge fan of brands.
But there's something about sharing stories and your mission with the world. The thing I realized is that a lot of great entrepreneurs are not talking about their stories and are not actively telling people, 'Hey, this is what I do, and this is why I do it.'
I think that's a gap that we are filling. We realize people are building cool stuff, but they're not talking about it, and we're like, 'Hey, we're gonna do the talking.' So that's what the business is about.
What inspired you to create this?
Yeah. Honestly, I think it was super accidental. I realized that I love doing this work. I love being creative and thinking creatively, and asking good questions to people, especially those on the ground, building things and diving deep into their domains.
It's a huge learning opportunity for a young person as well. I get to learn so many different things every single day, and those things inspire me to build a better business.
Were you bootstrapped or did you raise funding?
It's 100% Bootstrap. I started as a freelancer back in August 2020, again, this was not something I planned.
Me and this creative work were just destined to be. I enjoy the work, and I love dealing with all the different kinds of clients I was getting. Plus, it was highly profitable.
I've invested less than $2,500 in the past two years. That's it, that's all I've invested in the business, but I made quite a lot. I think the first year was around $30,000, so I was like, what is this? What's happening? But it was less about the revenue. It was more about, am I truly enjoying this?
I'm currently actively hiring people. I'm growing the team, trying to find people I resonate with, and people I can grow with and help them grow into people they want to become. That's how I'm envisioning this panning out.
How are you marketing to customers?
I think the clients that convert the fastest are those who come through referrals.
I've had three or four instances where people were like, 'Hey, Sakshi, we want to work with you because this person recommended you.' They don't even ask for the portfolio. It's just pure trust.
I do have a community online. I write on LinkedIn actively and have a community of more than 44,000 people there.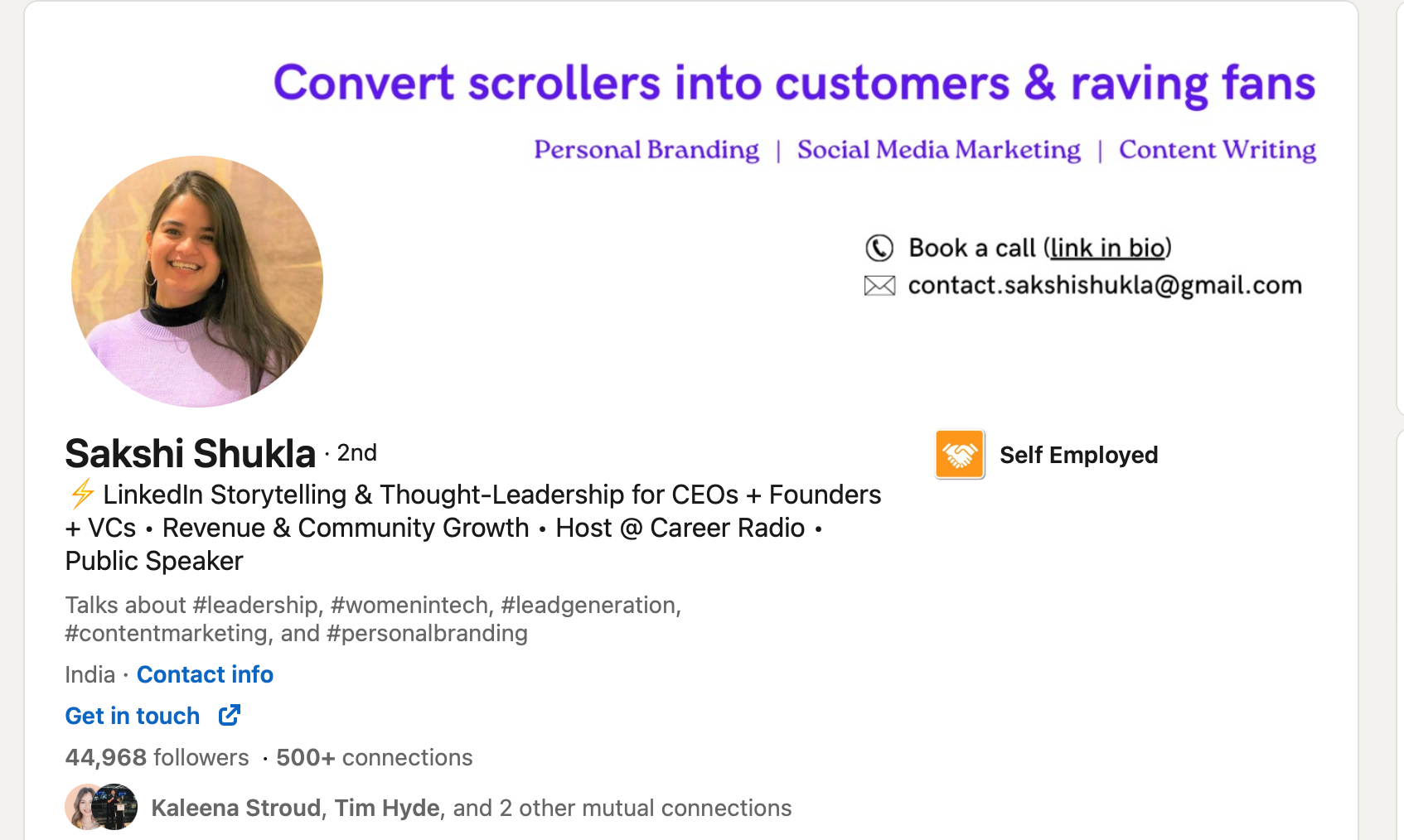 On Twitter, it's almost 25,000, so the inbound is going pretty well. I do get quality leads coming in, sometimes I say no, because the projects don't align, or I'm not interested. But I think inbound and referrals have been super powerful.
Something else that I experimented with a lot back in 2022, was outreach. Two of my highest-paying clients, who I'm still working with, were a result of outreach.
I reached out to them with feedback. Like, 'Hey, I know you write this, and I know you're like doing this, but this could be improved.' and they were like, 'Oh yeah, I've been meaning to hire a writer for this.' and boom, I'm hired.
So I think it's been a good mix and match.
What's been your biggest achievement so far?
I think the biggest achievement has been finding inner peace. That's what I would say. Of course, revenue and everything is great.
I'm excited to scale the business to at least 200k a year, that's my goal in the next one and a half years.
But I just feel a lot of inner peace. I feel like I'm constantly pushing myself in a good way, which is something I've always liked.
Even during school and during college, I was someone who you'd find doing lots of different things. By running a business, you become a generalist and a specialist at the same time.
I love the challenging aspect of it. Sometimes, I want to rip off my hair, but at the same time, it's just so peaceful.
I think the biggest win is coming close to working with a lot of cool people. I've had some rejections as well along the way from creators that people are huge fans of.
But, at least I got that far, at least they had a meeting with me, and this was back when I was still learning a lot.
So coming close to working with really good people and, at the same time, working with companies that I really want to support has been great.
What have been the biggest challenges you've had to overcome?
I think the biggest challenge has been mindset. That's something that I've struggled a bit with.
Again, I started in 2020, but I paused for three or four months for my dad's health, then, I continued the business in February 2021, and that time was just about learning, talking to different people, reading a lot of stuff, consuming resources, and everything.
Back then, I was happy with whatever money I was making and happy to let things just happen. I wasn't taking control.
In 2022, when I had an audience and was doing good work with people, I never really made business goals.
I wasn't strategic with the business, I didn't plan where I wanted to be or how I was going to get there. I had to look at myself in the mirror and tell myself to stop being complacent - you're capable of more.
Even though good things are happening, you need to make goals. That way, you'll get to where you are going faster.
Your brain will start focusing on things you keep telling yourself to focus on. And that's why goals are so important. So I think it's important to shift from that 'everything is fine' mindset.
You have to dream bigger. You have to aim for these big things. They may or may not happen, but at least you've pushed yourself.
What advice would you give to any new founders or entrepreneurs?
My advice would be to surround yourself with your competition. Surround yourself with people who inspire you.
Surround yourself with people who challenge your beliefs, and surround yourself with people who are where you want to be or striving to get there.
I work in a remote setting, so this might feel a bit contradictory coming from me. But in my online community, the people I reach out to and engage with are people that are putting themselves out there.
People are important, and having people who celebrate you and who understand the grind is extremely important.
Another big challenge I faced, is that I used to feel stuck talking to my friends because they didn't understand how hard it is to build something like this. I used to feel very frustrated that I wasn't able to share things with people and share my wins or lows.
I decided that I needed to change something, I need to let go of this past version of myself and become the person who surrounds herself with these people. Because ultimately, you are in control of choosing the people who are going to be in your life and what kind of environment you're creating for yourself.
I think that would be my biggest piece of advice: change your environment as soon as you can.
By environment, I don't mean your room or set up, but the kind of content you consume, the people you interact with, the podcasts you appear on, and the podcasts you consume. Because if you surround yourself with complacent people, you are going to become complacent yourself.
Are there any helpful books or podcasts you would recommend?
I think the podcast I've consumed the most is Nir Ayal's Near and Far, which is about productivity and procrastination.
I really like the podcast because it has a lot of challenging views around being productive and how you think about going about your day and all of that. I think it's important to challenge the way you live your life as an entrepreneur because you have to change so much.
Even your thought process on things like 'When am I going to wake up? How am I going to sleep? What kind of sleep do I need? How am I organizing my calendar?'
All of these things like come together. I also read a lot of blogs online. Morgan Housel's blog has been something that inspires me a lot, not just in terms of business, but in how I think about making money and how I think about happiness and my future.
Some other resources I have enjoyed include Farnam Street Blog, Paul Graham, WIRED and Kevin Kelly. These have all been on my Notion reading list recently. I like to think that I've learned a lot from my clients too.
To me, my clients are like my mentors. Working with them is a very advantageous position to be in because I get to learn from all these different entrepreneurs directly.
What are your plans for the future?
One of my goals is to work with FIFA, I don't know how, but I'm a football girl. I don't follow it actively now because I don't have time to watch the matches.
But I want to work with that company like that. LinkedIn was one company that I wanted to work with, and I did.
I collaborated with them twice and created for them. Of course, I'd love to work more with them, because I have so many ideas. I want to work with FIFA for sure. I don't know how, where, or when, but I know it's going to happen.
I'd also like to work in the clean tech and energy space. It's a fast-growing field, but I feel super connected to it. I want to work with mission-oriented companies.
So clean tech, climate tech, health tech, and biotech are the four kinds of companies on my priority list. I'm already working with my first health tech clients.
We're redoing their website, and we're going to be actively growing their social media. It's a very interesting space to be in.
What tech products or software do you use?
I think Loom has been a lifesaver, anybody who doesn't use it is missing out. I'm a huge fan. I like meetings but not as much as I like sending Loom videos, and I love how async messaging works, and how it allows you to focus on deep work.  
I think the second has been AppSumo, which offers the cheapest software out there.
You buy them one time, and there are no recurring payments. So there are multiple products I've bought from them.
One of my favourites is TidyCal, which is a direct competitor of Calendly, but it's a one-time purchase. I bought it on sale last year for something like $29 for a lifetime, which is crazy, and it's been a lifesaver.
Some other things in my tech stack are TL; DV, which is an AI tool that helps you record meetings and produces a searchable transcript. Notion is like our war field, my entire business runs on Notion.
I also use a lot of Chrome extensions, including Upword, which is another AI tool that helps you read faster by summarising long articles.
Are there any stats you could share with us?
I've worked with more than twenty businesses and people now, from four different continents around the world.
Probably more than that - I never made a list. Right now I currently have six clients and I also do influencer marketing as a side hustle and consultations.
Is there anything else you would like to mention or add?
First of all, thanks for having me. I'm excited to see how the community reacts. I hope some people reach out and I'm able to connect to some co-founders.
I did check out a few interviews, but I've also been traveling. But I will read through some more of other people's stuff and reach out to them because I want to be surrounded by people building things to see how I can support them.
It's so important to have friends that are doing things that inspire you or who you can ask questions or vent.
I think something I would like to share is:  find comfort in your own journey. I've had a crazy journey myself, with not being able to do certain things, having to pivot, to kind of thriving at it now and aiming big.
And there's so much more I want to do. But I've found a lot of comfort in my journey.
I keep asking myself, what matters to me? Over time, the answers have become obvious. What matters to me is having good conversations. I want to be surrounded by really cool people.
What matters to me is reputation - I'm very particular about my reputation, and traveling matters to me. I want to have these crazy experiences before my knees, blow out and can't carry me anymore.
And being able to party matters to me, I'm somebody who loves dancing, so I want to make sure I have time for it. I just think designing your own extraordinary life is so crucial. I think that's what I would say to anybody who's reading this.
Where can people find you and get in contact?
LinkTree: SakshiShukla