What's Tales Factory?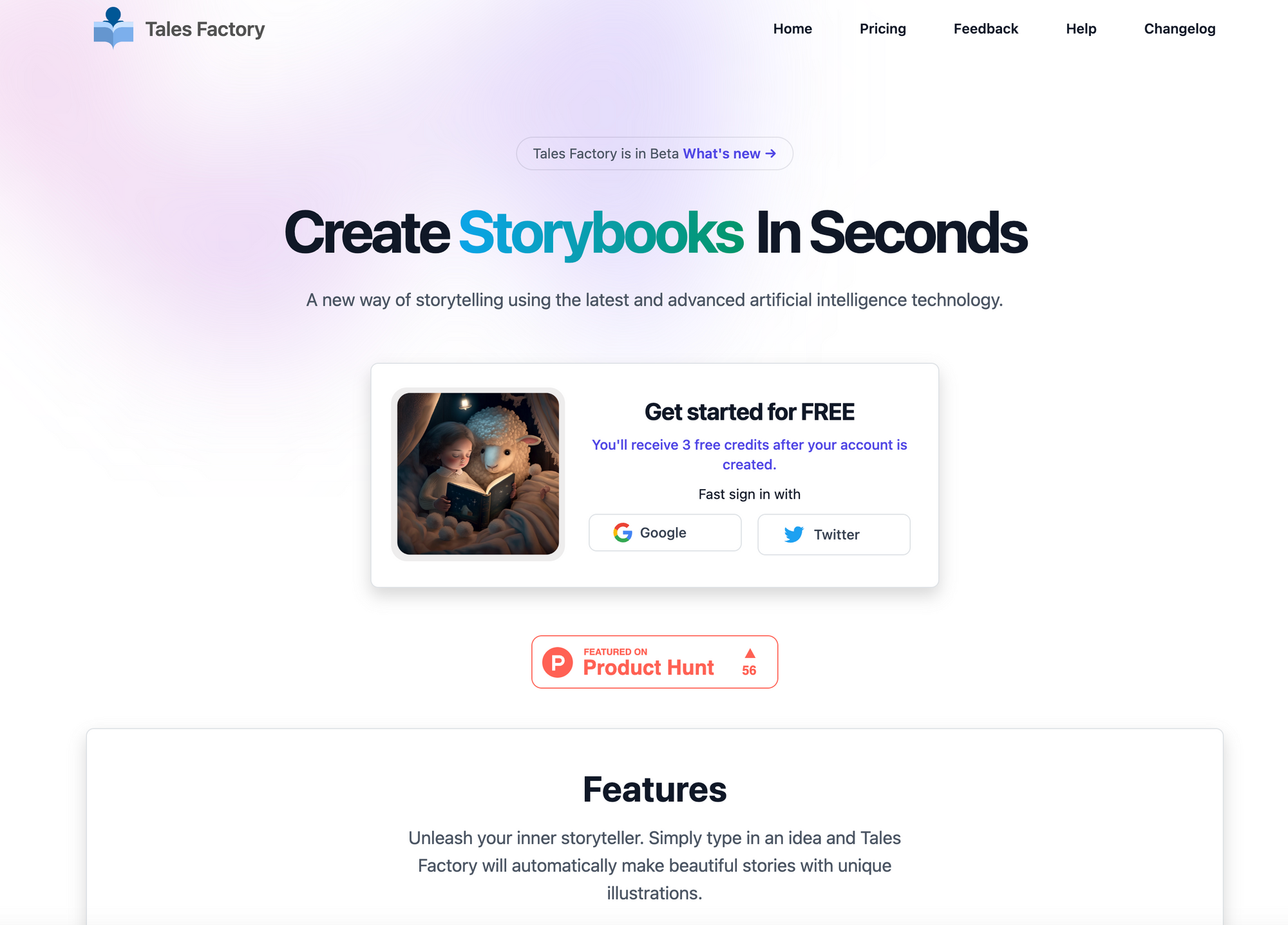 Tales Factory is a new website that aims to introduce a new way of storytelling using artificial intelligence.
The website will provide users with an innovative platform to turn simple text prompts into storybooks with a high level of coherency, custom illustrations, and voiceover support.
The website will also provide users with an easy-to-use interface to create, publish, and share their stories. (Some features are still under development)

What's your background and how did you come up with the idea?
As a software engineer with over a decade of experience, my journey into the world of artificial intelligence began after the release of Dall-E2, MidJourney, and Stable Diffusion in early 2022.
Although I didn't have formal education or professional experience in AI, I became increasingly fascinated by its potential. When GPT-3.5 was released, I envisioned several app ideas that would combine text generation with image generation capabilities.
Among those ideas, Tales Factory emerged as a standout concept.

Talk us through the early stages of the business, how did you get your first customers?
Admittedly, my background is primarily in software development, not business. I spent most of my career as a developer working on desktop applications and printer firmwares.
Nonetheless, I recognized the potential of Tales Factory and decided to seize the opportunity.
After creating the first working prototype with my very talented friend Narvel Delante in January 2023 and deploying it to Azure the following month, me and my friend, who is also a developer, decided to turn our app into a full-fledged product.
By integrating Stripe payment and Firestore database systems, as well as refining the user interface with a Tailwind UI license, we laid the groundwork for a successful launch.
We officially launched Tales Factory on ProductHunt on February 24 and simultaneously promoted it across various social media platforms (Facebook, Twitter, and LinkedIn).
While our launch strategy was far from perfect, it was enough to capture the attention of users. On the first day, we garnered thousands of views and secured three paid subscribers.

How's the business doing?
As of now, Tales Factory has made significant progress:
Over 10,000 storybooks generated
Over 6,500 users
Over 50 paid subscribers
$1,000+ MRR
We've only made one incremental update since launch, but we're actively working on new features. With the upcoming release of v2.0, we anticipate a substantial increase in both users and MRR.

What marketing channels are working well now to acquire customers?
Medium - As a blogger focused on Generative AI content, my platform attracts over half a million monthly views (all organic). This serves as the primary channel to promote Tales Factory.
Facebook/LinkedIn/Twitter - These social media platforms help us share updates, news, and content generated by Tales Factory. By leveraging their extensive reach, we can increase brand visibility and engage with potential customers.
ProductHunt - Launching on ProductHunt introduced our app to a tech-savvy and engaged audience, making it an essential channel for showcasing innovative products and services like Tales Factory.
Organic Google search – Given the growing interest in Generative AI, many people search for related terms on Google, resulting in a significant amount of organic traffic to our platform.

What's been your biggest achievement?
The successful launch of Tales Factory has been a major accomplishment. As my first web app, I didn't expect it to gain traction so quickly. Receiving positive feedback from users has been incredibly motivating and encourages me to continuously improve the app.

What's been your biggest challenge?
My greatest challenge has been the lack of experience in the business aspect of the project. With limited marketing skills and funds, we had to rely on our own efforts to launch and scale the app. As a two-person team, we had to juggle multiple roles without the luxury of hiring freelancers.

What's something you know now that you wish you knew when you started?
I wish I had explored resources like YCombinator videos earlier, which provide valuable insights on building, launching, and scaling a startup.
Additionally, I should have joined platforms like ProductHunt and engaged with creators and founders on Twitter sooner.
The right platforms and connections can lead to a wealth of free, high-quality resources.
Any advice for new entrepreneurs just starting out?
Don't be afraid to take risks and pursue your passion, just act on it and turn your ideas into reality.
Be resourceful and leverage the wealth of information available online.
Seek out communities of like-minded individuals who can offer advice, support, and inspiration.
Learn from your mistakes and continuously strive for improvement.
My blogging experience on Medium has helped me a lot into "building more" instead of "consuming more".
How do you keep yourself motivated?
I've read a bunch of motivational books lol.
No really, there's way too many stuff in my TO-DO list, dwelling on past mistakes or failures is a waste of time. I have a framed quote in front of my work desk that says "Keep moving forward".
It's incredibly fulfilling to envision innovative ideas and bring them to life.
What are your plans for the next 6-12 months?
With the advent of AI, my plan is to build a bunch of cool applications and turning them into products that people will be willing to use and pay for.
Additionally, I'm excited to improve Tales Factory and introduce new features for our existing users to enjoy.

Where can people get in touch with you?
https://www.linkedin.com/in/jim-clyde-monge/
https://twitter.com/jimclydego
https://www.instagram.com/jimmonge/
This is my blog account:https://medium.com/@jimclydemonge
I am also the Chief-editor of Generative AI publication: https://medium.com/generative-ai