What's Tweetify?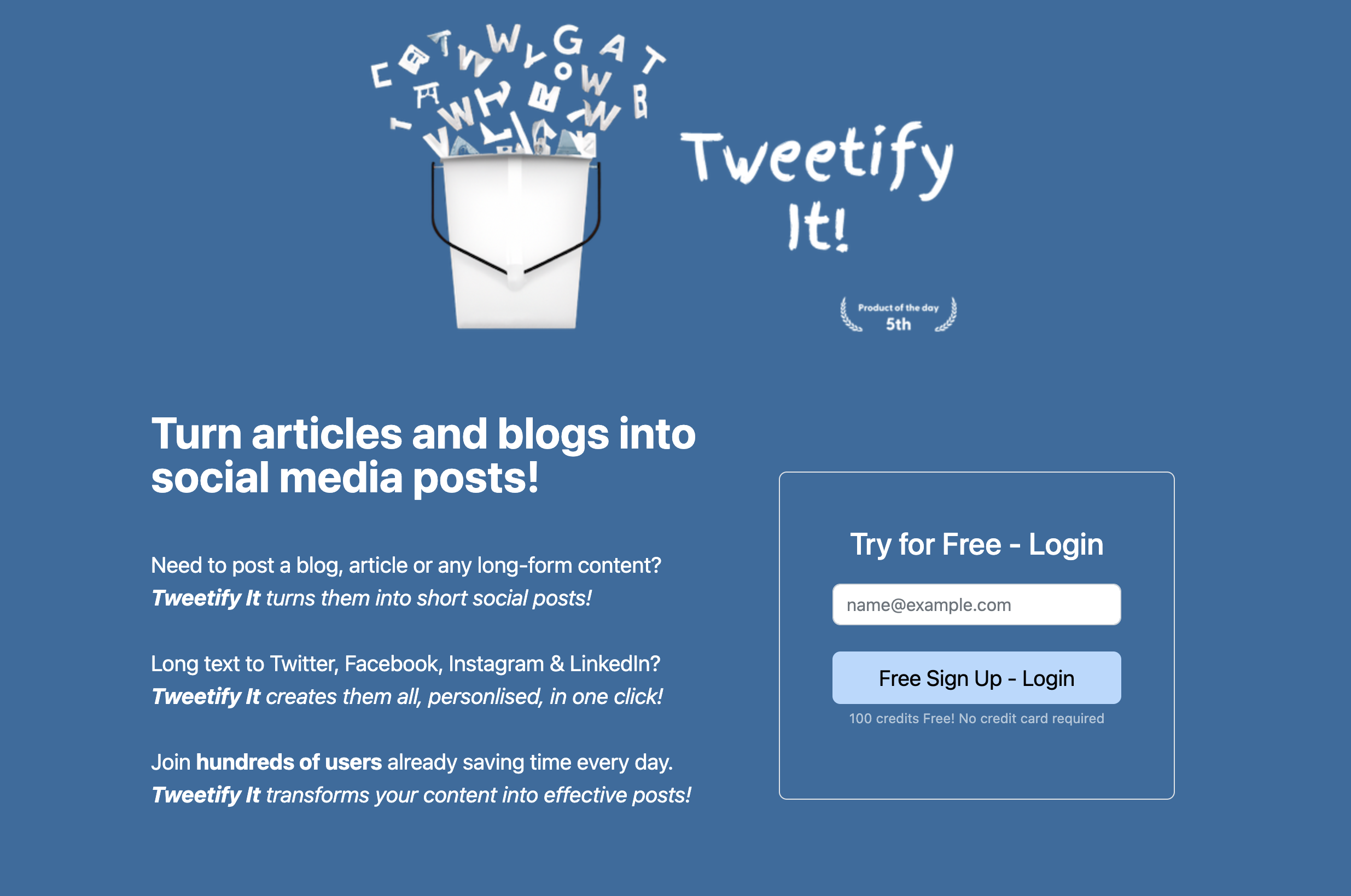 Tweetify is a unique service that transforms long-form content, such as blog posts or social media updates, into different and personalized short posts for Twitter, LinkedIn, Facebook, and Instagram. With AI-powered algorithms, Tweetify helps users create engaging and concise social media posts tailored to their desired tone and topic. Users can customize their posts by choosing a few settings and making them more personal, saving time and effort in crafting impactful posts across multiple platforms.


What's your background, and how did you come up with the idea?
I'm a creative entrepreneur with 20 years of experience. I'm a professional musician with different projects signed to big indie labels and producers, and in parallel, I've been an IT engineer/consultant and project manager. I currently run a few AI-related projects, including Tweetify It and Audioshapes AI, a custom neural network and app to make sound design driven by AI on hardware music synthesizers. My bigger company is Words.Tel, an internet startup we're about to launch publicly very soon.
The idea of Tweetify came out of necessity: my social media manager and I always spend a lot of time when we need to convert long-form content into Twitter and then into different but always short social posts for the other platforms. And standard AI can be quite off and bad at counting, limiting, and personalizing if asked to just 'summarise' content.
Hence, I created Tweetify as a way to save us a lot of time and create personalized and short social media posts for all the platforms just with one click!

How did you get your first customers?
I first created it as an internal tool, but the real interest started once I opened up to a few more of my Linekdin contacts (mostly creative agencies), who also found it very useful for them, as they were suffering the same pain point. That phase was critical as it allowed me to further expand on the features and fix some bugs, and then I decided to open it up and set up a launch on Product Hunt. To my surprise, it was the Top 5 product of the day, and that's how I started getting the first customers.
After that, word of mouth and a feature by a couple of influencers helped make the product more known. I still think it's a sort of "unknown," but I have big plans and a long roadmap waiting ahead, like more features, optional unlimited subscription, API access, browser extension, mobile app, etc.

How's the business doing today?
The service now has several hundred users, mainly using it with their free allowance (and getting more as they provide feedback), and already some paying customers who use it a lot. I've never run yet any paid advertising; I'm relying on organic growth while I perfect the product and go through the roadmap.
The service is paying itself and is paying for the time it was spent on developing it, so that's the important thing. I'm also looking into grants and investments to scale it up!

What marketing channels are working well to acquire customers?
As I mentioned, I'm using mostly organic growth channels, like people trying it, sharing it, sending it for reviews, etc. Stats say that numbers keep growing nicely, and that's all I need to keep developing the product for existing customers and use their feedback to improve it: that's why generous additional free credits are offered for every input!

What has been your biggest achievement?
I'm not sure if there's one particular project that I would indicate as a business achievement because each of them, small or big, has something that makes it unique. Generally speaking, my biggest achievement is starting a project with people believing in it and integrating perfectly to complete my weaknesses.
It doesn't happen often, but something like Audioshapes AI and most of Words.Tel are a perfect example. I'm definitely more creative. If I like the idea, I follow the vision and push for it, but I'm not as passionate about the delivery. The thing is, I know it's as important as the idea itself. So sometimes I take on the task and do it myself, but I prefer when I can find other people believing in the idea and wanting to make it real, thanks for their talent and contribution in the delivery. I find myself always happy working with software engineers; we complete each other as we're opposites, and I love what comes out of that. My biggest achievement is when I manage to make that work, and I'm lucky enough to work with such talented people.

What has been your biggest challenge so far?
When working with others, the biggest challenge in my role is to try to find the fine balance between pushing the vision and idea and, at the same time, listening to what others say while balancing the fine line between expectations and reality.
Connected with this, the biggest challenge when working on my own is to not push myself over the limit: I'm lucky to have a seamless amount of energy when I'm lucky to work on my own ideas and projects most of the time, but that means I can work no-stop. Finding a balance is my biggest challenge. I know it's my main drive, but I also know we all need a balance between work and life, even if I'm lucky to make a work that most of the time doesn't feel like work.

What's something you know now that you wish you had known when you started?
I always try to think that we know what we need to know when we realize it. Sure, there are things I think I maybe was done better if I had known when I started, but then if I had known, I probably wouldn't have done all the things, sometimes reckless or irresponsible, that led me here. We sometimes don't have to know particular things when starting because it allows us to push more than the ones who know more and enable us to learn by mistakes; that's the only way to learn. So yeah, I sometimes try not to know too much, even now, to be freer and make it easier to think out of the box.

Any advice for beginning entrepreneurs?
If you're in for the money, you're in for the wrong reason. Entrepreneurship needs passion, creativity, and resilience, often with little or no money. It might need having other works to finance it, accepting to work 18 hours per day for months before seeing any money, while accepting that most of the startups/projects anyway die. As a professional musician, I know this very well as it applies when you start your music career: only a few make it, and it often needs years of sacrifice. Real passion for what you do and accepting that you might need to pay the bills by doing something else for a while is the only way to create beautiful things and give them the best chance for success.
How do you keep yourself motivated?
I think this is probably already replied to what I said above. I keep myself motivated because what drives me is this endless thirst to create things and ideas, and I see them developing, becoming something else, and being shared with and used by others. To me, there's nothing like making sure I'm in my creative mindset, listening to ideas flowing through (most of the times in the most unexpected moments!), planting a seed of them (my strength in creating quick prototypes of everything to prove the idea), and then see if it can become a project, involving others, etc. The moment ideas start having their legs and walking in directions you never expected, that's one of the most rewarding things for me. So yeah, my drive is an unstoppable belief in the power of the human mind to create ideas and bring them to life.

What are your plans for the next 6-12 months?
I plan to finish my roadmap for Tweetify It, extend it, find the right funding for it, and bring forward Words.Tel startup and my other projects. I am doing more of what I'm already doing!

Where can people get in touch with you?
You can sign up at https://tweetify.it/ or contact me directly via Linkedin