Can you share a bit about yourself and what you're doing?
March of 2023 is my 15th year with an online business, which is pretty exciting. I have two brands. I have my personal brand where I write email newsletters, about all things digital marketing, with a podcast and coaching and courses. Then I have a new brand that I launched at the end of 2022 called Create It Company which sells a physical and digital content planner.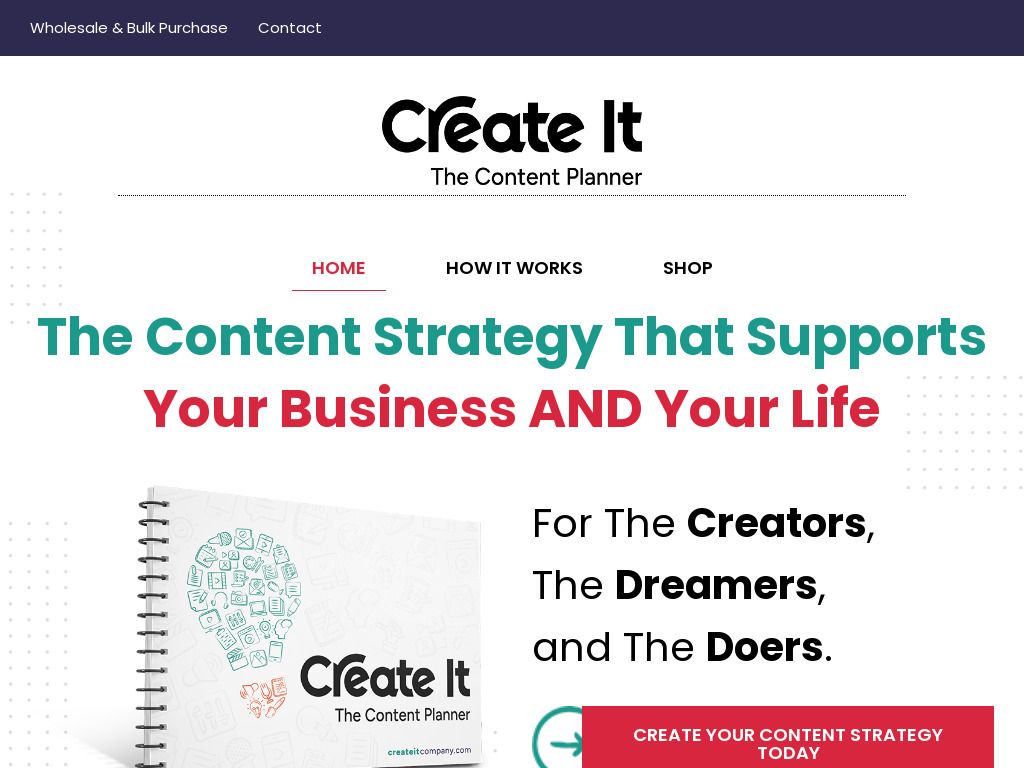 Why this idea specifically?
I had a previous planner brand with a business partner called the Content Creators Planner, and that was my brainchild. My partner was a designer and it slowed down a little bit when the pandemic hit and we had a bad ad agency. She has a full-time design business and it just really felt like it was just time to put it to bed. Once I did that, I decided - wait a minute, I'm not done with this. So I went full force with a new planner and a new company, solely mine and we pre-sold the first print run in November - December. We have a physical and digital version, a PDF, and a Notion version and it comes with a bonus training course.
Where do you find customers?
Having run the first company I learned a lot. It was my first foray into E-commerce with an actual product, and so right off the chute, I was able to have a higher cart value. I learned a lot and paid traffic is the way to go.
We made three audiences, digital marketers, digital creators, then small business owners like dentists chiropractors, and brick-and-mortar type businesses. Then we have the planner and journal enthusiasts, which is an entirely crazy subculture. I just had no idea, those people are so invested in it. I think once you've got that audience, you've kind of got them because they're very dedicated to the craft. They use planners and journals not so much for time management or productivity tools as much as outlets for creating.
How do you envision this progressing?
We've got other products planned for some continuity. Pretty early on there'll be an additional planner and probably some more training stuff. I'd like to scale it.
Any challenges you've had to deal with along the way?
Many of these spaces feel so male-dominated and it's getting a little bit old and a little tedious. I think there's definitely space for more female founders in that and different female angles or female versions of that.
How have you funded and launched this product?
I just started this totally bootstrapped. Completely. I've got this tiny, very effective team. But like anything in terms of E-commerce, I don't think I would ever do it without a paid traffic plan. It's a long slog without it. The first planner we pre-sold and we funded the print run by pre-selling because I had an audience.
Can you share any stats?
Not a whole lot with this one, I can tell you the other one. We scaled to half a million dollars, which was great considering it was a $39 planner. As we just had one upsell, it was pretty good. I think the thing with this space and probably any niche where people are fanatical - one of my very first online coaches said, - when people love something, they just want more of it. When I had the scrapbook store many customers came in like, do you have anything new? Whether they needed it or not.
What have you learned along the way?
Continuity is really the lifeblood of any business. It's a content strategy, right? It's not just a calendar company, strategy, or just training course. I think a lot of people get overwhelmed with where do I start?
What do I write about instead of just doing it? Or writing things that they feel like writing about? I don't mean writing about, a gnocchi recipe on an email marketing site, but sharing stories and talking. That's when things completely blew up for me, when I just started showing up as myself and sharing and talking.
So I think there's an element to getting people to get out of their head with a lot of the, I don't wanna say technical writing, but the how to do it right. And just do it.
Is there anything you know now that you wish you'd known sooner?
I pre-sold it and did it pretty quickly once I found my designer. But I think that probably the timing was shit, to be honest. Being just out of having back surgery, it was a little bit nuts. I think I may have actually pursued investment or even Equity Partners a little bit, and a few more things that I could have deployed.
One of the things was a bonus workshop. The bonus workshop was about how to create your entire content strategy using our nine-step map in ChatGPT. There are a lot of opportunities with digital products that can keep good profit margins. You know, they're 100% profit once it's created.
What software tools can't you live without?
Well, obviously WordPress. I hate WooCommerce but use it. I love ChatGPT. I use ConvertKit and Canva. I love Beehiiv and what those guys are doing. I think they deploy things really quickly. I use Nuelink for social, and Notion. I also use Speed Dial for Chrome.
When I open Chrome I have these thumbnails across. They're essentially thumbnail bookmarks of all the tools and stuff I have. I use this free tool called Raindrop because I curate a lot of stuff for my newsletter.
Are there any podcasts or books you'd recommend?
I love, love, love, love, love Jenny Blake. Free time. I also love Mike Michalowicz and I was looking at Clockwork, you know, getting the right systems set up in your business. So, Jenny Blake she's just she's my speed. I see the speed that everything's happening right now with AI and I love it. 30 years ago, or 20 years ago, I think I would have been wound up right now but I like just enjoying the journey of it all.
Jenny Blake operates at that speed and Free Time is about creating three pieces in your business. She calls it align, design, and assign. She's got a whole Notion plan to run your business. She's not a big social media person but she's got a very successful business and podcasting community. She's very successful on her own terms.
I'm also listening to 4000 weeks, I think Oliver Burkeman is the author. It's fascinating because that's where F the Hustle was born. Being as productive as you can is totally who I used to be. I used to thrive on how much I could get done in a day and now
I'm just like you hit 50 and it's when you do it's almost like a validation at some point. How much can you manage, how much you can handle? It's like Inbox Zero. What's the point if I'm back at it tomorrow? Where does that get you? It's not getting you closer other than this false sense of accomplishment.
Where can people connect with you?
CreateIt Content Planners: https://createitcompany.com/
Website: kimdoyal.com
Twitter: @kimdoyal