My name's Garrett Houghton, and I'm the founder of Built With AI Club.
Tell us more about Built With AI Club
Built With AI Club teaches anyone to build AI products, apps, and services with No Code. We help you turn your ideas into reality.
Take one of our courses and go live in weeks, not months — no developers needed.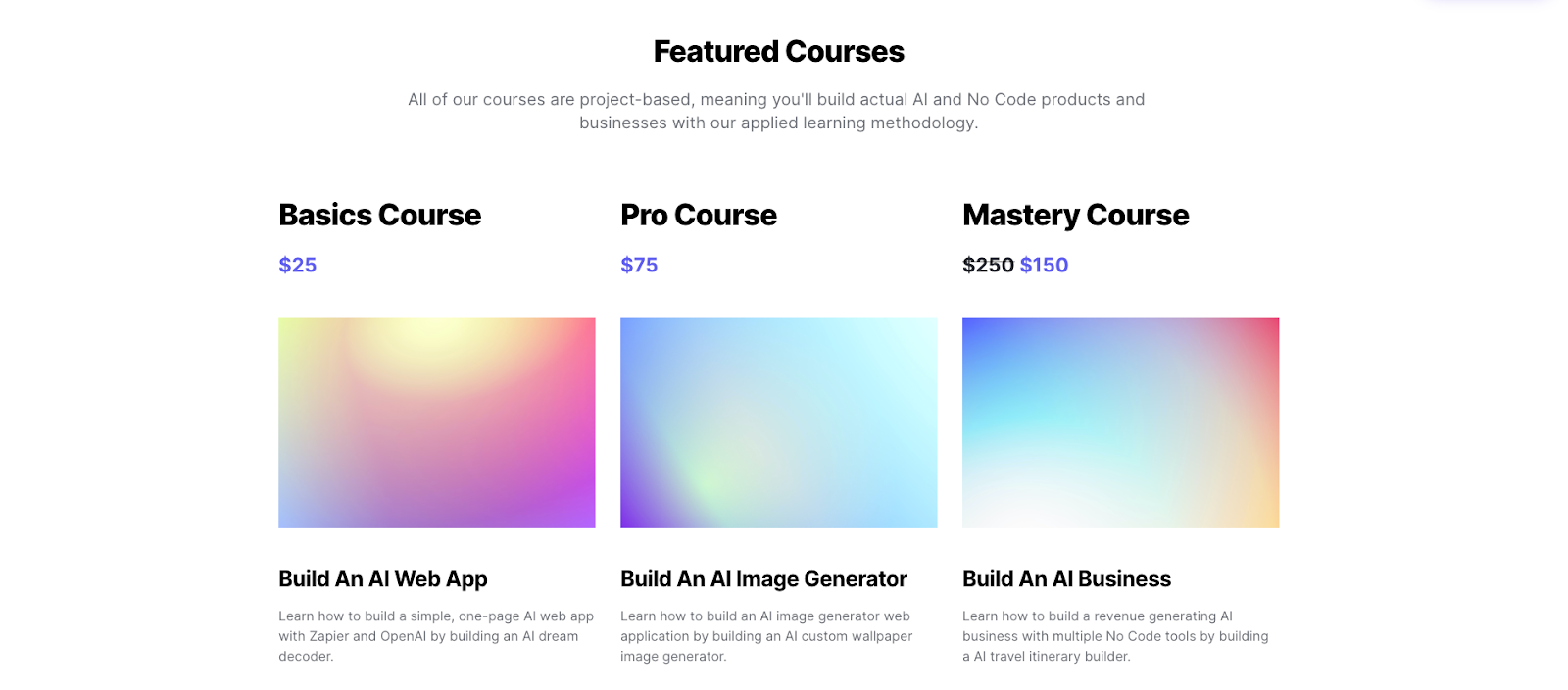 After taking a Built With AI Club course, you'll have all the skills you need to launch your own AI and No Code product or business, including:
App Architecture: Learn how to build all the product components for a No Code and AI web app. It's as easy as filling out forms.
Interface Design: Gain a thorough understanding of how to build interfaces for product pages, signup forms, payment, and more.
No Code Automation: Master the ability to automate tasks on the web with No Code. Let robots manage repetitive services.
AI Scaling: Develop expertise on how to scale your ideas with AI. What used to take money and time now takes seconds.
Product Theory: Gain hard skills in product thinking and management to apply to your future products, services, and businesses.
Design Theory: Learn the fundamentals of design theory for digital products and services, from UI design to UX to graphic design.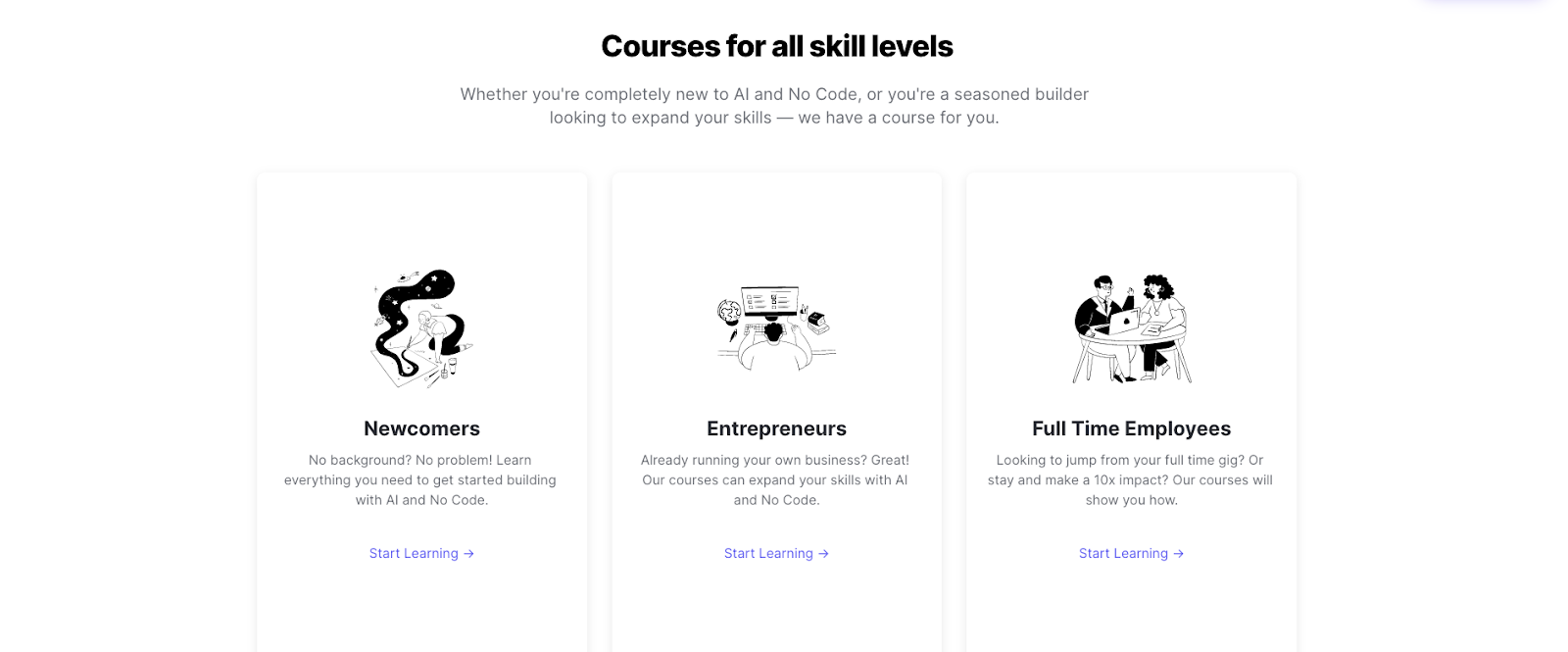 All of our courses are project-based. Meaning you'll build actual AI and No Code products and businesses with our applied learning methodology.
Whether you're completely new to AI and No Code or a seasoned builder looking to expand your skills, we have a course for you.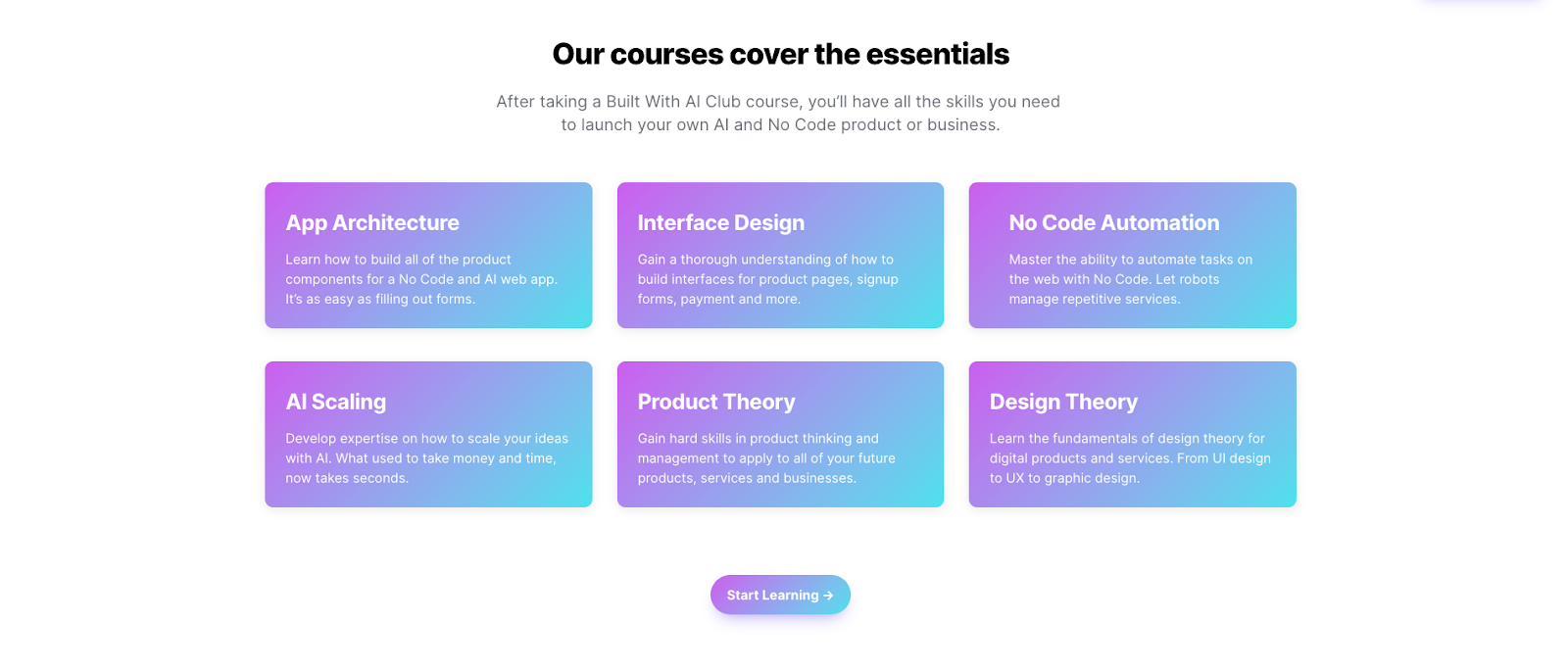 What's your background, and how did you come up with the idea?
I'm a product person who's been building with No Code tools for a while. When all of the new AI tools started to come out, I jumped headfirst into building things with them.
I built an AI itinerary builder, an AI dream decoder, a collection of single prompt AIs, and an online game I co-wrote with ChatGPT.
I quickly realized that by combining AI and No Code tools, you could build awesome products without being a developer, and you could also go from idea to product quickly.
I wanted to share this knowledge with other builders and non-developers looking to turn their ideas into reality, so I started turning my learnings into courses.
How did you get your first customers during the early stage of the company?
I caught a lucky break by being posted in Ben Tossell's Ben's Bites newsletter. I emailed him on a whim to feature my AI itinerary-building product Plan My Trip ASAP.
To my surprise, it got featured and drove thousands of people to the product. The product actually broke because I surpassed the email limits on my email plan, which was stressful at the time!
I ended up joining the Ben's Bites Makers in Residence program, and after developing the first course for Built With AI Club, which was to teach people how to build their own AI itinerary builder, I got the course featured in his newsletter again, which got me my first customers.
I owe a lot to Ben and the community he built with Ben's Bites!
How's the business doing now?
I'm excited about the growth the business has experienced in its first few months of operation.
Three courses are available at different difficulty and price ranges, and I'm excited to keep adding to the course catalog.
The business is doing $2k of revenue per month. In addition, the number of students, and therefore the community, is also growing steadily.
Presently, what marketing channels are working well to acquire customers?
Sponsoring AI newsletters has been the best channel for me. Finding AI newsletters on Substack and Beehiiv and then sponsoring editions has brought me the most customers of any marketing channel. Passionfroot has been the major marketplace for working with newsletter creators, and I'm grateful for that tool.
Also, I've been posting the product in various tech and AI aggregators, like Product Hunt. These aggregators improve the SEO of my site and have led to customers as well.
I'm starting to experiment with social advertising. Though it's foreign to me, I'm learning. Hoping to acquire customers organically through this channel in the future.
What has been your biggest achievement so far?
Hitting my first three months of revenue goals! I set ambitious goals and told myself I wouldn't continue on the project if I didn't meet certain revenue goals as a way of keeping me focused and grounded. And each month I kept hitting them, which gave me permission to keep investing in the project and to keep going. I still can't believe it.
In addition to hitting the revenue goals, I'm also proud of staying focused on one product and one niche.
It's fun to jump around and try to build many different things, but staying focused and iterating on the same idea and business has been another achievement for me too.
What has been your biggest challenge since the company's inception?
Balancing building the product and doing sales/marketing. At heart, I'm a builder. But sales/marketing keep the lights on. So balancing the two has been my biggest challenge, as well as learning how to effectively market my products.
As a builder, I want to keep learning new AI technology and creating as many courses as possible to spread my knowledge.
But I have to promote the current content I have and be mindful of not building too much and neglecting marketing. It's a challenge!
What's something you know now that you wish you had known when you started the company?
The importance of building your own distribution channels, whether it's on social media or blogging, or something else.
If you have your own distribution channels, you can market your products much cheaper and more effectively. I'm now working on building these, but it's an uphill battle!
In addition, the importance of focusing on a few marketing channels, not all of them. As a solo founder, there's no way I can be everywhere all at once.
So finding a few marketing channels that work and staying focused on those are important.
I've spent a lot of time playing with different marketing channels, and most of them have not been effective, so having that knowledge earlier would have saved me some serious time, energy, and money.
What advice would you give to new entrepreneurs?
Do what makes you excited. Focus on what you can control. Keep going.
How do you keep yourself motivated?
I'm doing this full-time, so paying rent and other bills with my business is a huge motivator. But outside of that, I love this work.
I love building things with AI and No Code, and I want to keep doing it as much as possible. And so having this opportunity, and being able to realize it, is a big motivator.
Also, seeing the success of the students who go through Built With AI Club courses is insanely motivating.
Seeing their successful projects, brainstorming with them in the community, and helping everyone who takes a course be successful is a huge motivator and the most rewarding part of this experience.
What are your plans for the next 6-12 months?
Keep investing in Built With AI Club by adding more courses and content.
I have an endless list of courses I want to add as well as free content. So I will be heading down to creating a lot of content over the next year.
In addition, I want to grow the community. The idea of two students coming together and building something would be so cool to see, so I want the community to get to a place where that's happening all the time.
I also want to grow the number of students. So focusing on marketing and outreach will be a big focus as well.
Where can people get in touch with you?
Twitter: https://twitter.com/tweetsbygarrett
Email: [email protected]
Website: https://www.builtwithaiclub.com/
Personal Website: https://indiepa.ge/garrett