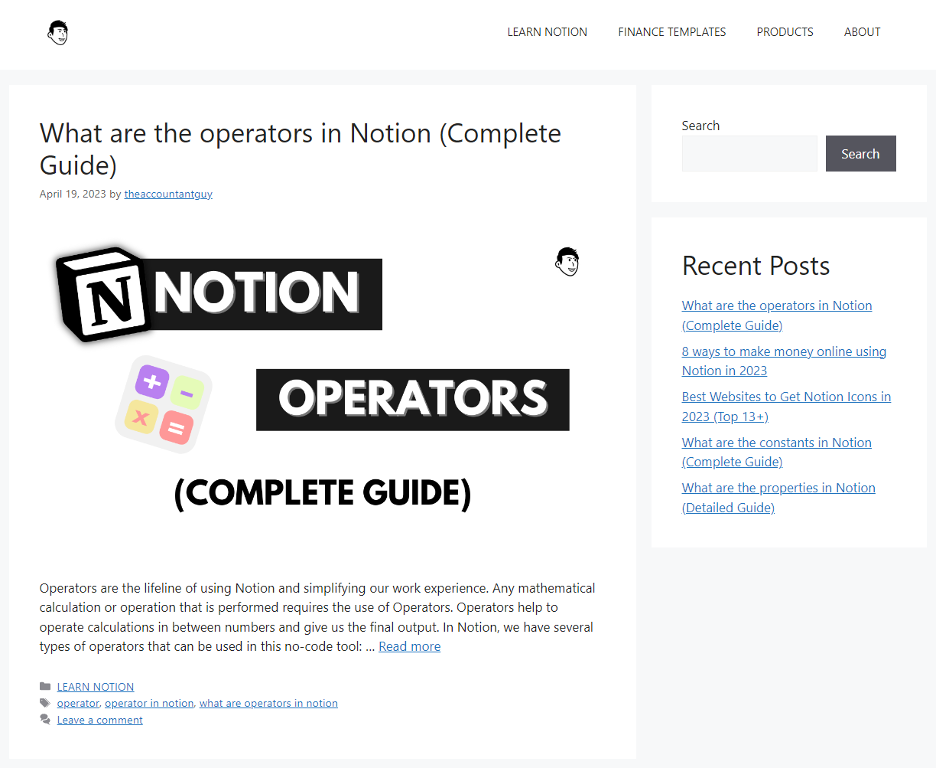 My name is Sanat Biswal, a.k.a theaccountantguy. I am a finance professional and a Chartered Accountant from India.
My expertise lies in simplifying finance and providing easy-to-understand financial solutions in the form of digital products developed in Notion.
As a business, I started selling these digital financial products, such as Budget Trackers, Debt Trackers, Bills Tracker, and much more on Notion in various platforms such as Gumroad or ProductHunt in January 2023.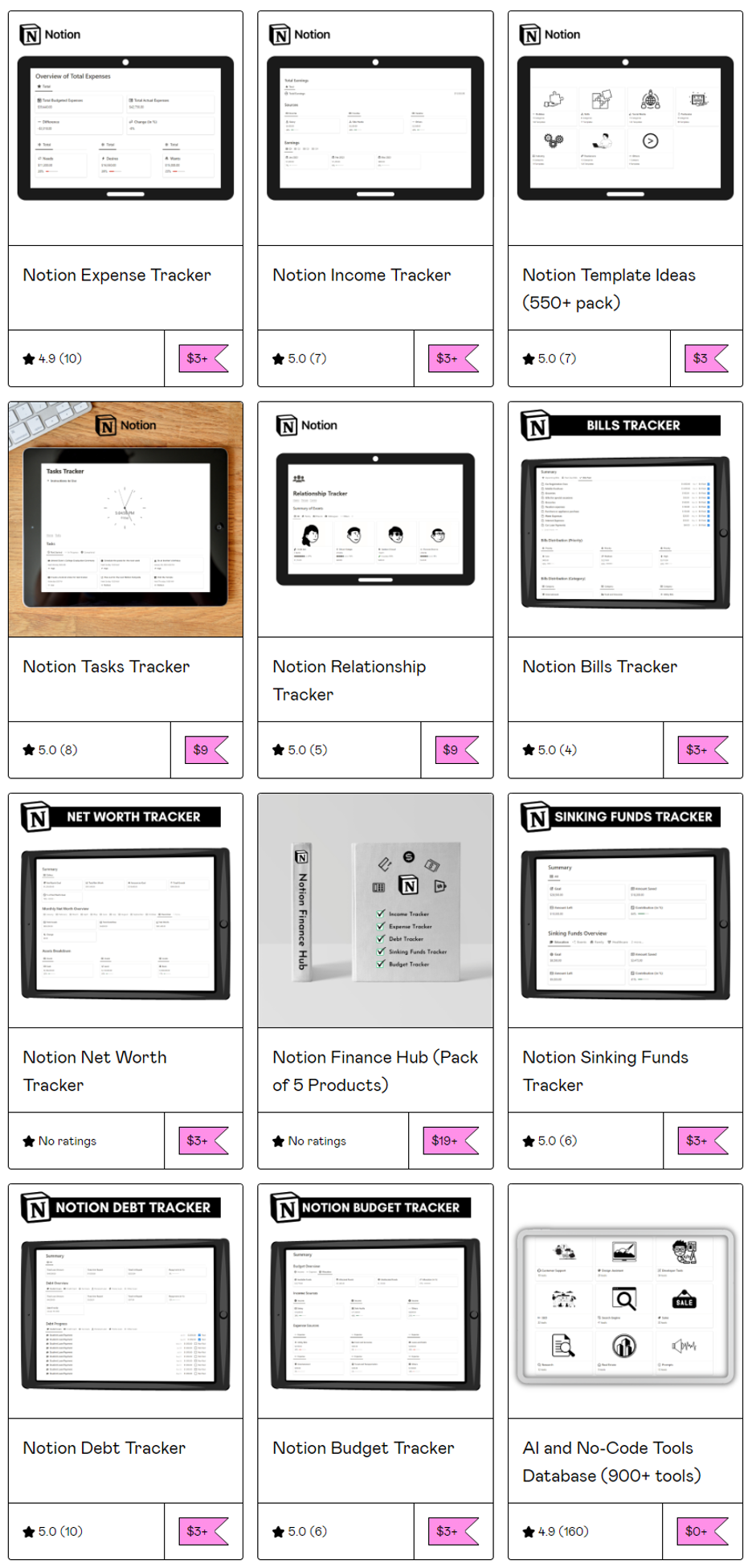 What's your background?
My business deals with simplifying finance for people and providing easy-to-go solutions in the form of digital financial products developed in Notion for various purposes. I cater to a wide array of audiences looking for personal financial solutions or even corporates who want to manage their accounting and financial affairs in Notion.
I have also held expertise in finance as a Chartered Accountant for over seven years, which helped me develop simple trackers for people, such as Budget Trackers, Debt Trackers, Income Trackers, Expense Trackers, Bills Trackers, and so on. This helps people to simplify their experience in managing their financial affairs in the form of Notion products.
How did you come up with the idea?
As I mentioned, I am a Chartered Accountant from India specializing in Finance. I started tinkering about creating simple digital products back in December 2022 in MS Excel, which I enjoyed. The art of building a valuable product, which offers solutions to people, was fascinating and worth trying.
But I soon realized that marketing would be a huge task for the Excel products in finance and would take considerable time to build a brand identity in the niche. Luckily, I was introduced to Notion, a no-code tool, by one of my mutual friends who was using it for his work. He also mentioned that people are selling digital products by selling Notion templates.
That's when I decided to try it back in Jan 2023 at the start of the year, and I instantly fell in love with the features and potential this tool had. I also realized that I could try creating finance products I had tried earlier in MS Excel and replicate the same to Notion workspace. Then one product led to another, and here I am talking about it.
How did you get your first customers?
The early stages of the business were all about getting validation from the people about the templates I was building and knowing if they liked them liked it or not. So I started actively sharing my progress of each of the templates I made on Twitter and launched the same on ProductHunt.
Notion has an amazing community across all platforms, including Facebook, Twitter, and LinkedIn. I also created walkthrough videos and shared the same on YouTube as well.
I didn't put a price on any of the products and distributed the same for free everywhere. Until one day, I had $24 in my account from people who had purchased the product, even if it was free. This was a huge morale boost, and I loved that if people appreciated the value of something, they would eventually pay for it in the end.
It's just a matter of patience and hanging along till you make your first paid sale. People even rated highly the products I created, which made me believe that people appreciate the templates I made, and slowly I started charging for the products.
How's the business doing now?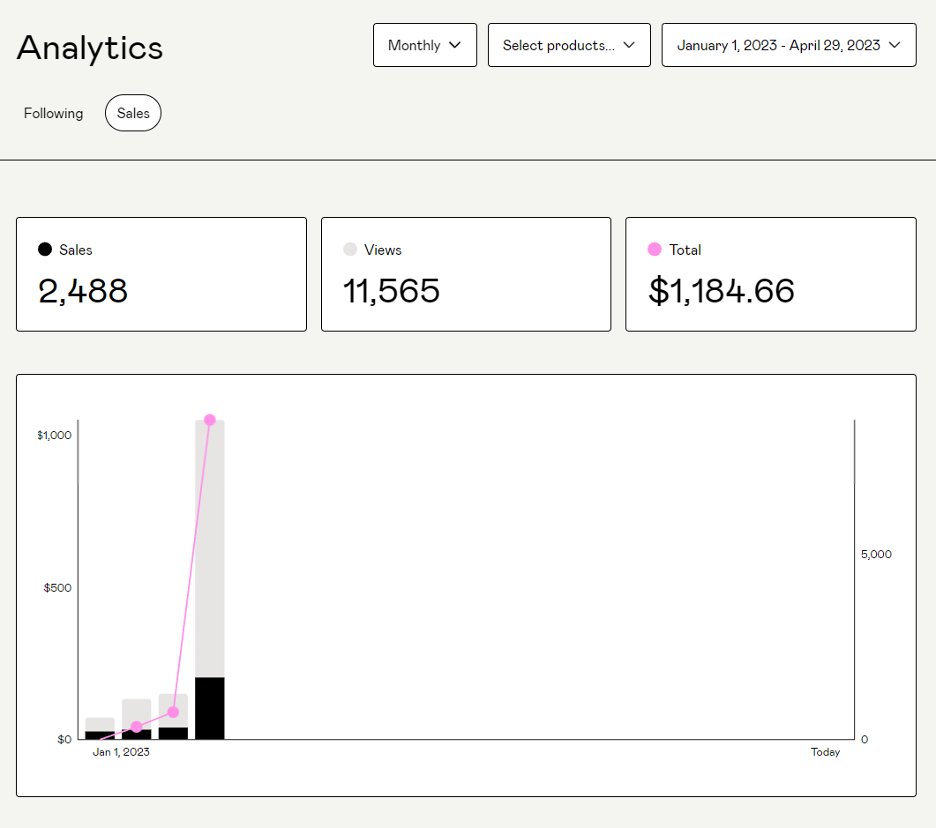 The business has grown tremendously over the past four months since January 2023. In January, I didn't have any paid sales as I was just validating my business idea and didn't have much traffic either.
To be specific, here's the revenue breakdown for the past three months:
Feb 2023 = $42
Mar 2023 = $90.60, 2x growth (month-on-month)
Apr 2023 = $1,052.06, 11x growth (month-on-month)
Regarding the customer base, I have roughly 2,500+ customers (free and paid) on board, with USA and India accounting for the top 2 slots in terms of region.
The business has been a profitable venture as I don't have any external costs associated with building the products other than my investment of time.
What marketing channels are working well to acquire customers?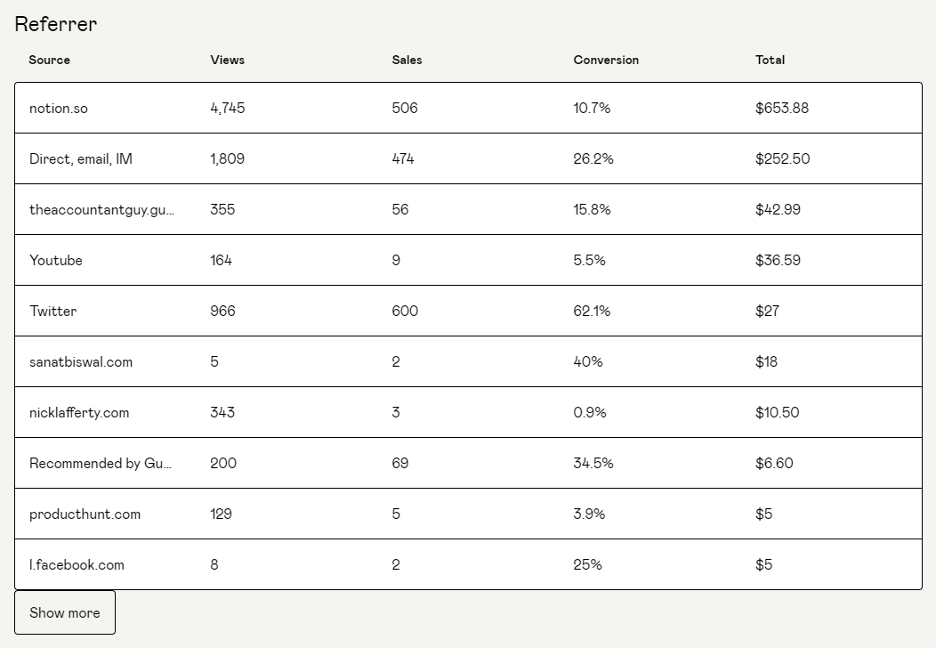 Here are the popular marketing channels I use:
Notion's official template gallery (around 29%)
Direct sales through email campaigns (around 27%)
Twitter (around 34%)
But what's interesting is that most of the sales from Twitter haven't been paid and have been free. On the other hand, sales from Notion's template gallery and direct sales have been paid and have generated revenue from the business.
One needs to be strategic in pulling in customers across multiple platforms. I launched products on ProductHunt and Gumroad and tried to get people to buy the products as much as possible early on.
Posting on Reddit, Discord, and Facebook groups, along with Twitter platforms, is also key and invites people to check out your products on a regular basis. But, in my opinion, one needs to build a personal brand in the form of websites and blogs to keep getting traffic onto the product page for a longer period of time.
Another approach is reaching out to other people who already are ranking well on Google and mutually agreeing on a partnership as an affiliate.
What has been your biggest achievement so far?
My biggest achievement is believing that I can make money online.
I had a corporate job back in 2020, which I didn't like, and I knew I couldn't be a corporate guy for long. This led me to find ways in making money online, and I landed on blogging in 2022. I tried blogging but didn't really enjoy the process and eventually shifted my focus to digital products, which allowed me to earn money online since then.
I remember reading about other founders and entrepreneurs who had created businesses online, and now I am glad I am also on this side of the spectrum.
What has been the biggest challenge in your journey?
My biggest challenge has been figuring out the right path to follow when creating an online business.
As I said earlier, failures did happen for a long time, a year to be precise, but I kept trying my hands at different things each time. I didn't necessarily enjoy the process, but everything helped me learn something each day, leading me to eventually create digital finance products, which have been my biggest strength.
For a while, I had decided not to do anything related to Finance and Accounting, which was my core strength, as I believed I could do better at other things, but eventually, I overcame the dilemma and stuck to my purpose of creating purely Finance templates predominantly for the end users.

What's something you know now that you wish you had known when you started?
It's the use of no-code tools and simplicity in selling a digital product.
I started using Notion in January 2023 and have been in love with the process ever since. Had I known about this earlier, I would have started this a long time.
But I also believe that everything is destined to happen at the right time, and no matter how much we hurry, everything will take its own course.

What advice would you give to new entrepreneurs?
The first thing I would say is to have the belief that you can create a business today with the ease of technology and the internet.
I remember I was in their shoes, reading about success stories and thinking that it would be difficult to make money online. But nothing is difficult if you commit to your cause and keep doing it again and again.
Here, I would like to highlight three essential steps to follow, which can help them make their first buck online:
Identifying skills and interests.
Creating a good solution for people in the niche who are facing problems, such as online coding, resources for coding, tests to take, courses to take, and much more.
Looking for existing marketing channels such as Bloggers, YouTubers, Instagrammers, etc., and approaching them with your product for a partnership.
These three steps can certainly be repeated for multiple products, and you will definitely earn your first buck online soon.

How do you keep yourself motivated?
I always tell myself everything has its own course of time, and I need to stay patient and enjoy the creation process. Until and unless I am not having fun in what I am building, I won't truly enjoy the outcome of the process. So I generally take my time creating stuff and don't stress about it too much. This helps me stay calm and patient; the results follow with time.
Besides this, having an evening walk for an hour definitely destresses me a lot and helps me stay positive and focused on my work.
What's important to understand is the fact that we won't have complete control over our day every time. But what matters is we stay consistent each day and keep working on our goals.
What are your plans for the next 6-12 months?
I am working on a new product, i.e., Notion Books, which will be a complete bookkeeping solution starting from Income, Expenses, Debt Tracking, Budgeting, Net Worth, Financial management, and much more.
This will also have a CRM tracker and help people manage invoicing and other resources for your business. In a nutshell, this will be similar to Quickbooks accounting, except that it is developed in Notion. This will be launched on ProductHunt and Gumroad under my ProductHunt profile.
Besides that, I am looking to dive deep into the finance niche and create more products for solving people's problems and build my expertise and brand further in that direction.
Where can people get in touch with you?
People can contact me on Twitter, LinkedIn, or by my email: [email protected]
You can buy my Notion templates at https://theaccountantguy.gumroad.com or visit my personal website, where I post stuff regularly on things related to Notion and my approach to building Notion Finance Products.