What's Foray?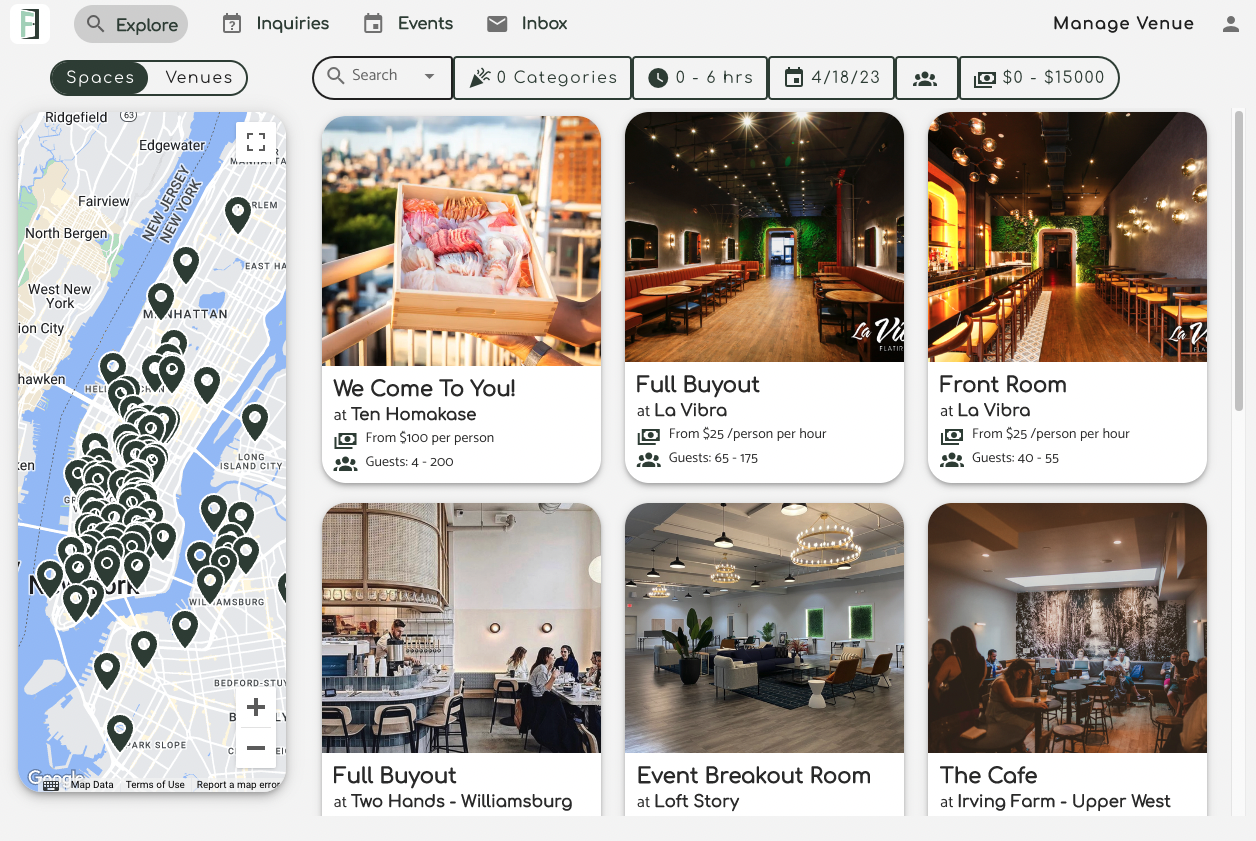 My name is Harry Heffernan and I co-founded Foray Events.
Foray Events is a marketplace for booking private event venues. Anyone who has ever booked a venue for an event knows that the process is fragmented, difficult, and opaque. Foray fixes those problems, allowing users to browse and book private events completely on-platform. We offer a greater level of discovery, letting users know exactly which venues to and don't cater to private events. Once you've found a great venue, Foray provides price transparency so you don't have to wonder if something is in-budget.
After you inquire to confirm that the venue is available, users are able to confirm bookings through the mobile app or website. We don't stop there, however, because Foray provides a full suite of event management software to let you invite guests through the app. Optionally, these hosts can send invites out with a price tag attached, allowing them to split the cost of an event and making private events more accessible financially.

What's your background and how did you come up with the idea?
I have a background in sports analytics and web development. I previously worked for the Los Angeles Lakers building basketball analytics software for the coaching staff and front office. My co-founders, Ted Maynard and Ryan Gilbert, have backgrounds in digital marketing and commercial real estate. So there wasn't much industry expertise in the beginning!
We came up with the idea after experiencing the friction involved with private events first-hand. After planning private events in both our personal and professional lives, we became increasingly certain that there was a way to simplify the process. What we were looking for in a venue was simple, so why did the steps to get there need to be so complicated?

How did you get your first customers?

After months of building the website and mobile app, our go-to-market strategy revolved around the social user. We all have wide social networks in the New York City area, and knew that we could get the first few hundred customers through word-of-mouth marketing. Foray also has guestlist management built in, allowing users to send out invites through the same app that they booked the venue. This has been a great growth hack for us, allowing us to turn one event organizer into potentially hundreds of new users.
After we had worked out the kinks and got some events under our belt with social users, we expanded the business to corporate clients. These customers are less willing to use unproven software and have a higher bar to clear with reliability, so we wanted to make sure we were 100% ready before targeting this segment. This two-stage GTM strategy was successful for us, and we plan on continuing to provide value for both user cohorts going forward.

How's the business doing now?
While still being fully bootstrapped, we're working with over 100 venues in NYC and have thousands of users engaging with the platform. Our MRR for 2023 is $7.5k, but due to the seasonality of private events we expect that to double by early/mid summer.
We're still in the process of establishing our business in New York, but in the late Summer/early Fall we hope to begin penetrating other markets. While we're trying to centralize private events, we recognize that clients do have relationships with individual venues and we won't be able to capture 100% of the market. With that said, horizontal expansion is going to be important for Foray to become a massive company. As soon as we feel like we have a reproducible formula, we will be looking to expand.

What marketing channels are working well now to acquire customers?
We're using all the typical marketing channels for a B2C tech company: social media, email marketing, referral programs, and many more. One unique thing that differentiates us as a B2C company is that we've had success with direct outreach to corporate clients. We use Apollo.io to send emails to event organizers at companies all over New York. From there, we usually hop on a call to discuss how we can make their lives easier as they plan happy hours, holiday parties, and team offsite.
While the direct outreach takes more effort than most other marketing channels, it provides us a good return on investment because we capture recurring customers who plan a high volume of high-budget events. This has been the primary engine behind growing the corporate side of our user base. While the response rate on the emails is low, as is typical with cold outreach, the conversion rate on responses is extremely high. This means that once we get on a call we're very likely to book at least one event. From there we hope they enjoyed their experience and will be back in the future!
What's been your biggest achievement?
While it might not be a results-based achievement, what our team is most proud of is bringing a mobile app to market. We built the app entirely from scratch, all in-house, with no prior experience building mobile applications. It's now a critical part of our business, and differentiates us from our competition, most of whom don't have a native mobile app.
We're also proud of being trusted by companies across New York. We've had clients at some of the top companies, including Google and JP Morgan, and we're honored that they've placed their trust in us to plan critical events for them and their clients.

What's been your biggest challenge?
Our biggest challenge has been marketing in a cost-efficient fashion. The process of booking private events is often a winding road, with weeks of discovery and exploring venues that customers may or may not book. It's the nature of the industry, and to some extent, the nature of any high-ticket item. The problem for us has been finding these people, and intercepting them early in the process of finding a private event venue. And even when we do find them through a paid channel, due to the drawn out nature of the booking process the reporting can be difficult
On a related note, for a variety of reasons, we've had some challenges measuring growth. The first reason is due to the high-price nature of these events, a few events booked versus not booked can swing our revenue quite a bit. Therefore there is an unfortunate amount of variance in our revenue, and it can be difficult to understand what is positive/negative growth, and what is chance.
The second reason is that events are highly seasonal. Next year, when we have existing data to understand normal seasonality, we might have a better idea of what targets are good and bad in a given month, but in this first year it has been difficult to know.

What's something you know now that you wish you knew when you started?
As with anyone who starts a company in a completely different field from the one in which they have experience, there are some industry specifics that would have been good to know. For instance, it would have been beneficial to have a deeper understanding of how different kinds of bars and restaurants handle private events. The customer experience delivered by a dive bar versus a hospitality group can vary greatly, and this impacts their need and willingness to incorporate technology.
Dive bars generally don't have a dedicated events expert, meaning they sometimes struggle to effectively market events and convert on private events leads. They tend to need help in both departments, whereas hospitality groups bring a higher level of professionalism with multiple individuals exclusively responsible for events. In these situations, there is less of a need for technological help and occasionally there is even an aversion to it, with groups wanting to brand and control every aspect of a customer's experience.
Any advice for new entrepreneurs just starting out?
Most entrepreneurial advice has been heard a thousand times, and so I'll try to offer something a little more nuanced. Everyone knows that startups are about serving customers, and building something that people want. The most insightful thing I've learned is that you should never assume someone wants something because they need it. While it's a rational assumption that people will want to use the thing that they admit solves their problems, this isn't always the case in practice. People have high levels of inertia, and might not adopt your solution even if it solves all of their problems.
Technology has seemingly infiltrated every aspect of our lives, but private events are still booked over the phone, through bespoke agreements and with opaque pricing. While a marketplace solves those problems, we've had some difficulty (that we've mostly overcome) convincing venues that they need to modernize. There is a pervasive idea that this is the nature of events.
There's a famous Henry Ford story when he gets criticized for not listening to customers and he says that they would've told him to build a faster horse. That attitude works if you're going to invent the Model T, but for the rest of us you might want to confirm with customers that they want the solution, even if you already know it solves their problem.

How do you keep yourself motivated?
I once heard that when working on a startup, the default is not neutral, it's reverse. If we get complacent, the business won't get better, and it won't stay the same, but it will actually get worse. Watching something you built from nothing atrophy is a terrible feeling, and it's more than enough motivation to keep going in the face of adversity. Bad things happen constantly when you start a business, but a desire to continue to try to fix the problem at hand will always keep you going.
I also think that this is an area where it helps to have supportive co-founders. Starting a company isn't always the easiest mentally, but it becomes far easier when you have co-founders who are going through everything with you. When I have tough days they pick me up, and when they have bad days I pick them up.

What are your plans for the next 6-12 months?
We're in the middle of a big marketing push within New York City, and should be for the next 3-6 months. We want to make sure we have a great footing in New York, and are hitting all of our revenue targets. After that, we think we'll be ready for expansion to other markets.

Where can people get in touch with you?

You can find foray at https://www.foraynyc.com and follow us on instagram @forayfeed