I am Evan Burbidge, and my business is Gymbuddy.ai, which started in February 2023.
Tell us more about Gymbuddy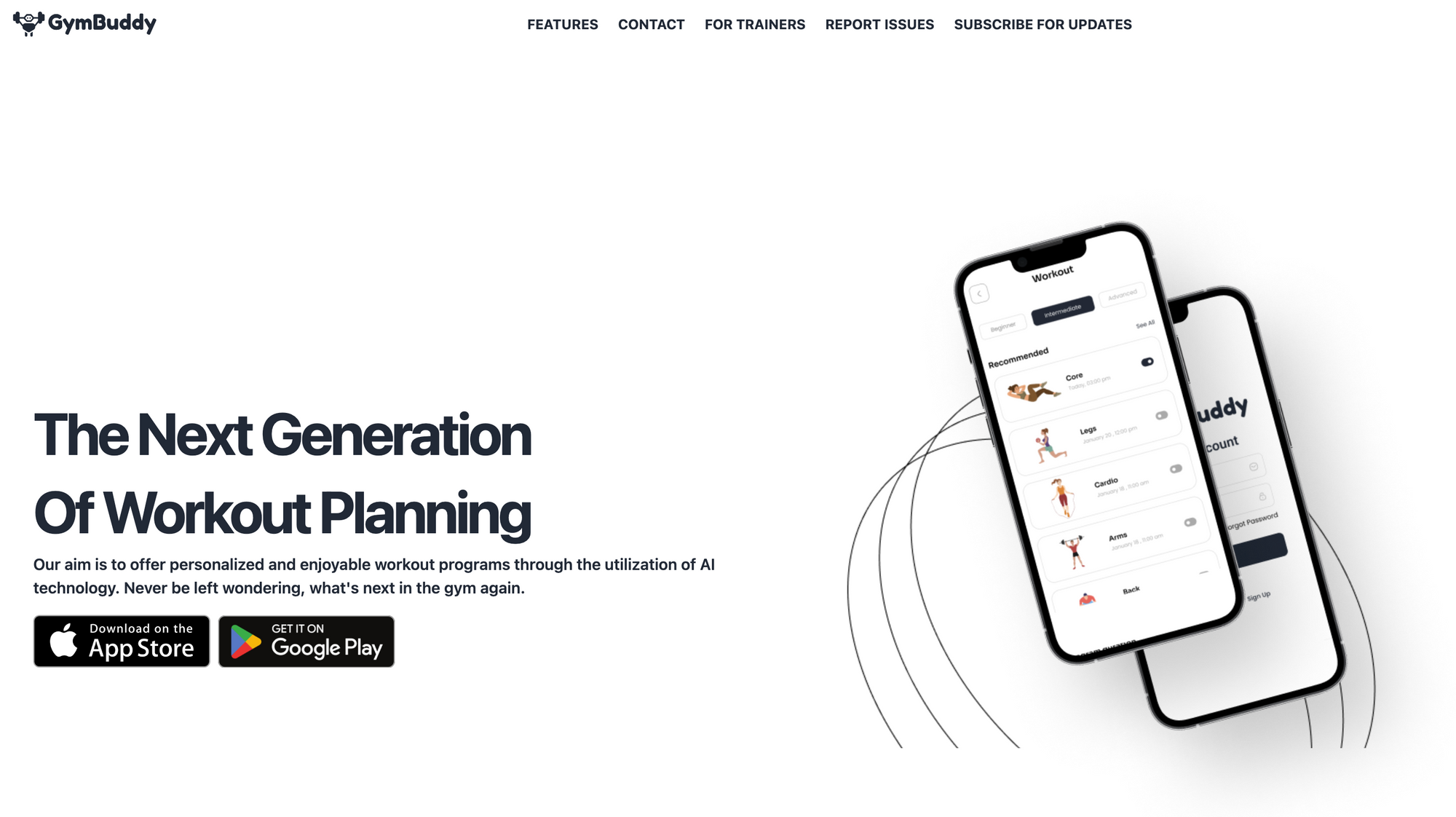 Gymbuddy is an AI-powered workout planner and tracker that provides our users with daily workouts to make the most of their time in the gym. We provide our users with analytical data on their workouts, progression results, and completion statistics. We are working on making our AI even more robust to learn our user's schedules in scheduling workouts.
What's your background, and how did you come up with the idea?
I've been a software developer for almost ten years now. One thing I've always struggled with during this time is my weight. I'd work a full day and then have to go to the gym, and sometimes I'd just be walking around and wondering what to do. I was getting married in 2022 and decided to hire a personal trainer, and the results were awesome. I lost a lot of weight, felt myself getting fitter, and could see the results.
At the start of 2023, I booked in with the same personal trainer. Things were going great, I was getting in shape, and then my trainer decided to leave his job to pursue a new venture. Once he left, I realized that my schedule was gone, my motivation slowly disappeared, and I couldn't find anything to handle the schedules he gave me.
So I decided to explore AI. At first, I was testing to see if it could give me workouts on a day-by-day basis, then my wife asked how to use it and suggested that I could package this up into an app. I had attempted a few other startups; this is the first one I thought there would be a buzz around.
That's when I brainstormed a few names. My first name was "statler.ai," named after our local goose who likes to chase people. Another idea was "gainz.ai" to play on the whole "gainz" slang. But then I realized what this app was going to be. It would be your gym buddy; it would be the app that would guide you through the gym when you had no idea what to do.
How did you get your first customers during the early stage of the company?
At first, I just kept casually mentioning the app on subreddits about fitness/workouts/personal training. This gained us about 10 - 15 users. After this, I started looking into newsletters that might feature us and got lucky to be featured in one or two. This quickly expanded our user base to over 200.
Over the past two weeks, I've hit the 300 mark, which is a little slower in growth --but it's still growing. In the future, we have plans to get the app out in front of audiences and try to gauge how to present our app to them with a more targeted approach.
How's the business doing now?
Business is going well; we generated over 2,000 AI-created workouts, I've got over 300 active users on the app who use it daily, and we've just introduced a new reminder feature that will send users an email on the day they have workouts scheduled.
Presently, what marketing channels are working well to acquire customers?
I've tried several channels. The first one we explored was Reddit ads. This drove a nice bit of traffic our way. But our real breakthrough came when we were posted on theresanaiforthat.com. Our traffic went from the 100s to over 2,000, which for us was awesome!
I will push our SEO efforts in the coming weeks to get us ranking higher on Google. Our latest experiment is to use targeted advertising on Facebook to see how that drives traffic to our website.
I will try to introduce an affiliate program once we start to see more users signing on board, as we feel that the idea has been validated at that stage.
What has been your biggest achievement so far?
There are a few. Our first paying customer was the biggest one for me. I had tried to get something going with my technical skills in the past, but unfortunately, it never took off. When I saw that first notification, I smiled from ear to ear.
The second was getting the app out there in the first place. I'd not worked on mobile development before, so the fact that this has gotten so much interest with minimal marketing is just exhilarating.
What has been your biggest challenge since the company's inception?
I've had a few. The number one is marketing, a field I know very little about. I could rewrite a computer inside and out, but I have no idea about marketting. Thankfully, I know wonderful people who have been kind enough to give me some tips and tricks on the trade.
Our second biggest challenge was getting the app to work with minimal friction, as I'd never worked with mobile technologies before. It was quite a steep learning curve to get over and get a fully functional app out to our users.
What's something you know now that you wish you had known when you started the company?
There are a lot of things I wish I knew. The number one is that users aren't going to flock to your product just because it works. You will have to put in a lot of hours to get its name out there and ensure it's working properly. And even when you think it's working properly, someone will find a way to break it.
I also wish I'd known about OTA updates with mobile apps! I've been sending emails to users asking them to update every time I send an update! With the new OTA updates, I won't have to spam people's inboxes with every bug patch! As I said, I'm new to mobile.
What advice would you give to new entrepreneurs?
When I read about starting a new startup, the one thing I read is to validate, validate, validate, but if you have confidence in your idea, then go for it! The worst thing that can happen is you learn how to work with new technology along the way and lose a few hours.
What are your plans for the next 6-12 months?
I had a tech talk in Dublin on May 11th with the ReactJS dublin meetup. I'll discuss the app's background (some of which are covered in this article), as well as its in-depth technical pieces and the decisions behind them.
During the summer, I will be working more on our analytics offerings and our desktop application for personal trainers. I've recently done some concept testing with users and have some excellent feedback that I can use.
Where can people get in touch with you?
Website: https://gymbuddy.ai
Twitter: https://twitter.com/gymbuddy_ai
Instagram: https://instagram.com/gymbuddy_ai
Facebook: https://www.facebook.com/gymbuddyai